Mozart: Horn Concertos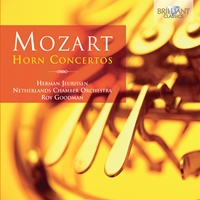 Composer
Wolfgang Amadeus Mozart
Artist
Herman Jeurissen horn
Netherlands Chamber Orchestra
Roy Goodman conductor
Format
1 CD
Cat. number
94644
EAN code
5028421946443
Release
May 2013
About this release
Mozart excelled in all areas of composition, and his horn concertos – despite making up a very modest part of his total output – still reside among the finest achievements in the horn literature. The composer became acquainted with the mellow sonorities of the instrument from an early age, courtesy of his friend Joseph Leutgeb, who had been employed by the Hofkapelle in Salzburg. It was not until the remaining 10 years of his life, however, that Mozart finally set to work on his six concertos for horn.

Apart from K370b/371, which represents the composer's first attempt at writing a horn concerto and whose musical content differs markedly from that of the later ones – there are no 'hunting effects' in the rondo and the first movement is more declamatory in style than lyrical – it seems that all of the works were composed for Leutgeb, who was often a target of Mozart's mockery and teasing. Though the numerous points of harmonic, melodic and structural correspondence between the pieces suggest that Mozart did not take this genre especially seriously, the works still delight the listener for their gaiety, lightness of touch and warmth of orchestration. It is therefore a shame that only three of the six pieces remain complete, a resulting combination of more pressing work, lost manuscripts and the composer's untimely death. Jeurissen, the soloist on this recording and principal horn player of the Residentie Orchestra in The Hague, has taken it upon himself, based on analyses of similar passages in other works by Mozart, to work up all of these fragments into playable, practical versions. The results are laudable, and Jeurissen's passion for the works is evident from his highly accomplished, charismatic playing.

Other information:
- Recorded 20–23 November 1996, Beurs van Berlage, Amsterdam.
- The horn concertos of Mozart, in the completest edition possible: including unfinished movements, and the first movement of K412 in which manuscript Mozart wrote some scandalous texts (his was a naughty mind…) which are spoken in this recording.
- Horn Player - Herman Jeurissen did all the research for this edition himself, and proves himself one of the top horn players of the world. The Netherlands Chamber Orchestra in its glory days is conducted by an inspired Roy Goodman, a champion of Historically Inspired Performance Practice.
- Contains notes on the music and a biography of the artist.
Track list
Disk 1
Horn Concerto No. 2 in E-Flat Major, KV 417: I. Allegro

Horn Concerto No. 2 in E-Flat Major, KV 417: II. Andante

Horn Concerto No. 2 in E-Flat Major, KV 417: III. Rondo: Allegro

Horn Concerto No. 3 in E-Flat, KV 447: I. Allegro

Horn Concerto No. 3 in E-Flat, KV 447: II. Romance: Larghetto

Horn Concerto No. 3 in E-Flat, KV 447: III. Allegro

Concerto movement in E Major, KV 494a: I. Allegro

Horn Concerto No. 1 in D Major, KV 412: I. Allegro

Horn Concerto No. 1 in D Major, KV 412: II. Rondo: Allegro

Horn Concerto in E-Flat Major, KV 370b/371: I. Allegro

Horn Concerto in E-Flat Major, KV 370b/371: II. Rondeau: Allegro

Horn Concerto No. 4 in E-Flat Major, KV 495: I. Allegro

Horn Concerto No. 4 in E-Flat Major, KV 495: II. Romance: Andante

Horn Concerto No. 4 in E-Flat Major, KV 495: III. Rondo: Allegro

Horn Concerto No. 1 in D Major, KV 412: I. Allegro