Mozart: Il rè pastore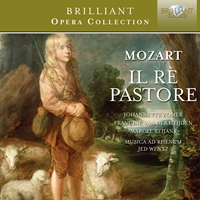 Download booklet
Composer
Wolfgang Amadeus Mozart
Artist
Johanette Zomer Aminta
Francine van der Heijden Elisa
Marcel Reijans Agenore
Musica ad Rhenum
Jed Wentz conductor
Format
2 CD
Cat. number
94498
EAN code
5028421944982
Release
April 2013
About this release
In addition to his mastery of instrumental and sacred works, Wolfgang Amadeus Mozart is one of the most celebrated operatic writers in music history. In Il rè pastore, a relatively early opera from the then nineteen-year-old composer, we see the beginnings of genius in a man who was later to become a true master of the genre.

Il rè pastore was commissioned in 1775 for the visit of Austria's Archduke Maximilian Franz to Salzburg. Written in just six weeks, the opera is based on a libretto by Pietro Metastasio in which Alexander the Great (Alessandro) discovers that young shepherd Aminta is the rightful heir to the throne, taking it upon himself to restore the boy to power. Regardless of the composer's youth, several moments in the opera show hints of the more mature Mozart, including the aria 'L'amerò sarò costante' in which rippling strings and lush orchestration are combined with a poignant, yearning vocal line. Another highlight is the glorious ensemble finale of Act II, a feature that would become a vital characteristic of Mozart's later operas.

Musica ad Rhenum has earned a special place in the early music world, with critics describing the ensemble's performances as 'cutting-edge' and 'exhilarating'. The group are joined by a fantastic set of vocal soloists, with Johanette Zomer assuming the role of Aminta and Alexei Gregoriev playing Alexander the Great.

Other information:
- Recorded September 2001, Maria Minor Church, Utrecht, The Netherlands.
- From the Complete Mozart Edition: Il Re Pastore, early opera of the then 19 year old genius Wolfgang Amadeus Mozart.
- Excellent performances on original instruments by Musica ad Rhenum, led by early music specialist Jed Wentz. Soprano Johannette Zomer is widely regarded as one of the leading sopranos in Baroque and Classical repertoire, having collaborated with Philippe Herreweghe, William Christie, Ton Koopman, René Jacobs and Paul McCreesh.
- The booklet contains the synopsis of the opera, www.brilliantclassics.com provides the libretto.
Track list
Disk 1
Wolfgang Amadeus Mozart: Il rè pastore: No. 1: Overture

Wolfgang Amadeus Mozart: Il rè pastore: Act 1: Scene 1: Intendo amico rio (Aminta)

Wolfgang Amadeus Mozart: Il rè pastore: Act 1: Scene 1: Recitative: Bella Elisa? idol mio? (Aminta/Elisa)

Wolfgang Amadeus Mozart: Il rè pastore: Act 1: Scene 1: No. 2: Aria: Alla selva, al prato (Elisa)

Wolfgang Amadeus Mozart: Il rè pastore: Act 1: Scene 2: Recitative: Perdono amici (Aminta/Agenore/Alessandro)

Wolfgang Amadeus Mozart: Il rè pastore: Act 1: Scene 2: No. 3: Aria: Aer tranquillo e di sereni (Aminta)

Wolfgang Amadeus Mozart: Il rè pastore: Act 1: Scene 3: Recitative: Or che dici Alessandro? (Agenore/Alessandro)

Wolfgang Amadeus Mozart: Il rè pastore: Act 1: Scene 3: No. 4: Aria: Si spande al sole in faccia (Alessandro)

Wolfgang Amadeus Mozart: Il rè pastore: Act 1: Scene 4: Recitative: Agenore? T'arresta (Tamiri/Agenore)

Wolfgang Amadeus Mozart: Il rè pastore: Act 1: Scene 4: No. 5: Aria: Per me rispondete (Agenore)

Wolfgang Amadeus Mozart: Il rè pastore: Act 1: Scene 5: Recitative: No: voi non siete, o Dei (Tamiri)

Wolfgang Amadeus Mozart: Il rè pastore: Act 1: Scene 5: No. 6: Aria: Di tante sue procelle (Tamiri)

Wolfgang Amadeus Mozart: Il rè pastore: Act 1: Scene 6: Recitative: Oh lieto giorno! (Elisa/Aminta) - Scene 7: Recitative: Dal più fedel vassallo (Agenore/Elisa/Aminta)

Wolfgang Amadeus Mozart: Il rè pastore: Act 1: Scene 8: Recitative: Elisa!…Aminta!…È sogno? (Aminta/Elisa)

Wolfgang Amadeus Mozart: Il rè pastore: Act 1: Scene 8: No. 7: Duet: Vanne a regnar ben mio (Elisa/Aminta)
Disk 2
Wolfgang Amadeus Mozart: Il rè pastore: Act 2: Scene 1: Recitative: Questa del campo Greco è la tenda maggior (Elisa/Agenore)

Wolfgang Amadeus Mozart: Il rè pastore: Act 2: Scene 1: No. 8: Aria: Barbaro! oh Dio mi vedi (Elisa)

Wolfgang Amadeus Mozart: Il rè pastore: Act 2: Scene 2: Recitative: Nel gran cor d'Alessandro (Agenore/Aminta) - Scene 3: Recitative: Per qual ragione resta il re di Sidone (Alessandro/Aminta) - Scene 4: Recitative: Or per la mia Tamiri è tempo di parlar (Agenore/Alessandro)

Wolfgang Amadeus Mozart: Il rè pastore: Act 2: Scene 4: No. 9: Aria: Se vincendo vi rendo felici (Alessandro)

Wolfgang Amadeus Mozart: Il rè pastore: Act 2: Scene 5: Recitative: Oimè! declina il sol (Aminta) - Scene 6: Recitative: E irresoluto ancora (Agenore/Aminta)

Wolfgang Amadeus Mozart: Il rè pastore: Act 2: No. 10. Rondeau: L'amerò, sarò costante (Aminta)

Wolfgang Amadeus Mozart: Il rè pastore: Act 2: Scenes 7–8: Recitative: Uscite, alfine uscite (Agenore/Elisa) - Scene 9: Recitative: Povera ninfa! (Agenore/Tamiri)

Wolfgang Amadeus Mozart: Il rè pastore: Act 2: Scene 9: No. 11. Aria: Se tu di me fai dono (Tamiri)

Wolfgang Amadeus Mozart: Il rè pastore: Act 2: Scene 10: Recitative: Misero cor! (Agenore)

Wolfgang Amadeus Mozart: Il rè pastore: Act 2: Scene 10: No. 12. Aria: Sol puo dir come si trova (Agenore)

Wolfgang Amadeus Mozart: Il rè pastore: Act 2: Scenes 11–13: No. 13. Aria: Voi che fausti ognor donate (Alessandro)

Wolfgang Amadeus Mozart: Il rè pastore: Act 2: Scenes 11–13: Recitative: Olà! che più si tarda? (Alessandro/Tamiri/Agenore/Elisa/Aminta)

Wolfgang Amadeus Mozart: Il rè pastore: Act 2: Scenes 11–13: No. 14. Chorus: Viva l'invito duce (Elisa/Tamiri/Aminta/Agenore/Alessandro)