Mozart: La Finta Semplice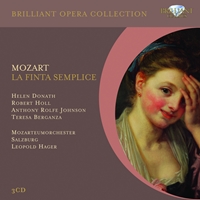 Download booklet
Composer
Wolfgang Amadeus Mozart
Artist
Helen Donath soprano
Robert Holl tenor
Anthony Rolfe Johnson tenor
Teresa Berganza mezzo soprano
Mozarteumorchester Salzburg
Leopold Hager conductor
Format
3 CD
Cat. number
94374
EAN code
5028421943749
Release
June 2012
About this release
Stories of Mozart's precocious musical talent are well known, forming an integral part of our understanding of this legendary composer. However, while many listeners will be familiar with early works like the Pieces and Minuets for piano, surprisingly little attention has been paid to the charming opera buffa La finta semplice, composed by the 12-year-old Mozart in 1769 at the suggestion of Emperor Joseph II. The work gives an incomparable insight into Mozart's development as an operatic composer, and listeners of this splendid recording will be rewarded by the outstanding quality of the music and interpretation.

The libretto of La finta semplice spins a tale of love and deception centred around a crafty scheme concocted by Captain Fracasso, who must gain the approval of his host Don Cassandro before he can marry Giacinta, Cassandro's sister. To soften his host, Fracasso introduces him to his own sister, Rosina, the 'pretend simpleton' of the opera's title, and the plot follows a series of witty twists and turns, all given ample expression in the delightful score.

One of only a few recordings available, and one that has consistently drawn critical praise for the quality of its performances and interpretation, this addition to the Brilliant Classics Opera Collection will prove fascinating listening for any fans of Mozart's mature operas, the seeds of which are evident here. Full of light, elegant arias, skilfully-crafted ensembles and amusing comic numbers, this is an opera of character and instant melodic appeal, which demonstrates the young composer's remarkably assured understanding of how to use the orchestra to great dramatic effect.

Other Information:
- New addition to the Brilliant Opera Collection, recorded in 1983 in the Mozarteum, Salzburg.
- "Helen Donath is a delight in the title role, pretty in the light numbers, gently moving in the serious ones, and always ready with a musicianly touch of phrasing. Teresa Berganza, of course, brings distinction of tone and line to Giacinta's music. Anthony Rolfe Johnson is characteristically graceful as Polidoro, and an impeccable stylist" (Gramophone).
- Libretto available by clicking on 'Download booklet' below the cover.
Track list
Disk 1
La Finta Semplice: Sinfonia

La Finta Semplice: Act 1: Scene 1: Chorus: Bella cosa è far l'amore!

La Finta Semplice: Act 1: Scene 1: Recitative: Ritiriamoci, amici (Giacinta/Ninetta/Fracasso/Simone)

La Finta Semplice: Act 1: Scene 1: Aria: Troppa briga a prender moglie (Simone)

La Finta Semplice: Act 1: Scene 2: Recitative: L'un de' patroni è alzato (Giacinta/Ninetta/Fracasso)

La Finta Semplice: Act 1: Scene 2: Aria: Marito io vorrei (Giacinta)

La Finta Semplice: Act 1: Scene 3: Recitative: Oh, starem male insieme (Fracasso)

La Finta Semplice: Act 1: Scene 3: Aria: Non c'è al mondo altro che donne (Cassandro)

La Finta Semplice: Act 1: Scene 3: Recitative: Con chi l'ha Don Cassandro? (Fracasso/Cassandro)

La Finta Semplice: Act 1: Scene 3: Aria: Guarda la donna in viso (Fracasso)

La Finta Semplice: Act 1: Scene 3: Recitative: Eh! ben ben, ci vedremo, e sua sorella (Cassandro)

La Finta Semplice: Act 1: Scene 4: Aria: Colla bocca, e non col core (Rosina)

La Finta Semplice: Act 1: Scene 4: Recitative: Sicché m'avete inteso? (Ninetta/Rosina/Polidoro)

La Finta Semplice: Act 1: Scene 5: Recitative: Oh, la prendo da vero (Polidoro/Cassandro)

La Finta Semplice: Act 1: Scene 5: Aria: Cosa ha mai la donna indosso (Polidoro)

La Finta Semplice: Act 1: Scene 6: Recitative: Grand'uomo che son io (Cassandro/Rosina)

La Finta Semplice: Act 1: Scene 6: Aria: Ella vuole ed io vorrei (Cassandro)

La Finta Semplice: Act 1: Scene 7: Recitative: Eh ben, sorella mia? (Fracasso/Rosina/Ninetta)

La Finta Semplice: Act 1: Scene 7: Aria: Senti l'eco, ove t'aggiri (Rosina)

La Finta Semplice: Act 1: Scene 8: Recitative: Ninetta… Che volete? (Polidoro/Ninetta/Fracasso)

La Finta Semplice: Act 1: Scene 8: Aria: Chi mi vuol bene (Ninetta)

La Finta Semplice: Act 1: Scene 9: Recitative: Adesso è fatto tutto (Polidoro)

La Finta Semplice: Act 1: Scene 9: Finale: Dove avete la creanza? (Rosina/Fracasso/Polidoro/Ninetta/Cassandro/Simone/Giacinta)
Disk 2
La Finta Semplice: Act 2: Scene 1: Recitative: Sono i padroni miei (Ninetta/Simone)

La Finta Semplice: Act 2: Scene 1: Aria: Un marito, donne care (Ninetta)

La Finta Semplice: Act 2: Scene 2: Recitative: Eh, quando sia mia sposa (Simone/Giacinta)

La Finta Semplice: Act 2: Scene 2: Aria: Con certe persone (Simone)

La Finta Semplice: Act 2: Scene 3: Recitative: Non mi marito più, se al capitano (Giacinta/Polidoro)

La Finta Semplice: Act 2: Scene 3: Aria: Se a maritarmi arrivo (Giacinta)

La Finta Semplice: Act 2: Scene 4: Recitative: Quando avrò moglie anch'io (Polidoro/Ninetta)

La Finta Semplice: Act 2: Scene 5: Aria: Amoretti, che ascosi qui siete (Rosina)

La Finta Semplice: Act 2: Scene 5: Recitative: Madama, è fatto tutto (Polidoro/Ninetta/Rosina)

La Finta Semplice: Act 2: Scene 6: Aria: Ubriaco non son io (Cassandro)

La Finta Semplice: Act 2: Scene 6: Recitative: L'ha coll'anello ancora (Rosina/Cassandro/Polidoro)

La Finta Semplice: Act 2: Scene 6: Aria: Sposa cara, sposa bella (Polidoro)

La Finta Semplice: Act 2: Scene 7: Recitative: L'ho fatta grossa assai (Cassandro/Rosina)

La Finta Semplice: Act 2: Scene 7: Aria: Ho sentito a dir da tutte (Rosina)

La Finta Semplice: Act 2: Scene 8: Recitative: Sciocca è la Baronessa (Cassandro/Fracasso)

La Finta Semplice: Act 2: Scene 8: Duet: Cospetton, cospettonaccio! (Cassandro/Fracasso)

La Finta Semplice: Act 2: Scene 9: Recitative: Dove andate, signore? (Rosina/Cassandro)

La Finta Semplice: Act 2: Scene 10: Recitative: Siam quasi in porto adesso (Rosina/Fracasso)

La Finta Semplice: Act 2: Scene 11: Aria: In voi, belle, è leggiadria (Fracasso)

La Finta Semplice: Act 2: Scene 12: Recitative: Come anderà, Simone (Ninetta/Simone)

La Finta Semplice: Act 2: Scene 13: Finale: T'ho, detto, buffone (Cassandro/Polidoro/Ninetta/Rosina/Fracasso/Simone)
Disk 3
La Finta Semplice: Act 3: Scene 1: Aria: Vieni, vieni, oh mia Ninetta (Simone)

La Finta Semplice: Act 3: Scene 1: Recitative: Io non ho gran paura (Ninetta/Simone)

La Finta Semplice: Act 3: Scene 1: Aria: Sono in amore (Ninetta)

La Finta Semplice: Act 3: Scene 2: Aria: Che scompiglio, che flagello (Giacinta)

La Finta Semplice: Act 3: Scene 2: Recitative: Che smorfie, che paura! or non è tempo (Fracasso/Giacinta)

La Finta Semplice: Act 3: Scene 2: Aria: Nelle guerre d'amore (Fracasso)

La Finta Semplice: Act 3: Scene 3: Recitative: E così, Baronessa? (Cassandro/Rosina)

La Finta Semplice: Act 3: Scene 4: Recitative: Eh ben, quando facciamo (Polidoro/Rosina)

La Finta Semplice: Act 3: Scene 4: Finale: Se le pupille io giro (Polidoro/Rosina/Cassandro)