Mozart: Organ Music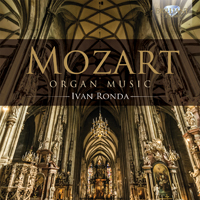 | | |
| --- | --- |
| Composer | Wolfgang Amadeus Mozart |
| Artist | Ivan Ronda organ |
| Format | 1 CD |
| Cat. number | 95099 |
| EAN code | 5028421950990 |
| Release | March 2015 |
About this release
Described by the composer himself as 'the king of instruments', the organ and its music form a small but not insignificant part of Mozart's vast œuvre. This new release, performed by acclaimed Italian organist Ivan Ronda, comprises all of his major works for the instrument, including the extended Adagio and Rondo in C minor and the small-scale works from the London Sketchbook. Also included is the charming Adagio in C for the glass harmonica: just 28 bars in length, the work was originally conceived for this curious instrument, which consists of glass bowls that rotate in water, but is equally effective on the organ. Mozart's output of Church Sonatas – notable for their single movement form – are represented here by the Sonata in C K336, the only one to have a proper solo part for the organ, and was specially transcribed by André Isoir for this recording.

The disc is rounded off with the imposing Fantasia in F minor. Described in Mozart's own catalogue of work as 'an organ piece for a clock', it was commissioned by Count Joseph Deym for a musical automaton that contained a small pipe organ. When transferred to an organ on the scale of that at the Church of Maria Vergine Immacolata in Gallo Cavour, Italy, where this recording was made, it takes on a certain grandeur, and exploits the various echo and dialogue effects of the instrument.

Ivan Ronda is an organist particularly renowned for his authoritative interpretations, and is acknowledged for his fine technique. His tour of the UK took in such prestigious venues as King's College Cambridge and Westminster Abbey, and he was the first Italian organist to record an album on the historic Baroque organ of the Johanniskirche in Lüneburg, an instrument known to J. S. Bach.
Although Mozart called it "The King of instruments" he wrote comparatively few works for the organ, but what he wrote is of a special quality: the great Fantasia in F minor (a late work) is of deep emotional content, while the Adagio and Rondo KV 617 is in the tragic key of C minor. Also included is the delightful Suite in C KV399, the beautiful Andante in F major KV616 and some works the child prodigy Wolfgang wrote in London, the KV15.
Played by Italian master organist Ivan Ronda, internationally acclaimed by guest appearances in such venues as Westminster Abbey and King's College Cambridge.
The booklet contains the information on the organ, artist biography and notes on the music.

Other information:
Recorded in Italy in April 2014.
Notes on the music, the organ and artist biographies.
Full organ specification.
Track list
Disk 1
Wolfgang Amadeus Mozart: Suite in C Major, K. 399: I. Overture

Wolfgang Amadeus Mozart: Andante in F Major, K. 616

Wolfgang Amadeus Mozart: Adagio and Allegro in F Minor, K. 594

Wolfgang Amadeus Mozart: Adagio in C Major, K. 356

Wolfgang Amadeus Mozart: Church Sonata in C Major, K. 336

Wolfgang Amadeus Mozart: Piece in F Major, K. 33b

Wolfgang Amadeus Mozart: The London Sketchbook: Rondo in F Major, K. 15hh

Wolfgang Amadeus Mozart: The London Sketchbook: Allegro in F Major, K. 15a

Wolfgang Amadeus Mozart: The London Sketchbook: Rondo in D Major, K. 15d

Wolfgang Amadeus Mozart: Adagio and Rondo in C Minor, K. 617

Wolfgang Amadeus Mozart: Fantasia in F Minor, K. 608