Mozart: Sonatas K. 333 & K. 330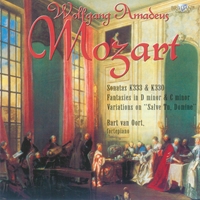 | | |
| --- | --- |
| Composer | Wolfgang Amadeus Mozart |
| Artist | Bart van Oort fortepiano |
| Format | 1 CD |
| Cat. number | 99169 |
| EAN code | 5028421991696 |
| Release | April 2006 |
About this release
Brilliance, fluency, clarity and extraordinary communicative powers – Mozart seems to have had them all. Little wonder he was hailed as the finest pianist of his generation – even rivals such as Clementi commented "I had never heard anyone play with so much spirit and grace…"

We have no idea how Mozart the keyboard player sounded. We have the reviews and comments of those who heard him perform, and we have the instruments of his time. These do take us some way to understanding performance practice of the day, and the limitations of the instruments, and how composers of the late 18th century worked to test the instruments, and make greater demands upon the constantly evolving fortepiano.

This release contains the Mozart Sonatas K. 333 and K. 330, performed by on fortepiano by Bart van Oort.

Other information:
- Bart van Oort is one of today's foremost fortepiano players. After winning the Mozart Fortepiano Competition in Bruges in 1986 he was instantly recognised as a master of his instrument, exploring the rich possibilities of the fortepiano, and using his immense historical and musicological knowledge for a better understanding of the Viennese classical style of Haydn and Mozart.
Track list
Disk 1
Allegro

Andante cantabile

Allegretto grazioso

Fantasy in D minor K397

Variations on "Salve Tu, Domine" K398

Fantasy in C minor K396

Allegro moderato

Andante cantabile

Allegretto