Mucha: Chamber Music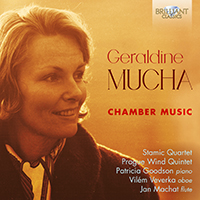 Download booklet
Composer
Geraldine Mucha
Artist
Stamic Quartet
Prague Wind Quintet
Patricia Goodson piano
Vilém Veverka oboe
Jan Machat flute
Format
1 CD
Cat. number
95463
EAN code
5028421954639
Release
January 2021
About this release
World premiere recordings, reviving the individual voice and fine craftsmanship of a forgotten English-Czech composer writing in the middle of the last century.

Born in London in 1917, Geraldine Mucha learnt to read music before words; her Scottish father, Marcus Thomson, taught at the Royal Academy of Music. Having turned 18 she became a student there herself, and at a party in 1941 she met her future husband, Jan Mucha, an exiled Czech war correspondent and son of the artist Alphonse Mucha. They settled in his home city of Prague at the end of the war, but Geraldine fled the Communist regime for Scotland after the invasion of Prague in 1968, and returned only after the fall of Communism in 1989. Jiří died in 1991 but Geraldine lived on until 2012, leaving a fair-sized body of instrumental music which had been performed throughout her lifetime but is only now being rediscovered.

Only one other disc of Mucha's work is available, dedicated to her orchestral music. This newly available album, made in Prague in 2015, begins with the First String Quartet which she wrote in 1944 as a recent RAM graduate: a tight, well-argued work, inflected by the fiercely rhythmic folk idiom of Janáček and Bartók. There follows a collection of seven piano works including her most extensive piece for the instrument, a set of variations on an 'Old Scottish Song' which also shows a thorough command of a central-European idiom The single-movement Second String Quartet
dates from 1970 opens with a keening, Scottish-accented lament: taut and concise, both concealing and saying much in a short span. The Wind Quintet is a late work, from 1998, still elegiac in mood but now balanced by the kind of dance-like flow and momentum placing it in the tradition of wind-ensemble works from Mozart to Poulenc. This carefully programmed album ends with the Epitaph for oboe and string quintet which she composed in 1991 in memory of her late husband.

At a time when the music of past women composers is finally receiving its due, this album dedicated to Geraldine Mucha deserves the attention of all listeners in search of new, expressive worlds.

Geraldine Mucha's (1917-2012) long life spanned two world wars and a brutal Communist regime. She was born in London to Scottish parents, both artists/musicians. Her early and evident musical talent was encouraged by Arnold Bax and Benjamin Dale. From 1935, aged 18, she studied formally at the Royal Academy of Music, where her teachers included two younger, more modern composers, William Alwyn and Alan Bush.
In 1941 she met a young, exiled Czech war correspondent called Jirí Mucha, son of the famous graphic artist Alphonse Mucha, a leading figure of the Art Nouveau movement. They married and moved to Prague in 1945, at the end of the war. The communist regime considered the works of Alphone Mucha "decadent' and the young couple were severely thwarted in promoting his legacy. They fled the regime's opposition, and went back to Scotland, only to return to Prague after the "Velvet Revolution" of 1989.
Geraldine Mucha's remarkable compositions breathe the Middle European 20-th century style of Janácek and Bartók: strong rhythms, often reminiscent of folk music, accentuate a late-romantic melodic idiom.
Included are two string quartets, a wind quintet, works for flute and piano and piano solo works.
Performed with infectious vitality by the Stamic Quartet and Prague Wind Quintet, as well as eminent pianist Patricia Goodson.
Listening
Track list
Disk 1
Geraldine Mucha: String Quartet No. 1: I. Variations on a Hucul Folk-song

Geraldine Mucha: String Quartet No. 1: II. Dumka

Geraldine Mucha: String Quartet No. 1: III. Arkan

Geraldine Mucha: Variations on an Old Scottish Song

Geraldine Mucha: Tempo di mazurka

Geraldine Mucha: Karel František Josef

Geraldine Mucha: Minna Loveday DeCandole

Geraldine Mucha: Freddie DeCandole

Geraldine Mucha: Lullaby for Alisdair

Geraldine Mucha: For Erika

Geraldine Mucha: Naše cesta / Our Journey

Geraldine Mucha: String Quartet No. 2

Geraldine Mucha: Wind Quintet

Geraldine Mucha: Epitaph in Memory of Jirí Mucha