Mushel: Complete Organ Music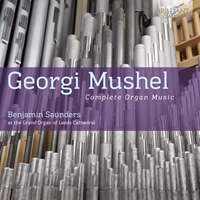 | | |
| --- | --- |
| Composer | Georgi Mushel |
| Artist | Benjamin Saunders organ |
| Format | 1 CD |
| Cat. number | 9279 |
| EAN code | 5029365927925 |
| Release | August 2013 |
About this release
This disc offers a selection of compositions by Georgi Alexandrovich Mushel, the former Professor of Composition at the Conservatory of Tashkent became one of the first true exponents of Uzbek music. Also a gifted painter, he found inspiration in many forms of art, including the architecture of Samarkand, the ancient Islamic city. The music of his Samarkand Suite represents the many different elements of the site, such as the Deserted Hills surrounding the city and the monuments shown in their full splendour thanks to the Rising Sun.

The disc also contains the Uzbekistan Suite, beginning with the beautiful Aria and ending with a sprightly Toccata, as well as the Six Pieces for organ, and Elegy – originally written for piano. Benjamin Saunders is Director of Music at Leeds Cathedral; his performances have been praised by Organists' Review for their "spirit and commitment".

Other information:
- New recording (2012) on the Grand Organ of Leeds Cathedral, by its titular organist Benjamin Saunders.First and only complete recording of this body of music.
- Georgi Mushel (1909-1989) was an Uzbek composer and painter. His great love for his home country he expressed in his paintings and his compositions, which are inspired by the rich traditions and music of Uzbekistan. His music is picturesque, colourful and often exuberant in its vivid depiction of nature and folklore.
- The Toccata from the Uzbekistan Suite is a popular showcase of organ virtuosity, and is played in its original version, a vibrant celebration of Soviet happiness and optimism!
- Contains notes on the composer and works.
Track list
Disk 1
Georgi Mushel: Samarkand Suite: I. Qasida to the Master Builders of Ancient Samarkand

Georgi Mushel: Samarkand Suite: II. On the Deserted Hills of Afrasiyab

Georgi Mushel: Samarkand Suite: III. The Flowering River Valley of the Zeravshan

Georgi Mushel: Samarkand Suite: IV. In the Twilight of the Shakhi Zinda Necropolis

Georgi Mushel: Samarkand Suite: V. Samarkand in the Light of the Rising Sun

Georgi Mushel: Elegy

Georgi Mushel: Six Pieces: I. In memory of Navoi

Georgi Mushel: Six Pieces: II. Nocturne

Georgi Mushel: Six Pieces: III. Intermezzo

Georgi Mushel: Six Pieces: IV. Improvisation on an Uzbek folk theme

Georgi Mushel: Six Pieces: V. Prelude

Georgi Mushel: Six Pieces: VI. Fugue

Georgi Mushel: Uzbekistan Suite: I. Aria

Georgi Mushel: Uzbekistan Suite: II. Toccata

Georgi Mushel: Uzbekistan Suite: III. Fugue