Music for Bassoon and Piano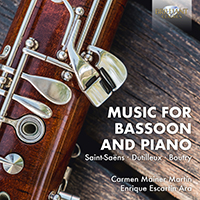 Composer
Alexandre Tansman, Camille Saint-Saëns, Paul Hindemith
Artist
Carmen Mainer Martín bassoon
Enrique Escartín Ara piano
Ana Mainer Martín flute
Format
1 CD
Cat. number
95761
EAN code
5028421957616
Release
July 2018
About this release
A century of bassoon writing, from a French classic of the repertoire to an absorbing, brand-new set of variations by a young Argentinian composer.

With his characteristically deft economy of means, Henri Dutilleux explored the two characteristics of the bassoon that have defined it in popular imagination ever since Mickey Mouse whirled his broom in vain at the climax of Walt Disney's cartoon realisation of The Sorcerer's Apprentice: despite its sombre title, the Sarabande et Cortège of 1942 encloses both mournfulness and wit. So too, in no less concise terms, does the Sonatina of Tansman from a decade later.

Dutilleux's work opens this recital, but the earliest work here dates from two decades previously, the Sonata which captures in a nutshell the effortlessly easy-going charm of Saint-Saëns's late music, composed with all the succinct mastery of expression to be expected of one who had never been short of a good tune for more than seven decades. Hindemith's Sonata of 1938 is briefer still but a much darker work, anchored by a grave march-rhythm second movement which perhaps reflects the troubled times its composition.

The value of Carmen Mainer Martín's personal selection of repertoire lies in its diversity of styles. Listening to the album should banish forever any notion of the bassoon as a one- or two-note instrument alternating eccentrically between rubicund jollity and doleful introspection. There are three waltzes for solo bassoon by Francisco Mignone, one of the most talented Brazilian composers working in the generation after Villa-Lobos; and to finish, a remarkable set of variations (Ocho variaciones sobre la imagen de un sueño, from 2017) by the Argentinian Alex Dante, born in 1994. This is scored for the unusual combination of bassoon, flute and piano, and dedicated to the two wind-playing sisters on this recording.

Born and raised in Spain, Carmen Mainer Martín now lives and works as both a teacher and performer in Paris. This highly accomplished debut recital on CD should carry her name to an international audience.

The Bassoon, the bass member of the woodwind family and (regretfully) its least popular offspring , is a surprisingly versatile, agile, and expressive instrument. Its expression ranges from the joyful and even comic to the sonorous, melancholic and even the mournful.
After extensive use in the Baroque the bassoon fell into decline during the 19th century, only to rejuvenate during the 20-th century, in which some high quality works were written for it, by eminent and famous composers. This newly recorded adventurous program includes works by Saint-Saëns, Dutilleux, Tansman, Boutry, Mognone, Hindemith and Nante, vibrant and melodious music which explores the possibilities of the instruments to the utmost.
Wonderful playing of total dedication by young Spanish bassoonist Carmen Mainer Martín, winner of several international prizes and a champion of contemporary music.
Listening
Track list
Disk 1
Henri Dutilleux: Sarabande et cortège pour basson et piano

Camille Saint-Saëns: Bassoon Sonata, Op. 168: I. Allegretto moderato

Camille Saint-Saëns: Bassoon Sonata, Op. 168: II. Allegro scherzando

Camille Saint-Saëns: Bassoon Sonata, Op. 168: III. Adagio. Allegro moderato

Alexandre Tansman: Sonatine pour basson et piano: I. Allegro con moto

Alexandre Tansman: Sonatine pour basson et piano: II. Aria

Alexandre Tansman: Sonatine pour basson et piano: III. Scherzo

Roger Boutry: Interférences I pour bassoon et piano

Francisco Mignone: 16 Valsas para fagote solo: I. Aquela Modinha que o villa não escreveu

Francisco Mignone: 16 Valsas para fagote solo: II. Mistério

Francisco Mignone: 16 Valsas para fagote solo: III. Valsa improvisada

Paul Hindemith: Sonate für Fagott und Klavier: I. Leicht bewegt

Paul Hindemith: Sonate für Fagott und Klavier: II. Langsam. Marsch. Beschluß, Pastorale-Ruhig

Alex Nante: Ocho variaciones sobre la imagen de un sueño imagen: Var. I. Nervoso, Var. II. Surreale, Var. III. Mercuriale, Var. IV. Enigmatico poco rubato, Var. V. Evocativo, Var. VI. Sognante perturbato, Var. VII. Fantastico, rubato, Var. VIII. Devoto