Music for Flute and Guitar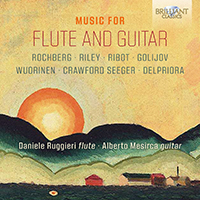 Download booklet
Composer
Charles Wuorinen, George Rochberg, Marc Ribot, Mark Delpriora, Osvaldo Golijov, Ruth Crawford Seeger, Terry Riley
Artist
Daniele Ruggeri flute
Alberto Mesirca guitar
Format
1 CD
Cat. number
95753
EAN code
5028421957531
Release
December 2018
About this release
A brief history of 20th-century American music and a valuable, offbeat addition to the comprehensive Brilliant Classics library of guitar music.

Among the most extensive works here is the cycle of Cantos Desiertos (1996) composed for flute and guitar by Terry Riley. The cycle was later incorporated within The Book of Abbeyzoud, an album with a character suspended between the Biblical, the mystical and the exotic. Francesco en Paraiso is a tender memorial to the countertenor Frank Royon Le Mée (1952-1993). The cycle continues with an Indian melody, and a melancholy lament before ending with a sultry Tango Ladeado (Tango Off-Centre).

Hardly less substantial is Muse of Fire (1990) by George Rochberg, written in the shadow of the Gulf War: hence the sudden stops and starts, the military evocations, the funeral marches, the moments of dream-like lyricism and the rhapsodic soliloquies. Ora pro nobis (1991) is based on the slow movement of Bach's Italian Concerto: a plea for release at a deeply troubled time.

Bateau is a song from the 2003 album Ceramic Dog by Marco Ribot, who works mostly with jazz and post-rock musicians: this is the work's first performance on classical guitar, and Alberto Mesirca brings out the delicate textures that evoke light shimmering on water. Of similar aquatic origins, Fish Tale is a 'watercolour for flute and guitar' by Osvaldo Golijov: 'I wanted everything to be beautiful,' said the composer, 'even at the expense of some sense.'

This unique compilation concludes with shorter solo pieces alternating between flute and guitar, taking in the satisfyingly intricate textures of Crawford Seeger and Wuorinen at each end of American modernism, as well as a touching elegy by Mark Delpriora in memory of a student of his, Basil Keiser.

This is the third solo album on Brilliant Classics by the guitarist Alberto Mesirca after his collections of music by Regondi (BC94841) and Sanz (BC95396).

This fascinating program presents original works for flute and guitar written in 20th century America, as diverse and complex as the country itself, making the distinction between "classical", "popular" and "folk" meaningless.
Featured are works by George Rochberg, Terry Riley (the minimal music pioneer), Marc Ribot, Osvaldo Golijov, Charles Wuorinen, Ruth Crawford Seeger and Mark Delpriora: a kaleidoscope of highly original, provoking and diverting music!
Played with passion, understanding and consummate skill by flutist Daniele Ruggieri and guitarist Alberto Mesirca.
Excellent and extensive liner notes by Giovanni Cestino.
Listening
Track list
Disk 1
George Rochberg: Muse of Fire for Flute and Guitar

George Rochberg: Ora pro nobis for Flute and Guitar

Terry Riley: Cantos desiertos for Flute and Guitar: I. Francesco en Paraiso

Terry Riley: Cantos desiertos for Flute and Guitar: II. Cancion desierto

Terry Riley: Cantos desiertos for Flute and Guitar: III. Quijote

Terry Riley: Cantos desiertos for Flute and Guitar: IV. Llanto

Terry Riley: Cantos desiertos for Flute and Guitar: V. Tango ladeado

Marc Ribot: Bateau for Guitar

Osvaldo Golijov: Fish Tale for Flute and Guitar

Charles Wuorinen: Hexadactyl for Guitar

Ruth Crawford Seeger: Diaphonic Suite for Flute: I. Scherzando

Ruth Crawford Seeger: Diaphonic Suite for Flute: II. Andante

Ruth Crawford Seeger: Diaphonic Suite for Flute: III. Allegro

Ruth Crawford Seeger: Diaphonic Suite for Flute: IV. Moderato ritmico

Mark Delpriora: Elegia for Guitar