Music for Harp and Piano: Pollini, Negri, Mercadante, Rossi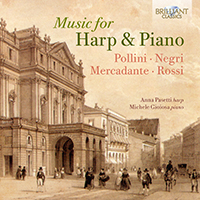 Composer
Benedetto Negri, Francesco Pollini, Lauro Rossi, Saverio Mercadante
Artist
Anna Pasetti harp
Michele Gioiosa piano
Format
1 CD
Cat. number
95926
EAN code
5028421959269
Release
February 2021
About this release
A quartet of little-known 19th-century Italian composers writing for an unusual and winning instrumental combination, including several first recordings.
The repertoire for harp and piano is modest indeed; only Carlos Salzedo's Sonata (1922) enjoys any currency on disc. However, the combination of plucked and keyed chromatic instruments is one that affords any number of imaginative possibilities and a broad palette of timbres, especially in the contrasting sustain and decay patterns of each instrument.
For her second album on Brilliant Classics, after the critical success of 'Dionysus and Apollo' (95925, featuring equally rare Romantic flute and harp repertoire), Anna Pasetti explores the work of four mostly Milanese-based composers. First among them is Francesco Pollini, dedicatee of Bellini's I Sonnambula and composer of a 'Grande Sonate' in a concertante style, exploiting the idiomatic contrast between the instruments to the full. The Capriccio by Benedetto Negri is written in the form of a nocturnal divertimento typical for the time: a cantabile introduction prefacing an elaborate variation set with a brilliantly figured coda.
Best known of our quartet is Saverio Mercadante for his operas and florid variation sets on popular operatic themes which cling to the fringes of the instrumental repertoire, especially for flute. His rhapsodic Melodia is a chamber arrangement of a concertante work for harp and small orchestra, with an opportunity for improvised virtuosity in the form of a cadenza which Pasetti has devised for herself. Neapolitan by birth and training as an operatic composer, Lauro Rossi took charge of Milan's conservatoire before succeeding Mercadante at the head of the Naples conservatoire. His Divertimento is an early work, dedicated to a talented pair of musician sisters, in which the piano takes the lead role, unlike the other works here.

This recording presents an unusual combination of instruments: the harp and the piano. The music dates from the first half of the 19th century, when the harp enjoyed a period of great popularity as a solo instrument, especially in Milan, one of the capitals of the musical world, where the 4 composers on this recording were active: Francesco Pollini, Benedetto Negri, Lauro Rossi and Saverio Mercadante.
The music is highly entertaining, charming, brilliant and full of the enchanting melodies so typical of the Golden Period of Milanes musical life.
Played by pianist Michele Gioiosa and harpist Anna Pasetti, a successful soloist and musicologist, active in the research for unknown music for her instrument.
Listening
Track list
Disk 1
Francesco Pollini: Grande Sonate for Harp and Piano: I. Allegro molto

Francesco Pollini: Grande Sonate for Harp and Piano: II. Andante romance

Francesco Pollini: Grande Sonate for Harp and Piano: III. Presto

Benedetto Negri: Capriccio for Harp and Piano on the cavatina from Rossini's gazza ladra "di piacer mi balza il cor/My heart is leaping": I.(Maestoso – Moderato – Allegro – Allegro alla Polacca

Saverio Mercadante: Melodia for Harp and Piano Accompaniment

Lauro Rossi: Divertimento for Piano and Harp