Music for Mandora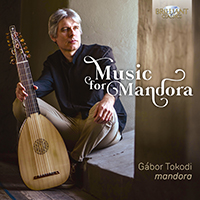 | | |
| --- | --- |
| Composer | Anonymous, Giuseppe Antonio Brescianello |
| Artist | Gábor Tokodi mandora |
| Format | 1 CD |
| Cat. number | 95869 |
| EAN code | 5028421958699 |
| Release | January 2019 |
About this release
Elegant Baroque suites for a rarely heard predecessor to the modern guitar.

It is an unfortunate accident of history that the mandora, if heard at all, is now encountered in company with the 'Jew's harp' thanks to a pair of undistinguished concertos by Albrechtberger. In fact the mandora has a far more mellifluous timbre than its instrumental cousin, and its subtle palette of tone-colours is heard to best advantage in solo repertoire, such as the pair of anonymous Suites and the G minor Sonata by Giuseppe Antonio Brescianello (1690-1757) played on this new recording by Gábor Tokodi.

A closer comparison to the mandora would be with the lute. They share a transparent, silvery sound that is often lost in ensemble; the biggest difference is their outward appearance. An 8-course Renaissance lute usually has 15 strings, and a 13-course Baroque lute has 24, whereas the anonymous Budapest manuscript from which Tokodi has drawn this Suite in C major requires an instrument with only six. In fact, the mandora evolved during the 18th century into an instrument tuned to the same strings as the classical guitar.

The mandora and its music were cultivated primarily in South Germany and in the neighbouring Danube region of the Habsburg Empire. One particular aristocrat of the region cultivated her playing of the mandora and accordingly accumulated a substantial library of music for the instrument, among which may be found 16 sonatas by Brescianello, which make demands far beyond the capabilities of a dilettante. Further library sources in Bratislava and Budapest supply the material for the other two composite works to be enjoyed here.

A cellist by early training, Tokodi began to play the guitar at the age of 15, and it was with this instrument that he graduated as a performer, and has since toured Europe and further afield with distinguished early-music ensembles such as the Savaria Baroque Orchestra and the Baroque Ensemble of the Budapest Festival Orchestra.

This CD presents the Mandora, an 18th century member of the lute family, distinguished by its 6 courses and tuning in fourths, ranging 2 octaves. The mandora and its music were cultivated primarily in South Germany and in the neighboring Donau-region of the Habsburg Empire.
This new recording presents music especially written for mandora by Giuseppe Brescianello and Two suites from an anonymous composer, the manuscripts of which were found in the archive of an Hungarian monastery. Gabor Tokódi is one of the leading lutenists of his native Hungary, active in the field of early music both as soloist and member of period instrument ensembles. His aim is to preserve the sound of the mandora, a nearly forgotten instrument which deserves its place in music history. The scholarly liner notes were written by Dieter Kirsch.
Track list
Disk 1
Giuseppe Antonio Brescianello: Sonata in G Minor: I. Allegro

Giuseppe Antonio Brescianello: Sonata in G Minor: II. Menuet – Trio

Giuseppe Antonio Brescianello: Sonata in G Minor: III. Bourée

Giuseppe Antonio Brescianello: Sonata in G Minor: IV. Menuet

Giuseppe Antonio Brescianello: Sonata in G Minor: V. Gigue

Anonymous: Suite in G Major: I. Allegro

Anonymous: Suite in G Major: II. Capricio

Anonymous: Suite in G Major: III. Arioso

Anonymous: Suite in G Major: IV. Menuet

Anonymous: Suite in G Major: V. Andantino

Anonymous: Suite in G Major: VI. Presto

Anonymous: Suite in C Major: I. Capricio

Anonymous: Suite in C Major: II. Alamand

Anonymous: Suite in C Major: III. Allegro

Anonymous: Suite in C Major: IV. Aria

Anonymous: Suite in C Major: V. Menuet – Trio

Anonymous: Suite in C Major: VI. Gavotta

Anonymous: Suite in C Major: VII. Menuet

Anonymous: Suite in C Major: VIII. Finale