Music for Soprano & Guitar by Female Composers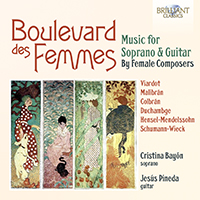 Composer
Clara Schumann, Fanny Mendelssohn, Isabella Colbrán, María Malibrán, Pauline Viardot Garcia, Pauline Duchambge
Artist
Cristina Bayón soprano
Jesús Pineda guitar
Format
1 CD
Cat. number
96729
EAN code
5028421967295
Release
February 2023
About this release
The 19th century salon was a major vehicle for the spread of culture and the transmission of new artistic and literary trends in Europe, as well as being a space overtly dominated by women. Aiming to recreate the musical atmosphere of a 19th-century salon, this recording revolves around two fundamental objectives. The first, to perform music by women who, as composers, performers and hostesses, were absolute cornerstones of these spaces. Second, to perform the songs, originally accompanied by piano, with newly made guitar arrangements. The arrangements on this album have been made following a scrupulous transcription from the piano parts, retaining the harmonic essence whilst capturing the full polyphonic interplay. Several guitar effects have also been incorporated (tambora, harmonics, strumming, etc.), bringing a fresh twist to the original versions. All this contributes not only to expanding the guitar repertoire, but to the discovery of unfamiliar works.
Pauline Viardot (1821–1910) was born in Paris to a highly musical Spanish family and enjoyed an illustrious career as a singer. Returning to Paris in 1870, she established one of the most important musical salons of the time. Viardot's songs have palpable Spanish roots, and her later pieces, like 'Caña española', were likely influenced by her father's compositions. María Malibrán (1808–1836), Viardot's elder sister, is most famous as an illustrious Spanish opera diva. Isabel Colbrán (1784/5–1845) was a Spanish opera singer and the first wife of composer Gioachino Rossini. In the early years of her career, she composed 24 short Italian arias which bear a certain Rossinian stamp. That said, as those arias were written before she met Rossini, it must be queried who influenced whom. Pauline Duchambge (1778–1858) is perhaps the least known of these composers, and this album showcases a number of her songs that have never previously been recorded. A pianist, singer and guitarist, Duchambge studied composition with Cherubini and Auber, mainly composing romances on idealised romantic or historical themes (for example, 'Celle qui voudrait m'aimer'). Fanny Hensel (1805–1847) was the elder sister of Felix Mendelssohn. Although she received a thorough musical education, Fanny's father barred her from publishing her compositions. Several of her songs were published under Felix's name, including 'Die Nonne', but she later published the set containing 'Schwanenlied' under her married name. She hosted the so-called 'Musical Sundays', soirées attended by leading artists and intellectuals of the day, including Clara and Robert Schumann, Heine, Paganini and Gounod. The life of Clara Wieck (1819–1896) was demanding, given that she had to be the bread-winner for her eight children as a concert pianist, owing to her husband Robert Schumann's mental illness. The two lieder on this album are from Clara and Robert's jointly published Zwölf Lieder song cycle.

- The nineteenth-century salon was an essential medium for the presentation of new artistic and literary trends. There was also a clear female supremacy inherited from the salons of the 18th century, in which noblewomen and female members of the gentry set the tone and dominated the cultural society. This was the place to listen to chamber music, salonnière operas or transcriptions of piano songs on other instruments such as the guitar or harp.
- In order to recreate the musical atmosphere of a nineteenth-century salon, this recording will focus on female composers only. Presented are works the famous opera diva Pauline Viardot (1821-1919), the equally famous, even legendary Maria Malibrán (1808-1836, the younger sister of Pauline Viardot), Isabella Colbrán (1785-1845), Pauline Duchambge (1778-1858), Fanny Hensel-Mendelssohn (1805-1847) and Clara Wieck-Schumann (1819-1896).
- Cristina Bayón studied at the Advanced Music Conservatory of her native city Seville. She completed her training at the Staatliche Hochschule für Musik Trossingen, Germany, where she took degrees in historical singing under María Cristina Kiehr. She worked with conductors such as Christoph Coin, Diego Fasolis, Monica Huggett and with groups like Vozes de Al Ayre Español.
- Guitarist Jesús Pineda took master classes with Alberto Ponce, Leo Brouwer, Roland Dyens or David Russell. He has won nine prizes in national and international competitions, among which the "Andrés Segovia" Competition. He is Doctor "Cum Laude" from the University of Seville with a Thesis on the guitar work of the composer Manuel Castillo.
Listening
Track list
Disk 1
Pauline Viardot Garcia: 6 Mélodies et une havanaise: IV. Hai Luli! VWV 1106

Pauline Viardot Garcia: 6 chansons du XVe siècle: I. Aimez-moi ma mignonne, VWV 1121

Pauline Viardot Garcia: 10 Mélodies: III. L'Absence-Caña Española, VWV 1046

Pauline Viardot Garcia: 6 Mélodies: V. Madrid, VWV 1136

Pauline Viardot Garcia: Lamento- La chanson du pêcheur, VWV 1139

Pauline Viardot Garcia: 6 Mélodies: VI. Les filles de Cadix, VWV 1135

María Malibrán: Le retour de la Tyrolienne in B-Flat Major

María Malibrán: La voix qui dit: je t'aime in A Major

María Malibrán: La bayadère

Isabella Colbrán: 6 Petits airs italiens: XIV. Quel cor che mi prometti

Isabella Colbrán: 6 Petits airs italiens: XII. Mi lagnerò tacendo

Isabella Colbrán: 6 Petits airs italiens: III. Benchè ti sia crudel

Pauline Duchambge: Celle qui voudrait m'aimer

Pauline Duchambge: Guitare

Pauline Duchambge: Le bouquet de bal

Fanny Mendelssohn: 12 Lieder, Op. 9: I. Die None

Fanny Mendelssohn: 6 Lieder, Op. 1: I. Schwanenlied

Clara Schumann: 12 Lieder, Op. 35: I. Warum willst

Clara Schumann: 12 Lieder, Op. 35: II. Liebst du um Schönheit