Music from the Golden Age of Rembrandt (1)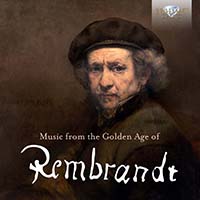 Download booklet
Composer
Jan Pieterszoon Sweelinck, Jacob Van Eyck, Tarquinio Merula
Artist
Musica Amphion
Pieter-Jan Belder conductor
Format
2 CD
Cat. number
95917
EAN code
5028421959177
Release
February 2019
About this release
Songs and dances, fantasias and sonatas by native contemporaries of the master Dutch draughtsman and painter; an engrossing portrait in sound of 17th-century Dutch high culture.

Mahler based the second movement of his Seventh Symphony on The Night Watch by Rembrandt, but the painter himself depicted few musicians and no acquaintances with musicians are known. His most famous musical contemporary was the keyboardist and composer Sweelinck, whose setting of Psalm 1 is presented here in a consort-style recording alongside three keyboard works played on harpsichord and organ.

This collection also highlights much more unfamiliar names to illustrate the rich musical culture of the Low Countries at the time of the painter's flourishing. There are vivid sacred madrigals by Herman Hollanders; stylish pavans by Cornelis Schuyt; a transcribed, extensive Salve Regina for organ by Pieter Cornet; a song for solo recorder by the lutenist Jacob van Eyck, Doen Daphne d'Over schoone Maegt; solo-vocal motets by the poet and diplomat Constantijn Huygens, who did in fact know Rembrandt; and much, much more.

All the works and composers, however unfamiliar, are elucidated in an invaluable booklet essay. The organ recordings were made in the Oude Kerk of Amsterdam which played a significant role in Rembrandt's life (and became the resting place of his wife, Saskia), on the church's transept organ, which has been newly restored to the meantone temperament which the composers on this album would have known and written for. Full sung texts are also included in this invaluable and unrivalled collection.

In commemoration of the 350th anniversary of the death of Rembrandt Brilliant Classics presents the reissue of this double CD, Music from the Time of Rembrandt.
In Rembrandt's time, the Golden Age of The Netherlands, musical life thrived, especially in domestic settings. The repertoire of this recording offers a vivid painting of music making in the homes of the wealthy: works for lute (both solo and in ensemble) Trio Sonatas, harpsichord works, vocal ensembles and recorder solos, music both sacred (Psalms) and secular. Composers include Sweelinck, Schuyt, Vallet, Cornet, Van Eyck, Huygens, Verrijt, Buns, Hacquart, Van Noordt.
Performed by a dedicated group of Dutch musicians, all specialized in Early Music, and led by Pieter-Jan Belder, one of Holland's most versatile, productive and accomplished keyboard players.
Excellent liner notes are included in the booklet, written by a musicologist.
Listening
Track list
Disk 1
Cornelis Schuyt: Pavaen en gagliarda 10

Cornelis Schuyt: Pavaen en gagliarda 10

Cornelis Schuyt: Canzona "la barca"

Jan Pieterszoon Sweelinck: Psalm 1

Jan Pieterszoon Sweelinck: Hexachord fantasia

Jan Pieterszoon Sweelinck: More palatino

Jan Pieterszoon Sweelinck: Pavaen lachrimae

Nicolaes Vallet: Fortune angloise - Malle Sijmen - Slaep, zoete Slaep

Cornelis Thymanszoon Padbrué: Madrigal "dat ick betovert ben"

Herman Hollanders: Antequam comedam suspiro

Herman Hollanders: Dolor me compellit dicere

Herman Hollanders: Cum inferni tenebris

Pieter Cornet: Salve regina
Disk 2
Johan Albert Ban: Me veux tu voir mourir 1640

Jacob Van Eyck: Der Fluyten Lust-Hof: Doen Daphne d'Over schoone Maegt

Anonymous: Daphne variaties

Johannes Schop: Almande

Johannes Schop: Sarabande op la suedoise

Johannes Schop: Brande Mr. Primerose?

Tarquinio Merula: 't Hane en 't Henne-gekray

Bernardon Barlasca: Vijfde fantasia

Christian Herwich: Concerto

Constantijn Huygens: Usquequo, domine

Constantijn Huygens: Quare tristes es (IX)

Constantijn Huygens: De profundis (XVII)

Constantijn Huygens: Air (XXXV)

Jan Baptist Verrijt: Quae habitas in hortis

Anthoni van Noordt: Psalm 2

Sybrandt Van Noordt: Sonata No. 1 in F Major: I. Vivace. Adagio

Sybrandt Van Noordt: Sonata No. 1 in F Major: II. Allegro

Carel Hacquart: Sonata No. 8 a quattro

Benedictus Buns: Trio Sonate No. 7 in F-Sharp Minor: I. Adagio

Benedictus Buns: Trio Sonate No. 7 in F-Sharp Minor: II. Allegro

Benedictus Buns: Trio Sonate No. 7 in F-Sharp Minor: III. Adagio

Benedictus Buns: Trio Sonate No. 7 in F-Sharp Minor: IV. Giga & adagio