Muthel: Complete Organ Music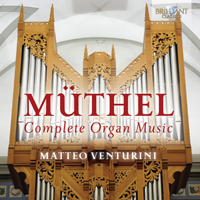 | | |
| --- | --- |
| Composer | Johann Gottfried Müthel |
| Artist | Matteo Venturini |
| Format | 1 CD |
| Cat. number | 95013 |
| EAN code | 5028421950136 |
| Release | January 2015 |
About this release
The last pupil of the great Johann Sebastian Bach, Johann Gottfried Müthel is said to have been present at the composer's deathbed, and to have performed his duties as Cantor for the weeks following his passing. He is also credited for notating a number of Bach's final works.

Given this most illustrious of mentors – and notable friends, such as C.P.E. Bach – it is surprising that Müthel's music has not been more widely appreciated since his own death in 1788. However, Matteo Venturini's new recording of his complete organ music is set to change that. Praised by the English music historian Charles Burney as "full of novelty, taste and grace", Müthel's compositions for the organ are wide-ranging: from imposing fantasias to more delicately paced chorale preludes, as well as a set of variations on the chorale "Jesu, meine Freude". His music is highly original, particularly in the inner movements which are characterised by rhythmically striking motifs and phrases, together with abrupt changes of dynamics.

Three organs are used on this recording, all inspired by instruments of the North German Baroque, to demonstrate the variety of sound achievable in this graceful music. Matteo Venturini, winner of no less than eight competitions and a regular at prestigious international music festivals across Europe and America, is a seasoned interpreter of these works from the late Baroque in which he specialises. The author of a thesis on the organ works of Muthel's contemporary Daniel Magnus Gronau, Venturini's debut release on Brilliant Classics of Gronau's music (BC94843) was described as 'admirably played' in BBC Music Magazine and was Record of the Month on MusicWeb International.

Johann Gottfried Müthel was the last pupil of the great Johann Sebastian Bach. He was present at the master's deathbed, and he performed the funeral services, taking over the duties of the deceased Cantor.
Mühtel's music ("full of novelty, taste and grace" according to the great art historian and traveller Charles Burney) is of a wide variety: his Organ Fantasias are imposing, monumental and substantial, his chorale preludes offer intimate meditations on the chorale texts, all of it written in a highly original, dynamic musical language full of contrasts and instrumental virtuosity.
Italian organist Matteo Venturini chose three organs for this recording, all of them inspired by the North German Baroque tradition. Venturini, a winner of 8 international competitions, already recorded a CD with organ works by Gronau for Brilliant Classics (BC94843), which received excellent reviews, among others a "Record of the Month" on Musicweb International.

Other information:

Recorded in 2013.
Booklet includes liner notes, artist biography and organ specifications.
Track list
Disk 1
Johann Gottfried Müthel: Fantasie in g-Moll for Organ

Johann Gottfried Müthel: Fantasie in Es-Dur for Organ

Johann Gottfried Müthel: Fantasie in F-Dur for Organ

Johann Gottfried Müthel: Fantasie in Es-Dur for Organ

Johann Gottfried Müthel: Unbezeichnetes Stück in C-Dur

Johann Gottfried Müthel: Fugenfantasie C-Dur

Johann Gottfried Müthel: Durch Adams Fall ist ganz verderbt

Johann Gottfried Müthel: Vater unser im Himmelreich

Johann Gottfried Müthel: Christe, der du bist Tag und Licht

Johann Gottfried Müthel: Herr Christ, der einig Gottessohn

Johann Gottfried Müthel: Jesu, meine Freude (Theme)

Johann Gottfried Müthel: Jesu, meine Freude (Variation 1)

Johann Gottfried Müthel: Jesu, meine Freude (Variation 2)

Johann Gottfried Müthel: Jesu, meine Freude (Variation 3)

Johann Gottfried Müthel: O Traurigkeit, o Herzeleid

Johann Gottfried Müthel: Was mein Gott will, das gescheh allzeit

Johann Gottfried Müthel: Herzlich thut mich verlangen

Johann Gottfried Müthel: Fantasie in G-Dur