Name Symphonies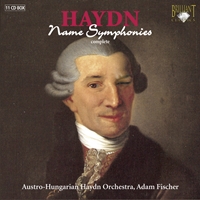 Composer
Franz Joseph Haydn
Artist
Austro-Hungarian Haydn Orchestra
Adam Fischer conductor
Format
11 CD
Cat. number
93105
EAN code
5028421931050
Release
April 2006
About this release
Out of Haydn's no less than 104 symphonies, 38 are known by a specific name. Some of these enjoy a huge popularity. Only a few of the names can be traced back to the composer.

Listen to all 38 of them and also travel through Haydn's entire working career in the mean time. The booklet explains the origins of each name.

Superb performances by the Austro-Hungarian Haydn Orchestra under Adam Fischer.
Track list
Disk 1
Symphony No. 6 in D Major, "Le Matin": Adagio, allegro

Symphony No. 6 in D Major, "Le Matin": Adagio, andante, adagio

Symphony No. 6 in D Major, "Le Matin": Menuet & trio

Symphony No. 6 in D Major, "Le Matin": Finale, allegro

Symphony No. 7 in C Major, "Le Midi": Adagio, allegro

Symphony No. 7 in C Major, "Le Midi": Recitativo: adagio

Symphony No. 7 in C Major, "Le Midi": Menuetto & trio

Symphony No. 7 in C Major, "Le Midi": Finale, allegro

Symphony No. 8 in G Major, "Le Soir": Allegro molto

Symphony No. 8 in G Major, "Le Soir": Andante

Symphony No. 8 in G Major, "Le Soir": Menuetto & trio

Symphony No. 8 in G Major, "Le Soir": La Tempesta, presto
Disk 2
Symphony No. 22 in E-Flat Major, "Der Philosoph": Adagio

Symphony No. 22 in E-Flat Major, "Der Philosoph": Presto

Symphony No. 22 in E-Flat Major, "Der Philosoph": Menuetto & trio

Symphony No. 22 in E-Flat Major, "Der Philosoph": Finale, presto

Symphony No. 26 in D Minor, "Lamentatione": Allegro assai con spirito

Symphony No. 26 in D Minor, "Lamentatione": Adagio

Symphony No. 26 in D Minor, "Lamentatione": Menuet & trio

Symphony No. 30 in C Major, "Alleluja": Allegro

Symphony No. 30 in C Major, "Alleluja": Andante

Symphony No. 30 in C Major, "Alleluja": Finale, tempo di menuet, piu tosto allegretto

Symphony No. 31 in D Major, "Hornsignal": Allegro

Symphony No. 31 in D Major, "Hornsignal": Adagio

Symphony No. 31 in D Major, "Hornsignal": Menuet & trio

Symphony No. 31 in D Major, "Hornsignal": Finale, moderato molto, presto
Disk 3
Symphony No. 43 in E-Flat Major, "Merkur" (Mercury): Allegro

Symphony No. 43 in E-Flat Major, "Merkur" (Mercury): Adagio

Symphony No. 43 in E-Flat Major, "Merkur" (Mercury): Menuetto & trio

Symphony No. 43 in E-Flat Major, "Merkur" (Mercury): Finale, allegro

Symphony No. 44 in E Minor, "Trauersymphonie" (Mourning): Allegro con brio

Symphony No. 44 in E Minor, "Trauersymphonie" (Mourning): Menuetto & trio, allegretto

Symphony No. 44 in E Minor, "Trauersymphonie" (Mourning): Adagio

Symphony No. 44 in E Minor, "Trauersymphonie" (Mourning): Finale, presto

Symphony No. 45 in F-Sharp Minor, "Abschiedssymphonie" (Farewell): Allegro assai

Symphony No. 45 in F-Sharp Minor, "Abschiedssymphonie" (Farewell): Adagio

Symphony No. 45 in F-Sharp Minor, "Abschiedssymphonie" (Farewell): Menuet & trio, allegretto

Symphony No. 45 in F-Sharp Minor, "Abschiedssymphonie" (Farewell): Finale, presto, adagio
Disk 4
Symphony No. 38 in C Major, "Echo": Allegro di molto

Symphony No. 38 in C Major, "Echo": Andante molto

Symphony No. 38 in C Major, "Echo": Menuet & trio, allegro

Symphony No. 38 in C Major, "Echo": Finale, allegro di molto

Symphony No. 48 in C Major, "Maria Theresia": Allegro

Symphony No. 48 in C Major, "Maria Theresia": Adagio

Symphony No. 48 in C Major, "Maria Theresia": Menuet & trio, allegretto

Symphony No. 48 in C Major, "Maria Theresia": Finale, allegro

Symphony No. 49 in F Minor, "La Passione": Adagio

Symphony No. 49 in F Minor, "La Passione": Allegro di molto

Symphony No. 49 in F Minor, "La Passione": Menuet & trio

Symphony No. 49 in F Minor, "La Passione": Finale, presto
Disk 5
Symphony No. 53 in D Major, "L'Impériale": Largo maestoso, vivace

Symphony No. 53 in D Major, "L'Impériale": Andante

Symphony No. 53 in D Major, "L'Impériale": Menuetto & trio

Symphony No. 53 in D Major, "L'Impériale": Finale-Capriccio, presto

Symphony No. 55 in E-Flat Major, "Der Schulmeister": Allegro di molto

Symphony No. 55 in E-Flat Major, "Der Schulmeister": Adagio, ma semplicemente

Symphony No. 55 in E-Flat Major, "Der Schulmeister": Menuetto & trio

Symphony No. 55 in E-Flat Major, "Der Schulmeister": Finale, presto

Symphony No. 59 in A Major, "Feuersymphonie": Presto

Symphony No. 59 in A Major, "Feuersymphonie": Andante o più tosto allegretto

Symphony No. 59 in A Major, "Feuersymphonie": Menuetto & trio

Symphony No. 59 in A Major, "Feuersymphonie": Allegro assai
Disk 6
Symphony No. 60 in C Major, "Il Distratto": Adagio-allegro di molto

Symphony No. 60 in C Major, "Il Distratto": Andante

Symphony No. 60 in C Major, "Il Distratto": Menuetto & trio

Symphony No. 60 in C Major, "Il Distratto": Presto

Symphony No. 60 in C Major, "Il Distratto": Adagio (di Lamentatione)

Symphony No. 60 in C Major, "Il Distratto": Finale, prestissimo

Symphony No. 63 in C Major, "La Roxelane" (Versione seconda): Allegro

Symphony No. 63 in C Major, "La Roxelane" (Versione seconda): La Roxelane, allegretto (o più tosto allegro)

Symphony No. 63 in C Major, "La Roxelane" (Versione seconda): Menuet & trio

Symphony No. 63 in C Major, "La Roxelane" (Versione seconda): Finale, presto

Symphony No. 64 in A Major, "Tempora Mutantur": Allegro con spirito

Symphony No. 64 in A Major, "Tempora Mutantur": Largo

Symphony No. 64 in A Major, "Tempora Mutantur": Menuet & trio, allegretto

Symphony No. 64 in A Major, "Tempora Mutantur": Finale, presto
Disk 7
Symphony No. 69 in C Major, "Laudon": Vivace

Symphony No. 69 in C Major, "Laudon": Un poco adagio più tosto andante

Symphony No. 69 in C Major, "Laudon": Menuetto & trio

Symphony No. 69 in C Major, "Laudon": Finale, presto

Symphony No. 73 in D Major, "La Chasse": Adagio-allegro

Symphony No. 73 in D Major, "La Chasse": Andante

Symphony No. 73 in D Major, "La Chasse": Menuetto & trio, allegretto

Symphony No. 73 in D Major, "La Chasse": La Chasse, presto

Symphony No. 82 in C Major, "L'Ours" (The Bear): Vivace assai

Symphony No. 82 in C Major, "L'Ours" (The Bear): Allegretto

Symphony No. 82 in C Major, "L'Ours" (The Bear): Menuet & trio

Symphony No. 82 in C Major, "L'Ours" (The Bear): Finale, vivace
Disk 8
Symphony No. 83 in G Minor, "La Poule" (The Hen): Allegro spiritoso

Symphony No. 83 in G Minor, "La Poule" (The Hen): Andante

Symphony No. 83 in G Minor, "La Poule" (The Hen): Menuet & trio, allegretto

Symphony No. 83 in G Minor, "La Poule" (The Hen): Finale, vivace

Symphony No. 85 in B-Flat Major, "La Reine": Adagio-vivace

Symphony No. 85 in B-Flat Major, "La Reine": Romance, allegretto

Symphony No. 85 in B-Flat Major, "La Reine": Menuetto & trio, allegretto

Symphony No. 85 in B-Flat Major, "La Reine": Finale, presto

Symphony No. 92 in G Major, "Oxford": Adagio-allegro spiritoso

Symphony No. 92 in G Major, "Oxford": Adagio

Symphony No. 92 in G Major, "Oxford": Menuet & trio, allegretto

Symphony No. 92 in G Major, "Oxford": Presto
Disk 9
Symphony No. 94 in G Major, "Surprise": Adagio-vivace assai

Symphony No. 94 in G Major, "Surprise": Andante

Symphony No. 94 in G Major, "Surprise": Menuet & trio, allegro molto

Symphony No. 94 in G Major, "Surprise": Finale, allegro di molto

Symphony No. 100 in G Major, "Military": Adagio-allegro

Symphony No. 100 in G Major, "Military": Allegretto

Symphony No. 100 in G Major, "Military": Menuet & trio,moderato

Symphony No. 100 in G Major, "Military": Finale, presto
Disk 10
Symphony No. 101 in D Major, "Clock": Adagio-presto

Symphony No. 101 in D Major, "Clock": Andante

Symphony No. 101 in D Major, "Clock": Menuet & trio, allegretto

Symphony No. 101 in D Major, "Clock": Finale, presto

Symphony No. 102 in B-Flat Major, "Miracle": Largo-allegro vivace

Symphony No. 102 in B-Flat Major, "Miracle": Adagio

Symphony No. 102 in B-Flat Major, "Miracle": Menuetto & trio, allegro

Symphony No. 102 in B-Flat Major, "Miracle": Finale, presto
Disk 11
Symphony No. 103 in E-Flat Major, "Mit dem Paukenwirbel" (Drumroll): Adagio-allegro con spirito

Symphony No. 103 in E-Flat Major, "Mit dem Paukenwirbel" (Drumroll): Andante più tosto allegretto

Symphony No. 103 in E-Flat Major, "Mit dem Paukenwirbel" (Drumroll): Menuet & trio

Symphony No. 103 in E-Flat Major, "Mit dem Paukenwirbel" (Drumroll): Finale, allegro con spirito

Symphony No. 104 in D Major, "London": Adagio-allegro

Symphony No. 104 in D Major, "London": Andante

Symphony No. 104 in D Major, "London": Menuetto & trio, allegro

Symphony No. 104 in D Major, "London": Finale, spiritoso