Nana: Spanish Lullabies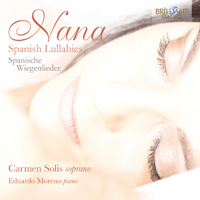 Artist
Carmen Solis soprano
Eduardo Moreno piano
Format
1 CD
Cat. number
95095
EAN code
5028421950952
Release
May 2015
About this release
More than a century of song is gathered here in a charming bouquet around folk themes and lullabies. The song that gives the album its title is by Manuel de Falla, from his justifiably famous Seven Popular Spanish Songs, and there are also excerpts here from the Canciones negras of Montsalvatge. Much less often encountered outside their native countries are the songs of the Spaniard Antón García Abril (b.1933) and the Argentine composer Carlos Guastavino (1912–2000), both composing in a light and charming lyric style, shared by the early music of Guastavino's countryman Alberto Ginastera (1916–83), who later composed in a more Modernist vein.

Few know that Spain's greatest poet, Federico Garcia Lorca, gave his name to a collection of song-settings which he collected and arranged for soprano and piano: like several of the lullabies here, his setting presents a deliberate contrast between a disturbing lyric and a soothing melody. The accompaniment, with its echoes of flamenco, is clearly inspired by Andalusian folk music.

Less reliant on folk models and more adventurous are the songs and piano works by Ernesto Halffter (1905–89): a 1920 Lullaby retains a soothing rhythm but is chromatically infected in the harmony. Nana del niño malo by Guillermo Alonso Iriarte and Nana de la lejanía by Jorge Montero were written especially for this album and are therefore world premiere recordings.

The Spanish soprano Carmen Solis has lately sung the lead role in Puccini's Madama Butterfly at the opera in Gijon: the required combination of power and purity for Cio-Cio San also serves her well in this song-collection.

A unique collection of Spanish and Latin-American lullabies.
The Spanish lullaby is characterised by a special bitter-sweet flavour, in which the joy and pain of childhood are perfectly captured. The lullabies on this recording are original art-songs by famous composers: De Falla, Rodrigo, Halffter, Montsalvatge, Abril, Moreno-Torroba, Guastavino, Toldra and others.
Carmen Solis is one of the leading sopranos of her home country Spain. She has the right mixture of melancholy, innocence, serenity and that deep smouldering Spanish passion in her voice, which make this performance irresistible!
Excellent liner notes in the booklet, song texts on the Brilliant Classics website.
Track list
Disk 1
Corderito blanco

Cantarcillo

Canción de cuna para dormir a un negrito

7 Canciones populares Españolas: V. Nana

Oración de las madres que tienen a sus hijos en brazos

Niñerías, Series 1, Op. 21: IV. Berceuse

Encantamiento

Nana del niño malo

Meciendo

Rocío

Canción de cuna (from La mujer del héroe)

Lullaby

Nana de la cigüeña

Nana de la negra flor

Nana del niño malo

Arrorró

Ea, la nana

Nana de primavera

Nani, nani

Nana del niño malo

Nana de la lejanía

Canciones españolas antiguas: VIII. Nana de Sevilla