Nardini: Sonatas for Strings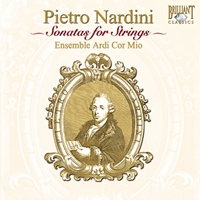 Composer
Pietro Nardini
Artist
Ensemble Ardi Cor Mio
Renata Sfriso violin
Maurizio Cadossi violin
Caroline Boersma violoncello
Gabriele Micheli clavicembalo & harpsichord
Format
1 CD
Cat. number
93347
EAN code
5028421933474
Release
April 2007
About this release
Pietro Nardini (1722 - 1793) was a typical violinist and composers in the vein of Giuseppe Tartini, whose pupil he had been. Most works in his oeuvre call for the violin, both in orchestral and chamber pieces.

Although he himself had a great aptitude for the violin, his solo concertos and his performance style are not ostentatiously showing off technical skills. Apparently his own playing was incredibly moving, but he felt best at home in smaller scale works such as the sonatas.

In these sonatas he followed the order of movements favoured by Tartini: slow - fast - fast. These release contains some examples of this now unusual order.

The excellent Ensemble Ardi Cor Mio has dedicated itself to rediscovering and performing music by 17th- and 18th-century Italian composers. This is a record long overdue to confront the world again with this music which has been virtually absent from the musical stage for several centuries. At the time the pre-Classicist Nardini quickly became old-fashioned.
Track list
Disk 1
: Allegro

: Andante

: Allegro

: Adagio

: Allegro

: Allegro

: Andante

: Allegro

: Minuetto n.5 in Sol maggiore/G major

: Allegro

: Andante con variazioni

: Allegro

: Adagio

: Minuetto

: Minuetto n.13 in Sol maggiore/G major

: Minuetto n.6 in Re maggiore/D major

: Andante

: Allegro

: Largo

: Minuetto (Vivace

: Allegro

: Adagio

: Allegro

: Presto

: Minuetto n.6 in Re maggiore/D major