Navigating Foreign Waters: Spanish Baroque Music & Mexican Folk Music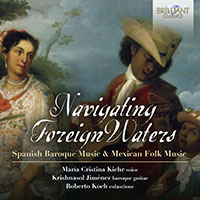 Download booklet
Composer
Gaspar Sanz, Santiago de Murcia
Artist
María Cristina Kiehr voice
Krishnasol Jiménez baroque guitar
Roberto Koch colascione
Format
1 CD
Cat. number
96205
EAN code
5028421962054
Release
June 2021
About this release
Baroque guitar music by Santiago de Murcia (1673–1739) and Gaspar Sanz (1640–1710) accompanying traditional son jarocho melodies from southern Veracruz State, Mexico:
La bruja · La carretera · Los juiles · Siquisirí · Los chiles verdes · La lloroncita · María chuchena · El gallo · Fandanguito · Aguanieve

In a very specific sense in 16th- and 17th-century Spain and again in today's Mexico (and elsewhere in Latin America) the Spanish term son denotes a particular genre of music with certain common traits including a close association with dance, text composed of several verses (coplas) and a fundamental harmonic pattern unique to each son. This use of the term can be found in sources as early as Gaspar Sanz's Instrucción de musica para la guitarra Española (1674), whose title page proclaims 'a variety of sones and dances, both strummed and plucked, in the Spanish, Italian, French and English styles'. These Spanish sones are the forerunners of those performed today by popular musicians in many regions of Mexico, notably in the States of Jalisco, Guerrero, and Veracruz, in the latter, the two varieties of son being the huasteco (northern) and the jarocho (southern).
Veracruz's long Gulf of Mexico coastline was home to the principal port of trade between New and Old Spain, where both commercial and cultural exchange took place. In 1776, the Veracruzano guitar professor Antonio Vargas y Guzmán published a guitar method with a section on continuo accompaniment that drew heavily on an existing Spanish treatise, the Resumen de acompañar la parte con la guitarra published in 1714 by Santiago de Murcia.
Imported to Mexico via Veracruz, the Spanish son underwent a series of changes in the New World yet retained its main characteristics. Known as sonecitos del país or sones de la tierra these early Mexican sones were the immediate forerunners of the contemporary sones of the jarocho region.
The son jarocho features the jarana, a five-course guitar, usually strummed, in many ways resembling a baroque guitar, and more broadly this region's musical practice has preserved many other aspects of Baroque performance practice including the manner of dancing and instrumental techniques.
The son jarocho's special conservative tendency towards its historic Spanish roots has inspired contemporary musicians to unify what recent research confirms are two sides of the same coin, separated in time but united by common musical material. This recording takes an innovative and unprecedented approach, playing the music of the baroque and son jarocho simultaneously, using original music from the baroque guitar collections (by Sanz and Murcia) to accompany Mexican sones texts sung to their traditional melodies. (The practice of accompanying the voice with a plucked guitar as opposed to a strummed jarana is well attested in baroque sources.) In this way baroque performance practice is incorporated into the jarocho tradition. An additional twist comes from the use of an Italian colascione to provide an improvised bass line, as a baroque analogue to today's jarocho instrument, the leona (a plucked bass guitar).

The booklet contains liner notes by musicologist Antonio Corona Alcalde on this traditional Mexican repertoire and its roots in the Spanish baroque
Original Spanish sung texts with English translations available with this release
This original program presents the music of Spanish composers Santiago de Murcia and Gaspar Sanz, combined with present day folk music "Son Jarocho" from Veracruz, Mexico, which bears a strong resemblance to Spanish baroque music. This music follows the same harmonic and rhythmic patterns as the traditional baroque dance forms.
In his Instrucción de música sobre la guitarra española, first published in 1674, Gaspar Sanz has included a variety of sones and dances, both strummed and plucked, in the Spanish, Italian, French and English styles. Some of the sones that appear in this treatise are: Villano, Españoleta, Canarios, Folias, Marizápalos and Jácaras. These Spanish sones are the forerunners of the ones that can be found nowadays among the popular musicians in many regions of Mexico, notably in the states of Jalisco, Guerrero, and Veracruz.
The present recording brings a new and fresh approach to this venture by taking the music from both groups, baroque and jarocho, and playing them simultaneously, using the original music from the baroque guitar collections to accompany sones sung to the traditional melodies.
Sung by Maria Cristina Kiehr, one of the best known sopranos in Baroque repertoire (she worked with René Jacobs, Philippe Herreweghe, Franz Brüggen, Jordi Savall, Gustav Leonhardt, Nikolaus Harnoncourt and many others), with guitarist Krishnasol Jiménez and Roberto Koch, bass.
Listening
Track list
Disk 1
Gaspar Sanz: La bruja - Jácaras por la E

Santiago de Murcia: La carretera – Cumbees

Santiago de Murcia: Los juiles - Jácaras por la E

Santiago de Murcia: Siquisiri - Jácaras de la costa

Santiago de Murcia: Los Chiles verdes - Tarantelas por la E

Santiago de Murcia: La lloroncita - Los ympossibles

Santiago de Murcia: María Chuchena - La jotta

Santiago de Murcia: El gallo - Folías gallegas

Santiago de Murcia: Fandanguito – Fandango

Santiago de Murcia: Aguanieve - Zarambeques o muecas