Ninna Nanna: Lullabies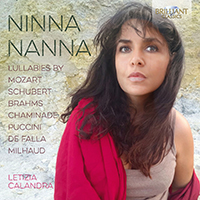 | | |
| --- | --- |
| Composer | Franz Schubert, Johannes Brahms, Wolfgang Amadeus Mozart |
| Artist | Letizia Calandra soprano |
| Format | 1 CD |
| Cat. number | 95771 |
| EAN code | 5028421957715 |
| Release | July 2018 |
About this release
This collection of 17 lullabies constitutes a particularly charming selection of songs for children, songs about children and indeed songs to send them to sleep. Alongside old favourites such as Wiegenlieder by Schubert, Brahms and Reger, Letizia Calandra has programmed much less frequently encountered examples of the genre.

The album opens with two lullabies by Vincenzo Davico (1889-1969), a one-time student of Reger who wrote in a direct and appealing idiom. These form part of a mini-cycle of songs, Ninna nanne popolaresche, completed in the penultimate track. There are one or two older works by Merula and Mozart, but by and large the collection focuses on the 20th century, with memorable melodies and tender expressions by Puccini, Chaminade and Tosti.

There are also two lullabies by another lesser-known Italian composer of the last century, Anna Filippone Del Bono. The first was written for the birth of her grandson Lello, while the second, the Ninna nanna di guerra, is a more lyrical piece in which the instrumental part and vocal line are deliberately separate, with a text full of echoes of the First World War and a sense of ineluctable sadness.

The delight of this recording owes much to the art of soprano Letizia Calandra, who interprets the individual songs with great intelligence and empathy, delicately differentiating between the moods and intentions of the various composers. A graduate of the Accademia della Santa Cecilia in Rome, Calandra has worked with many of Italy's foremost early-music directors such as Diego Fasolis and Claudio Cavina.

'Scarlatti and the Neapolitan Song' was Letizia Calandra's debut album for Brilliant Classics (BC94488). According to MusicWeb International, 'The performances are convincing in every respect'. Letizia Calandra is a singer who specialises in early music and has a particular interest in Neapolitan song. That is a prerequisite for a good performance of this repertoire in the Neapolitan language. Ms Calandra's performance is very natural.

This recording brings together a selection of lullabies by great classical composers: Mozart, Brahms, Puccini, De Falla, Merula, Chaminade, Milhaud, Reger, Davico, a wide variety of musical styles but with the common theme of the soothing and intimate musical language between mother and her slumbering child. Letizia Calandra is widely acclaimed for the great versatility of her voice. Classically schooled and specialized in Early Music she uses her beautiful voice in an original way, which suits the popular nature of the music well. She is a foremost interpreter of classical Neapolitan Song, a perfect blend of the high and the low. On this recording Letizia Calandra is accompanied by piano and harp.
Track list
Disk 1
Il sonno bimba mia

Fai la nanna mio Tesoro

Duèrmete, nino, duerme

Dors, dors, dors

Dormi mio dolce tesor

Wiegenlied, Op. 49: IV. Guten Abend gut Nacht

Hor ch'è tempo di dormire in D Minor

Viens prè de moi

E l'uccellino

Ninna nanna del grillo

Wiegenlied Op. 98 in E-Flat Major: II. Schlafe, schlafe

Wiegenlied Op. 76: LII. Maria sitzt am Rosenhag

Ninna nanna mio figliuolo

Ninna nanna di Guerra

Ninna nanna, ninna nanna

Vieni o sonno

Nonna nonna core mio