Not a Single Road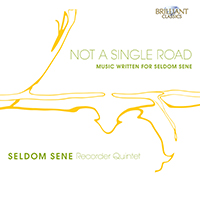 Download booklet
| | |
| --- | --- |
| Composer | Aspasia Nasopoulou, Sören Sieg, Thanasis Deligiannis |
| Artist | Seldom Sene |
| Format | 1 CD |
| Cat. number | 95956 |
| EAN code | 5028421959566 |
| Release | September 2019 |
About this release
New pieces for recorder consort, written for and dedicated to the talents of a young Dutch ensemble with a growing catalogue of critically acclaimed recordings.

For their 'commitment, technical versatility, unanimity of ensemble and near-immaculate tuning' (Gramophone) the five musicians of Seldom Sene have won golden opinions in repertoire ranging from songs and dances from Renaissance Spain and England to their own transcription of Bach's Goldberg Variations: 'With passionate command, skilful precision, nuanced dynamics and their outstanding potential for colouring, the ensemble succeeds in creating a surprising spectrum of enchanting, unheard-of sounds from Bach's Variations without compromising the "idea" of the work.' (MDR.de)

Now they undertake a new adventure, having commissioned pieces from four composers of diverse backgrounds and idioms. Aspasia Nasopoulou has written a collection of 10 miniatures – 'Dipoles' – which are inspired by opposites such as Male/Female, Bent/Straight, One/Many and so forth, giving rise to a cycle of high contrasts. Her fellow Greek composer Thanasis Deligiannis plays on the talents of Seldom Sene as singers as well as instrumentalists in setting a triptych of texts in English by the poet Iacovos Camhis, with the whimsical title of a bit unfair.

Sören Sieg's work brings together the joyful and relaxed temperament of much African music with the dramatic tension of European music. As a multi-talented composer and performer on wind, string and keyboard instruments he has composed 24 recorder suites: this is the latest, titled Mathongo Amnandi, meaning 'sweet Dreams' in Xhosa. Finally Seldom Sene play Quo quondam victa furore ('Where once madness excelled') by the Dutch composer Paul Leenhouts: a character piece telling a pastoral story from Roman literature which extols the virtues of a simple country life. Leenhouts, too, has a background in early music, as a distinguished performer and director in his own right: like the others, he has composed a vividly communicative piece which is beautifully tailored to the talents of Seldom Sene.

Seldom Sene is a recorder quintet on a mission to redefine the art of consort, namely in performing and arranging works seldom heard, in a manner seldom seen. Their innovative programming and CD recordings have earned them the highest international praise: "A model of creative and thoughtful programming…the playing is of the highest order, immaculate intonation and perfect ensemble" (Musicweb), "With passionate command, skillful precision, nuanced dynamics, the ensemble succeeds in creating a surprising spectrum of enchanting, unheard-of sounds" (MDR.de).
This new recording presents works which were commissioned by the ensemble from contemporary composers: Aspasia Nasopoulou, Thanasis Deligiannis, Sören Sieg and Paul Leenhouts. The composers wrote the introduction to their own works in the booklet.
Seldom Sene previously recorded for Brilliant Classics "Delight in Musicke, English 16/17 century Consort music", "El aire se serena, music from 16th century Spain", "Bach: Goldberg Variations", "Taracea".
Listening
Track list
Disk 1
Aspasia Nasopoulou: 10 Dipoles: I. Good | Bad

Aspasia Nasopoulou: 10 Dipoles: II. Even | Odd

Aspasia Nasopoulou: 10 Dipoles: III. One | Many

Aspasia Nasopoulou: 10 Dipoles: IV. Female | Male

Aspasia Nasopoulou: 10 Dipoles: V. Still | Moving

Aspasia Nasopoulou: 10 Dipoles: VI. Dark | Light

Aspasia Nasopoulou: 10 Dipoles: VII. Right | Left

Aspasia Nasopoulou: 10 Dipoles: VIII. Straight | Bent

Aspasia Nasopoulou: 10 Dipoles: IX. Square | Oblong

Aspasia Nasopoulou: 10 Dipoles: X. Limited | Unlimited

Sören Sieg: Mathongo Amnandi - African Suite No. 24: I. Free as a Bird

Sören Sieg: Mathongo Amnandi - African Suite No. 24: II. Dream Stories

Sören Sieg: Mathongo Amnandi - African Suite No. 24: III. Blue Earth

Sören Sieg: Mathongo Amnandi – African Suite No. 24: IV. Awakening

Paul Leenhouts: Quo quondam victa furore

Thanasis Deligiannis: A Bit Unfair: I. January

Thanasis Deligiannis: A Bit Unfair: II. Little Squirrels

Thanasis Deligiannis: A Bit Unfair: III. A Bit Unfair