O Rosa Bella: Mass by Gilles Joye and chansons by Dunstable and Bedyngham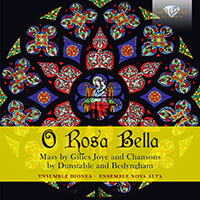 Download booklet
Composer
Gilles Joye, John Dunstable, John Bedyngham (1)
Artist
Ensemble Nova Alta
Ensemble Dionea
Format
1 CD
Cat. number
95529
EAN code
5028421955292
Release
July 2019
About this release
Fifteenth-century chansons and polyphony in stylish new performances by Italian-based early-music ensembles.

'O Rosa Bella' is the title of two popular 15th-century chansons, the earlier composed by Johannes Ciconia and the latter originally attributed to John Dunstable, but now to John Bedyngham. The text is based on a poem written by Leonardo Giustiniani (1300-1446): 'O lovely rose, My sweet soul; Let me not die In courtly love.' More than 20 works were based on this popular theme by composers including Johannes Ockeghem, and a Mass attributed to Gilles Joye.

Born around 1420, in the Belgian town of Courtai, Joye worked as a singer and lived beyond his means. Having taken up a prestigious ecclesiastical post in Bruges, he was sent by the church fathers on a pilgrimage in order to atone for misdemeanous, but he continued to accumulate debts which compelled him to sell all his possessions; he died in penury. The song which Joye took as the basis for his Mass circulated widely during the 15th century; by a curious coincidence, Rosabella was also the name of Joye's lover with whom he lived openly (and imprudently).

The recording follows performance practice of the time by using only male voices doubled by instruments for the two Masses and mixed voices for the Chansons. The chosen instrumentarium includes shawm, slide trumpet, sackbut, cornetto, recorder, lute, gothic harp and psaltery: an authentic but richly coloured ensemble.

Although there are previous recordings of the Mass and the chansons, all the music recorded here has been newly transcribed from original sources by two of its performers, Min J. Kim and David Brutti. The recording took place in the Umbrian church of San Francesco in Trevi, where the original organ survives, dating from 1508, and thus retaining a sound-world that resembles one known to the likes of Dunstable and Joye.

Reconstructing the life of a 15th century composer often means sorting through the archives of cathedrals and chapels. In the case of Gilles Joye (1420-1483) it reveals that he was a bizarre character whose inability to handle money led him from a life of luxury to bankruptcy and final decline into poverty and illness, he died a pauper.
The mass "O Rosa Bella" was found in the codex of the Castello del Buon Consiglio in Trent, Italy. The mass is for three voices and uses the then popular melody of the chanson "O Rosa Bella" as a cantus firmus. On this recording the various parts of the mass by Gilles Joye are interspersed with chansons on the Rosa Bella melody by John Bedyngham, Alan Hert, Johannes Ockeghem and John Dunstable.
The performance of the mass is by male voices whereas the chansons are sung by female voices. During the sections without text, the ensemble uses a variety of instruments, such as cornet, recorder, lute, harp, fiddle and trombone.
Sung and played by the Ensemble Dionea and the Ensemble Nova Alta, directed by Claudia Caffagni.
Listening
Track list
Disk 1
John Bedyngham: O Rosa Bella, T.89

Anonymous: O Rosa Bella o dulz anima mia, T.90

Gilles Joye: Missa Super O Rosa Bella: Kyrie T.90

Alan Hert: O Rosa Bella, T.90

Johannes Ockeghem: Alius discantus Super O Rosa Bella, T.90

John Bedyngham: Gymel O Rosa Bella o tu mi Maria, T.90

Gilles Joye: Missa Super O Rosa Bella: I. Gloria T.90

Gilles Joye: Missa Super O Rosa Bella: II. Credo T.90

John Dunstable: O Rosa Bella, T.90

John Bedyngham: O Rosa Bella, Concordancie o Rosa Bella cum alius tribus..., T.89

Gilles Joye: Missa Super O Rosa Bella: I. Sanctus, T.90

Gilles Joye: Missa Super O Rosa Bella: II. Agnus dei, T.90

John Bedyngham: O Rosa Bella, concordancie o rosa bella cum alius tribus..., T.89

John Bedyngham: Gymel O Rosa Bella o tu mi Maria, T.90