Offenbach: Mélodies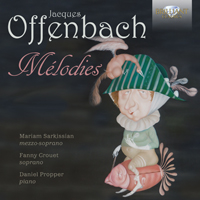 Download booklet
Composer
Jacques Offenbach
Artist
Mariam Sarkissian mezzo-soprano
Fanny Crouet soprano
Daniel Propper piano
Format
1 CD
Cat. number
95641
EAN code
5028421956411
Release
January 2018
About this release
First recordings of unusual art-song examples by the master of French comic operetta.

Best-known as the darling of the Parisian operetta audience, reliable facteur of hit after hit such as Orpheus in the Underworld and La vie Parisienne, would-be 'serious' composer who never lived to complete or see a staging of his masterpiece, Les contes d'Hoffmann, Jacques Offenbach was a composer of many parts. His practical training as a cellist of accomplishment is recognised, and his work for the instrument holds a fragile place on the fringe of its repertoire (such as the Cello Duets recorded on Brilliant Classics, 94475) but few listeners will have been aware, until now, of the composer's work in the field of art-song.

In fact Offenbach wrote songs throughout his career but most of them belong to his late teens, not long after he had moved to the French capital and become a cellist in the orchestra of the Opéra-Comique, and thereafter as a touring cello virtuoso in his 20s. The selection made for this album by the Armenian mezzo-soprano Mariam Sarkissian ranges widely across genres, from the delicious Ronde tyrolienne (of 1838) to the drama-romance Jalousie of the following year. There is a classic German Lied, O bleib bei mir (1840), a more ambitious ballad Rends-moi mon âme (1843), and the recital ends with a self-contained comic duet, Meunière et fermière (Mrs Miller and Mrs Farmer), that Offenbach composed in 1846, at the age of 27.

A student of Zara Dolukhanova, long resident in Paris, Mariam Sarkissian has made it her mission to research and revive little-known and forgotten gems of art-song, especially in French. Previous recordings have included songs in French by Shaporin, Sviridov and Cui, as well as composers from her native Armenia. This disc marks her debut on Brilliant Classics.

Jacques Offenbach (1819-1880) goes into history as the supreme French entertainer, having written more than 100 operas and operettas brimming with satire, wit, charm and elegance, his (in)famous Can-Can is one of the most catchy and best-known classical hits ever composed.
To write entertaining music one has to be a skillful composer, and that Offenbach undoubtedly was. That there is also an unexpected lyrical and intimate side to Offenbach this new recording of his Mélodies proves: these are exquisite and irresistible gems, full of French esprit, bubbling with good humour and sentiment.
Beautifully sung by mezzo-soprano Mariam Sarkissian and soprano Fanny Crouet, with Daniel Propper on the piano.
Liner notes in English and French are included in the booklet, the sung texts are available on the Brilliant Classics website.
Listening
Track list
Disk 1
Jacques Offenbach: Jalousie!

Jacques Offenbach: J'aime la reverie

Jacques Offenbach: Sérénade du torero

Jacques Offenbach: Jeanne la rousse

Jacques Offenbach: La Croix de ma mère

Jacques Offenbach: Ronde Tyrolienne

Jacques Offenbach: Rends-moi mon âme!

Jacques Offenbach: L'Etoile

Jacques Offenbach: Wenn ich ein muntres Vöglein wär

Jacques Offenbach: Was Fliesset auf dem Felde

Jacques Offenbach: O bleib bei mir

Jacques Offenbach: Doux ménestrel

Jacques Offenbach: Dors mon enfant

Jacques Offenbach: Meunière et fermière