Onslow: Piano Quintets Op.70 & Op.76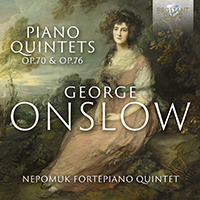 | | |
| --- | --- |
| Composer | George Onslow |
| Artist | Nepomuk Fortepiano Quintet |
| Format | 1 CD |
| Cat. number | 96720 |
| EAN code | 5028421967202 |
| Release | October 2022 |
About this release
Hailing from an aristocratic English family, George Onslow (1784-1853) grew up as a nobleman in Clermont-Ferrand, France. From the 1830s onwards, Onslow appeared frequently in Parisian musical circles. At this time, opéra comique was the favoured musical genre. Composers such as Meyerbeer, Rossini, and Donizetti were popular, alongside the dazzling Romantic piano music of Liszt and Chopin. Onslow's strict classical style, however, made him unique in Paris at that time, earning him the nickname, 'French Beethoven'. Onslow concentrated primarily on instrumental chamber music; his opus includes 36 string quartets, 34 quintets and 3 piano quintets.

The Piano Quintet Op.76, written in 1846, is an arrangement of his 4th Symphony. An interesting feature of this work is the nickname of the Finale, 'Le Coup de Vent'. Although not mentioned by Onslow himself, this movement is suggestive of the Aeolian harp, an instrument popular in the 19th century. When placed by an open window, this instrument, consisting of strings in a box, would vibrate in the wind, producing an ethereal sound. Onslow might have been imitating this effect in the Finale with his use of rapid chromatic scales and a glass-like tinkling that can only be achieved with a special pedal effect available on some instruments of that period.

A piano quintet can be composed for different combinations of instruments: violin, viola and two cellos, or, as was often the case in the second half of the 19th century, two violins, viola and one cello. The combination including double bass that the Nepomuk Fortepiano Quintet employs was used mainly in the first half of the 19th century. George Onslow composed a number of quintets with two cellos. At one performance one of the cellists did not arrive and so the virtuoso double bassist Domenico Dragonetti, who was by chance present, suggested that he replace the absent cellist. The composer resisted at first, be unpleasant, but the performance was such fearing that the resulting sound colour would a great success that he was immediately convinced. After his death in 1853, Onslow's fame faded rapidly, and his works fell out of favour. Fortunately, there has been an increase in interest in his works in recent times, and his compositions can be heard frequently in concert halls today.

George Onslow's (1784-1853) grandfather was the first Earl of Onslow. Onslow's father had been forced to leave England after a family scandal and had continued his life as a nobleman in France. George was born there and grew up in the magnificent castle of Chalendrat in Clermont-Ferrand, where he followed his father as lord of the manor. At the age of 22 he discovered the operas of Mehul and decided then that music was his vocation.
Onslow combined this double life of composer and chatelain in Auvergne, but in the winter season he appeared frequently in Parisian musical circles, where he met composers such as Meyerbeer, Rossini, and Donizetti, alongside the salons where Liszt and Chopin presented their romantic bravura piano music. Onslow's musical style was very different from that of his colleagues. With his strict classical style, he was unique in Paris, concentrating on instrumental works, primarily chamber music. Schumann described Onslow's quartets as worthy successors to those by Haydn, Mozart and Beethoven.
This recording combines two Piano Quintets, the opus 70 and 76, substantial and full bodied dramatic works in classical style.
The Nepomok Fortepiano Quintet was founded in 1999 by Riko Fukuda and Pieter Smithuijsen to play music for the unusual combination of fortepiano, violin, viola, cello and double bass. The Nepomuk Fortepiano Quintet (named after their patron Johann Nepomuk Hummel) play on original instruments, the piano an exceptionally fine period instrument from the famous collection of Edwin Beunk.
Track list
Disk 1
George Onslow: Piano Quintet in B Minor, Op. 70: I. Allegro grandioso e non troppo presto

George Onslow: Piano Quintet in B Minor, Op. 70: II. Andantino cantabile e simplice

George Onslow: Piano Quintet in B Minor, Op. 70: III. Allegretto molto moderato

George Onslow: Piano Quintet in G Major, Op. 76: I. Largo – Allegro

George Onslow: Piano Quintet in G Major, Op. 76: II. Scherzo. Allegro vivace

George Onslow: Piano Quintet in G Major, Op. 76: III. Romanza. Andantino molto cantabile

George Onslow: Piano Quintet in G Major, Op. 76: IV. Finale "le coup de vent"