Opera Overtures, Choruses and Duets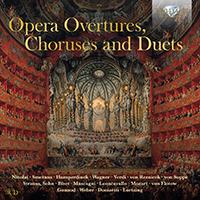 | | |
| --- | --- |
| Composer | Georges Bizet, Richard Wagner, Wolfgang Amadeus Mozart |
| Artist | Various |
| Format | 3 CD |
| Cat. number | 95414 |
| EAN code | 5028421954141 |
| Release | March 2019 |
About this release
From Mozart to Leoncavallo: three hours of opera's greatest hits in rhythmically buoyant, highly enjoyable East-German recordings.

Taped between 1959 (Wagner's Der fliegende Holländer) and 1993 (Die Fledermaus), a collection of overtures gets this operatic compilation off to a (literally) flying start. Suitner in particular directs deliciously sprung performances of Humperdinck (Hansel und Gretel), Smetana (The Bartered Bride) and Suppé (Dichter und Bauer / Poet and Peasant and Leichte Kavallerie / Light Cavalry).

The Austro-Germanic angle of CD1 is widened on CD2 by a selection of opera choruses that represents some of the most powerful moments of 19th-century Italian opera. There is the triumphant hymn in praise of Egypt from the second act of Aida as well as the sublime song of pride and defiance, 'Va pensiero', that crowns Nabucco and became before long the unofficial anthem of the Risorgimento and the struggle for Italian unification. Verismo choruses are here too, taken from that evergreen pairing of Pagliacci and Cavelleria rusticana. Favourite German operatic choruses include the Chorus of Guests in Wagner's Tannhäuser as well as the hymn of the priests in Mozart's Die Zauberflöte.

Suitner directs all these: a compilation album made in Berlin in 1978. He also exercises a subtle guiding hand over the Staatskapelle Dresden for a compilation of tenor/baritone opera duets recorded in 1972 with the two foremost East-German male singers of their generation, Peter Schreier and Theo Adam. 'Expectably' commented Fanfare, 'the results are echt Deutsch' – even if the repertoire itself again covers Smetana, Gounod and Verdi as well as Mozart and Lortzing, with all the numbers sung in German and 'performed with zest'.

The ultimate starter's kit for the aspiring opera lover: a generous selection of highlights from famous operas: Overtures, Duets and Choruses by Verdi, Wagner, Donizetti, Gounod, Bizet, Mozart, Smetana, Lortzing, Suppé, Strauss, Nicolai, Mascagni, Leoncavallo, Von Flotow, Humperdinck, Weber.
Coming from the rich archives of the VEB, the former East-German label, it offers the finest singing and orchestral playing of its time, featuring Peter Schreier and Theo Adam, the Staatskapelle Dresden, Leipzig Gewandhausorchester, Dresdner Philharmonie, Staatskapelle Berlin, Bamberger Symphoniker and conductors Giuseppe Patanè, Manfred Honeck, Otmar Suitner, Franz Konwitschny, Herbert Kegel.
Listening
Track list
Disk 1
Otto Nicolai: Die lustigen Weiber von Windsor/The Merry Wives of Windsor

Bedrich Smetana: Die verkaufte Braut/The Bartered Bride, JB 1:100

Engelbert Humperdinck: Hänsel und Gretel

Richard Wagner: Der fliegende Höllander/The Flying Dutchman, WWV 63

Giuseppe Verdi: La Traviata 3. Akt/Act 3

Emil Nikolaus von Reznicek: Donna Diana

Franz Von Suppé: Dichter und Bauer/Poet and Peasant

Franz Von Suppé: Leichte Kavallerie/Light Cavalry

Johann Strauss (Jr.): Die Fledermaus/The Bat
Disk 2
Giuseppe Verdi: Otello – Fuoco di gioia/Fire of Rejoicing

Georges Bizet: Carmen – Les voci la quadrille!/There She Comes, They're Dancing the Quadrille

Richard Wagner: Der Fliegende Höllander – Summ und brumm, du gutes Rädchen/Humm, Humm, Spin my Little Wheel. WWV 63

Pietro Mascagni: Cavalleria rusticana - Ah! Gli arancio lezzano/The Green Meadows Are Fragrant with Oranges

Ruggero Ruggiero Leoncavallo: Pagliacci – Don din dan/Dong-dong Calls the Bell from Yonder

Richard Wagner: Lohengrin – Treulich geführt ziehet dahin/Faithfully Guided, Come to this Place, WWV 75

Wolfgang Amadeus Mozart: Die Zauberflöte – O Isis und Osiris, K. 260

Otto Nicolai: Die lustigen Weiber von Windsor – O süßer Mond/Oh Lovely Moon

Friedrich von Flotow: Martha – Mädchen brav und treu/Maidens Good and True

Giuseppe Verdi: Aida – Gloria all'Egitto/Glory to Egypt

Charles Gounod: Margarete: I. Vin au bière/Wine and Beer

Charles Gounod: Margarete: II. Gloire immortelle/Eternal Glory

Carl Maria Von Weber: Der Freischütz – Was gleicht wohl auf Erden dem jägervergnügen/What Pleasure on Earth Can Compare with the Hunter's, Op. 77

Gaetano Donizetti: Don Pasquale – Che interminabile andirivieni/What an Interminable Coming and Going

Richard Wagner: Tannhäuser – Freudig begrüßen wir die edle Halle/Joyfully We Greet the Noble Hall, WWV 70

Giuseppe Verdi: Nabucco – Va, pensiero, sull' ali dorate/Fly Away, Free Thought, on the Wings of Yearning
Disk 3
Bedrich Smetana: Die verkaufte Braut – Komm, mein Söhnen, auf ein Wort/Wer in Lieb entbrannt, JB 1:100

Charles Gounod: Margarete: III. Ich bin da! Was soll das Estaunen?

Georges Bizet: Die Perlenfischer – Am Abend war's/Der Tempel Brahmas strahlt

Giuseppe Verdi: Die Macht des Schicksals – Die Stunde is heilig

Wolfgang Amadeus Mozart: Die Entführung aus dem Serail – Vivat Bacchus, Bacchus lebe, K. 384

Albert Lortzing: Undine: I. Ich war in meinen jungen Jahren/Im Wein ist Wahrheit

Albert Lortzing: Undine: II. Was seh' ich? Ihr seid glücklich wider da/O wie köstlich ist das Reisen

Wolfgang Amadeus Mozart: Die Zauberföte, K. 260: I. Die Weisheitslehre dieser Knaben

Wolfgang Amadeus Mozart: Die Zauberföte, K. 260: II. Bewahret euch vor Weibertücken

Wolfgang Amadeus Mozart: Die Zauberföte, K. 260: III. Pamina, wo bist du