Orff: Trionfi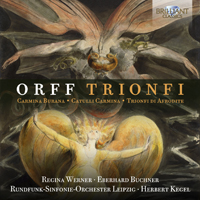 Composer
Carl Orff
Artist
Regina Werner soprano
Eberhard Büchner tenor
Rundfunk-Sinfonie Orchester Leipzig
Herbert Kegel conductor
Rundfunkchor Leipzig
Horst Neumann concertmaster
Format
2 CD
Cat. number
95116
EAN code
5028421951164
Release
May 2015
About this release
Orff's best-known composition is more frequently encountered in the concert hall than in the opera house, but it was originally conceived for the stage, where it became the first panel of a theatrical triptych which references the lavish and exotic tableaux of Renaissance entertainments at ducal palaces in Mantova, Florence and Rome. The common theme of the trilogy's diverse parts is the triumph of love, wherever it is encountered: in the beer-soaked medieval taverns of Carmina burana, the urgent Classical poetry of Catullus or the more refined and elliptical reflections on Eros by Sappho and Euripides.

Over the 15 years of its composition, the soundworld of Trionfi evolved, from the crashing gongs and brass of Carmina burana to an emphasis on percussive instruments – piano, drums, xylophones prominent among them – in the more direct, less lyrically effusive setting of Trionfo di Afrodite. Throughout, however, the influence of Stravinsky is palpable in word-setting, harmony and instrumentation, and in particular his vernacular masterpiece Les Noces: indeed Trionfo di Afrodite also depicts a wedding.

Recordings of the complete trilogy are far less frequently encountered than the standalone blockbuster that is Carmina burana, and this 1970s East-German set has much to recommend it, not least the punchy, no-nonsense direction of Herbert Kegel (who conducted and recorded very many of Orff's large-scale works, including his operas) and some radiant soprano singing from his wife at the time, Celestina Casapietra. "What distinguishes the music-making throughout," considered Gramophone's critic in 1979, "is the consistently superb singing of the Leipzig choir, from which Kegel produces thrillingly clean articulation and the widest range of dynamic contrast and colour … performances that are all among the finest available."

This 2CD set presents the complete "Trionfi", the set of three Cantatas which Carl Orff wrote on texts of the ancient Greeks (Trionfi di Afrodite), Catulli Carmina (on verses by the famous Roman poet Catullus) and the famous and immensely popular Carmina Burana, on medieval student poetry.
Orff's musical language is as raw, raucous and "vulgar" (in the literal sense of "of the people") as his texts: theatrical, blown-up and extravagant these works foreshadow the 20-th century pop culture, they certainly achieved the same popularity (the opening choir "O Fortuna" from Carmina Burana is a world hit).
Excellent classic performances from the East-German archives of Berlin Classics with the great conductor Herbert Kegel (specialist in 20th century repertoire) and the RSO Leipzig.
Track list
Disk 1
Fortuna imperatrix mundi: Fortuna (chorus)

Fortuna imperatrix mundi: Fortune plango vulnero (chorus)

Primo vere: Veris leta facies (semi-chorus)

Primo vere: Omnia sol temperat (baritone solo)

Primo vere: Ecce gratum (chorus)

Uf dem anger: Tanz (orchestra)

Uf dem anger: Floret silva (chorus)

Uf dem anger: Chramer, gip die varwe mir (chorus)

Uf dem anger: Reie - (andante poco esitante) - Swaz hie got umbe (chorus) - Chume, chum geselle min (semi-chorus) - Swaz hie got umbe (chorus)

Uf dem anger: Were diu werlt alle min (chorus)

In Taberna: Estuans interius (baritone-solo)

In Taberna: Olim lacus colueram (tenor-solo)

In Taberna: Ego sum abbas (men's choir)

In Taberna: In taberna quando sumus (men's choir)

Cour d'amours: Amor volat undique (soprano-solo boys) - Siqua sine socio

Cour d'amours: Dies, nox et omnia (baritone-solo)

Cour d'amours: Stetit puella (soprano-solo)

Cour d'amours: Circa mea pactora (baritone-solo)

Cour d'amours: Si puer cum puellula (male semi-chorus)

Cour d'amours: Veni, veni, venias (double choir)

Cour d'amours: In trutina (soprano-solo)

Cour d'amours: Tempus est iocundum (soprano-solo, baritone-solo, chorus and boys)

Cour d'amours: Dulcissime (soprano-solo)

Balnziflor et Helena: Ave formosissima (chorus)

Fortuna imperatrix mundi: O Fortuna (chorus)

Catulli carmina: Praelusio (chorus). Eis aiona - In te habitant - O res ridicula - Sublata lucerna
Disk 2
Actus I (chorus, tenor, soprano): I. Odi et amo – II. Vivamus, mea Lesbia – III. Ille mi par esse deo videtur – IV. Caeli! – V. Nulli se dicit

Actus II (chorus, soprano, tenor): VI. Jucundum mea vita – VII. O mea Lesbia!

Actus III (chorus, tenor, soprano): VIII. Odi et amo – IX. Amabo, mea dulcis Ipsitilla – X. Ameana puella defututa – XI. Ah! Miser catulle – XII. Nulla potest mulier

Exodium (chorus): Eis aiona tui sum!

Concerto scenico: I. Canto amebeo di vergini e giovani a Vespero in attesa della sposa e dello sposo (Catull)

Concerto scenico: II. Corteo nuziale ed arrivo della sposa e dello sposo (Sappho)

Concerto scenico: III. Sposa e sposo (Sappho). I. Za tèlexaman onar Kyprogenaia - II. Espere, Espere panta phereis -III. Katthanen d'imeros tis... - IV. Eis aei

Concerto scenico: IV. Invocazione dell' Imeneo (Catull)

Concerto scenico: Inno all' Imeneo (Catull). V. Ludi e canti nuziale davanti al talamo

La sposa viene accolta: I. Claustra pandite ianuae -II. Flere desine, non tib', Aurunculeia

La sposa viene condotta alla camera nuziale Tollit', o pueri faces

Epitalamo (Catull): I. lam licet venias - II. ille pulveris Africi

Concerto scenico: VI. Canto di novelli sposi dol talamo (Sappho)

Concerto scenico: VII. Apparizione di Afrodite (Euripides)