Ornstein: Complete Violin Sonatas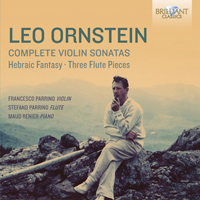 Composer
Leo Ornstein
Artist
Francesco Parrino violin
Stefano Parrino flute
Maud Renier piano
Format
1 CD
Cat. number
95079
EAN code
5028421950792
Release
February 2017
About this release
A matter of months separate the first two of violin sonatas by Leo Ornstein (1893-2002) – the spring of 1915 in which the world was tearing itself apart in conflict – but, as if to mirror their times, the musical styles they explore are poles apart. The First Sonata is a long, four-movement work in a late-Romantic vein.

Only the descending clusters in the piano part of the second movement give notice of the fiercely Modernist rhetoric of the Second Sonata, in which the 20-something tyro composer himself admitted that he brought music 'to the very edge... I simply drew back and said, 'beyond that lies complete chaos'. In fact the four movements – much briefer than the First, but still traditionally disposed, with an Andante espressivo second movement – inhabit the realm of Expressionist angst shared by Arnold Schoenberg's music of the period, including the Five Orchestral Pieces and Erwartung.

Brilliant Classics presents the first opportunity on record to compare and contrast these richly fascinating works,
and in a new recording made by Italian instrumentalists who show themselves in deep sympathy with Ornstein's protean creative world. The brief, single-movement Third Sonata dates from around 15 years later. It is characterized by a harsh, almost alienated lyricism, and by many references to the Jewish culture that became explicit in the Hebraic Fantasy, written in 1929 for the celebration of Alfred Einstein's 50th birthday.

The Three Pieces represent most of Ornstein's writing for the flute: written separately within the 1950s, they show a composer who had reinvented himself once more to write with melodic charm, and in a mood of peaceful serenity. This disc should be a fascinating discovery for all followers of 20th-century music.

Leo Ornstein was born in 1895 in the Ukraine, and emigrated with his family in 1906 to the USA, where he became a famous pianist and leading figure in the American Avant-Garde, writing highly experimental music in which tonal clusters played an important role. Halfway the 20ties he withdrew from public life and founded his own music School the Ornstein School of Music. He continued composing but was largely forgotten till the revival by his son in the 70ties.
Ornstein's works show a wide variety, from Post-Romantic works in the tradition of Grieg and Franck to pieces of shocking modernity and savagery. This 2CD set contains the complete music for violin and piano and for flute and piano, music of a highly original spirit, who died at the advanced age of 108 in the year 2002.
Played with great conviction and dedication by violinist Francesco Parrino, flutist Stefano Parrino and pianist Maud Renier.
The booklet contains excellent liner notes as well as a personal assessment by the son Severo Ornstein.
Listening
Track list
Disk 1
Leo Ornstein: Violin Sonata, SO 622: I. Moderato

Leo Ornstein: Violin Sonata, SO 622: II. Andante

Leo Ornstein: Violin Sonata, SO 622: III. Scherzo - Trio - Tempo I

Leo Ornstein: Violin Sonata, SO 622: IV. Finale. Moderato - Andante - Tempo I – Andante

Leo Ornstein: Violin Sonata, SO 614: I. Moderato

Leo Ornstein: Violin Sonata, SO 614: II. Andante espressivo

Leo Ornstein: Violin Sonata, SO 614: III. Vivace ma non troppo

Leo Ornstein: Violin Sonata, SO 614: IV. Grave

Leo Ornstein: Hebraic Fantasy, SO 601

Leo Ornstein: Violin Sonata, SO 623: I. Andante

Leo Ornstein: 3 Flute Pieces, SO 603: I. Prelude

Leo Ornstein: 3 Flute Pieces, SO 603: II. Intermezzo

Leo Ornstein: 3 Flute Pieces, SO 603: III. A Poem