Orpheus Anglorum: Lute Music by John Johnson and Anthony Holborne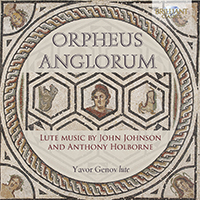 | | |
| --- | --- |
| Composer | Anthony Holborne, John Johnson |
| Artist | Yavor Genov lute |
| Format | 1 CD |
| Cat. number | 95551 |
| EAN code | 5028421955513 |
| Release | March 2018 |
About this release
John Johnson and Antony Holborne share much in common, in their music and probably career, but this disc, in setting their work side by side, reveals their individual style and approach to the instrument. It is assumed that they both were born in the 1540s, without authoritative record, but their work in the royal court of the 1560s is attested. Johnson made his career as an accomplished performer, while Holborne's energies were focused on writing for the instrument.

In the case of Johnson, the pavans, galliards and grounds recorded by Yavor Genov incorporate an amalgam of native and foreign (especially Italian) elements. His works show the English taste for cross-relations, surprising harmonic and tonal relationships and, above all, variation. However, like Holborne, he developed the form of the pavan during the course of his career, endowing it with increasing richness of ornamentation and expression, to be enjoyed in full in the melancholy undertow of the Passingmeasures Pavan. Holborne's lute music is still more painstakingly elaborate, designed perhaps less for public show than private reflection, to give as much pleasure to the musician as to his courtly audience.

With two albums on Brilliant, of music by Kapsberger (BC94409) and Zamboni (BC94767), the young Bulgarian lutenist has introduced himself to international audiences and proved to be a thoroughly sympathetic interpreter of this idiom which trades on subtle intimacies of phrase, decoration and inflection. 'Top-level execution,' remarked the Italian Folk Music Bulletin of the Zamboni album, 'which both conveys a flavour of the time, and enables us to discover the music of a lesser-known 18th-century composer: another great strength of Yavor Genov.'

The appearance of the first prints with instructions for playing the lute in England during the 1560's coincides with the youth and education of some of the first professional native lutenists. John Johnson and Anthony Holborne share lots in common in their music (and probably career) and at the same time reveal very individual styles and approach to the instrument. Both served at the Royal Court, where lute music played a major part of the musical activities.
This new recording contains a fine selection of dances, such as the Pavan and Galliard, as well as fantasies and variations on popular songs, such as the Carman's Whistle and "Heigh, ho, holiday" (an all time favourite apparently).
Young Bulgarian Yavor Genov counts among the most prominent among his generation, he played at important Festivals and venues and already made two highly acclaimed recordings for Brilliant Classics, with music by Zamboni and Kapsberger: "Genov promises to be a force to reckon with in the lute world" (International Record Review).
Liner notes written by the artist.
Listening
Track list
Disk 1
John Johnson: Flatt Pavan

John Johnson: Flatt Galliard

John Johnson: Carman's Whistle

John Johnson: Delight Pavan

John Johnson: Delight Galliard

John Johnson: Quadro Pavan

John Johnson: Johnson's Jewel

John Johnson: Without Title

John Johnson: Gathering of Peascods

John Johnson: A Ground

John Johnson: Passingmeasures Pavan

John Johnson: Good Night and Good Rest

Anthony Holborne: Pavan

Anthony Holborne: The New-Yeeres Gift, PGA 6

Anthony Holborne: The Countess of Pembroke's Funerals

Anthony Holborne: Fantasia I

Anthony Holborne: Heigh Ho Holiday, PGA 65

Anthony Holborne: Pavan

Anthony Holborne: Galliard to the Pavan Last Before

Anthony Holborne: Last Will and Testament, PGA 53

Anthony Holborne: Fantasia II

Anthony Holborne: Almaine

Anthony Holborne: Galliard

Anthony Holborne: Fantasia

Anthony Holborne: Heres paternus, PGA 33

Anthony Holborne: Muy Linda, PGA 34

Anthony Holborne: As it Fell on a Holiday