Pärt: Choral and Organ Music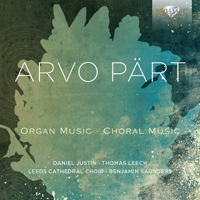 Composer
Arvo Pärt
Artist
Daniel Justin organ
Thomas Leech organ
Leeds Cathedral Choir
Benjamin Saunders conductor
Format
1 CD
Cat. number
94960
EAN code
5028421949604
Release
September 2015
About this release
Arvo Pärt's music resists the easily achieved peace of much Minimalist music of its time, even if its economy of gesture and expression – the joy taken in apparently simple beauty – has made him one of the iconic composers of our time. Such beauty is not simply achieved, and Pärt has written slowly, again unlike many of his contemporaries, filling each new piece with quiet quirks of harmony and unexpected turns that make them as satisfying to perform as they are to hear.

All the works on this album of music reflecting Pärt's deep Christian faith derive from the 'tintinnabuli' style which he created in the 1970s, in rebellion from an earlier embrace of Modernism. In Cantate Domino (1978), a simple melodic voice embraced by an accompaniment taken from the tonic triad – the bell-like sound inspiring the label. In the Berliner-Messe of 1990 there are certainly many moments of ascetic detachment but these are balanced with a compelling range of emotion: originally written with string parts, the Mass is here performed as it would more commonly be heard in a liturgical context, with organ accompaniment. The organ plays a central role in The Beatitudes (199X): granite slabs of sound come into focus over unyielding pedal notes, the message intensified in the silences. Intensity rises with pitch until the music is torn apart by the organ at the concluding Amen.

Spiegel im Spiegel is a Pärt classic for its ineffable and seemingly inevitable progression, and makes no less haunting an effect than the violin-and-piano original in this arrangement for organ made in 2010. The other organ works are more imposing: Annum per annum, Trivium and Pari intervallo, all making full use of the Klais-restored organ of Leeds Cathedral.

The cathedral's musicians have made several well-received recordings for Brilliant Classics, of music by Maurice Duruflé (9264), Hendrik Andriessen (94958), Georgi Mushel (9279) and others. Of the Durufle, Gramophone's reviewer wrote: 'Leeds Cathedral Choir…bright tone and honest, natural singing deliver very accomplished and satisfying performances. The choir are ably supported by the splendid accompaniments of the Skipton Camerata and organists Benjamin Saunders and Daniel Justin. It's faithfully captured by the excellent recording… an enjoyable and rewarding two-CD set.'

As follow-up on their successful Duruflé recording (BC 9264) the splendid Leeds Cathedral Choir, conductor Benjamin Saunders and organist Felix Justin present choral and organ music by Arvo Pärt, the iconic Estonian master of New Spirituality.
Included are the popular Berliner Messe, the Beatitudes, the complete organ works and Pärt's most famous work, Spiegel im Spiegel, here played on the organ.
Recorded in the spacious and generous acoustics of Leeds Cathedral, also featuring its magnificent organ.
Booklet contains excellent liner notes, as well as the sung texts and the English translation, plus biographies of the artists.
Track list
Disk 1
Arvo Pärt: The Beatitudes

Arvo Pärt: Berliner Messe: I. Kyrie

Arvo Pärt: Berliner Messe: II. Gloria

Arvo Pärt: Berliner Messe: III. Erster Alleluiavers

Arvo Pärt: Berliner Messe: IV. Zweiter Alleluiavers

Arvo Pärt: Berliner Messe: V. Veni sancte spiritus

Arvo Pärt: Berliner Messe: VI. Credo

Arvo Pärt: Berliner Messe: VII. Sanctus

Arvo Pärt: Berliner Messe: VIII. Agnus dei

Arvo Pärt: Cantate domino

Arvo Pärt: Annum per annum Einleitung: – K – G – C – S – A – Coda

Arvo Pärt: Mein Weg hat Gipfel und Wellentäler

Arvo Pärt: Pari intervallo

Arvo Pärt: Trivium

Arvo Pärt: Spiegel im Spiegel