Paganini: Complete Quartets for String Trio and Guitar, Vol. 1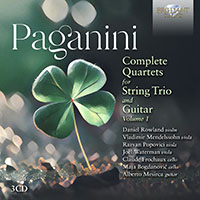 Composer
Nicolò Paganini
Artist
Alberto Mesirca guitar
Daniel Rowland violin
Vladimir Mendelssohn, Razvan Popovici, Joël Waterman viola
Maja Bogdanovic, Claude Frochaux cello
Format
3 CD
Cat. number
96872
EAN code
5028421968728
Release
May 2023
About this release
This release is a source of pride for guitarist Alberto Mesirca for several reasons. First, it's the culmination of a recording endeavour begun in 2016, which sprung from an idea Mesirca had during an after-concert dinner with his beloved, late mentor, violist Vladimir Mendelssohn, who particularly loved yet had never performed Paganini's 15th Quartet (more like a viola concerto with strings and guitar accompaniment). Mesirca then managed to convince Vladimir Mendelssohn to prepare scores for the complete repertoire.
Second, the other musicians who join the ensemble on this recording are among the finest, most sensitive and passionate musicians Mesirca has had the pleasure of meeting.

The Quartets in this 3-CD set are not in chronological or catalogue order because the full cycle of 15 Quartets will be realised with a second upcoming release (also 3 CDs), and Mesirca decided instead to create a common thread with the tonalities and musical development among the quartets.

This recording is dedicated to Vladimir Mendlessohn who brought the group together with his inspirational musicality and presence. This almost certainly represents the violist's final studio recording, and he is featured here as the incredible virtuoso he was.

Other information:
- Recorded in Silvelle, Italy
- Booklet in English contains liner notes by Alberto Mesirca and a biography on the ensemble and the artists as well.

- Niccolò Paganini (1782-1840) was an Italian composer and virtuoso violinist, widely regarded as one of the greatest violinists of all time. Apart from his compositions for his own instrument the violin he is also known for his extensive chamber music works, including his quartets for guitar and string trio. These quartets are considered some of the most challenging works for the guitar, an important contribution to the repertoire for guitar and strings.
- The quartets were composed in the early 19th century, at a time when the guitar was gaining popularity as a solo instrument, and Paganini was one of the first composers to write extensively for the guitar. His quartets helped to establish the guitar as a legitimate concert instrument, and paved the way for future generations of composers to write works for the guitar.
- Paganini's quartets for guitar and string trio are characterized by their virtuosic solo passages for the guitar, as well as intricate interplay between the guitar and the three string instruments. These works showcase Paganini's mastery of counterpoint, harmony, and melody, they are technically demanding works, but delightful in their charm, wit and melodious brilliance.
- Played with immense love and inspiration by a group of excellent soloists, masters of their instrument: Daniel Rowland (violin), Joël Waterman (viola), Razvan Popovici (viola), Claude Frochaux (cello), Maja Bogdanović (cello) and Alberto Mesirca (guitar). The idea of the recording project was born between Alberto Mesirca and Vladimir Mendelssohn, the much lamented violist of international fame, who passed away in 2021 and whose last recording can be heard in the quartets Nos. 8 and 12.
Listening
Track list
Disk 1
Nicolò Paganini: Quartet No. 4, (Op. 5 No. 1) M.S.31: I. Presto

Nicolò Paganini: Quartet No. 4, (Op. 5 No. 1) M.S.31: II. Andante

Nicolò Paganini: Quartet No. 4, (Op. 5 No. 1) M.S.31: III. Cantabile, quasi larghetto

Nicolò Paganini: Quartet No. 4, (Op. 5 No. 1) M.S.31: IV. Finale – Prestissimo

Nicolò Paganini: Quartet No. 15 in A Major, M.S.42: I. Maestoso

Nicolò Paganini: Quartet No. 15 in A Major, M.S.42: II. Minuetto a canone, andantino

Nicolò Paganini: Quartet No. 15 in A Major, M.S.42: III. Recitativo, andante sostenuto e con sentimento

Nicolò Paganini: Quartet No. 15 in A Major, M.S.42: IV. Adagio cantabile

Nicolò Paganini: Quartet No. 15 in A Major, M.S.42: V. Rondò, allegretto

Nicolò Paganini: Quartet No. 9 in D Major, M.S.36: I. Allegro moderato

Nicolò Paganini: Quartet No. 9 in D Major, M.S.36: II. Minuetto alla valtz

Nicolò Paganini: Quartet No. 9 in D Major, M.S.36: III. Adagio sostenuto appassionatamente

Nicolò Paganini: Quartet No. 9 in D Major, M.S.36: IV. Allegro vivace
Disk 2
Nicolò Paganini: Quartet No. 6 in D Minor, (Op. 5 No. 3) M.S.33: I. Allegro

Nicolò Paganini: Quartet No. 6 in D Minor, (Op. 5 No. 3) M.S.33: II. Moderato

Nicolò Paganini: Quartet No. 6 in D Minor, (Op. 5 No. 3) M.S.33: III. Tema cantabile, quasi larghetto

Nicolò Paganini: Quartet No. 6 in D Minor, (Op. 5 No. 3) M.S.33: IV. Polacchetta, allegro con brio

Nicolò Paganini: Quartet No. 8 in A Major, M.S.42: I. Allegretto

Nicolò Paganini: Quartet No. 8 in A Major, M.S.42: II. Minuetto, andantino

Nicolò Paganini: Quartet No. 8 in A Major, M.S.42: III. Cantabile molto adagio

Nicolò Paganini: Quartet No. 8 in A Major, M.S.42: IV. Rondò, allegretto

Nicolò Paganini: Quartet No. 12 in A Minor, M.S.39: I. Allegro giusto

Nicolò Paganini: Quartet No. 12 in A Minor, M.S.39: II. Largo tenuto con precisione

Nicolò Paganini: Quartet No. 12 in A Minor, M.S.39: III. Minuetto (Allegretto mosso)
Disk 3
Nicolò Paganini: Quartet No. 5 in C Major, (Op. 5 No. 2) M.S.32: I. Allegro

Nicolò Paganini: Quartet No. 5 in C Major, (Op. 5 No. 2) M.S.32: II. Minuetto, allegretto

Nicolò Paganini: Quartet No. 5 in C Major, (Op. 5 No. 2) M.S.32: III. Cantabile, larghetto

Nicolò Paganini: Quartet No. 5 in C Major, (Op. 5 No. 2) M.S.32: IV. Polacca, quasi presto

Nicolò Paganini: Quartet No. 11 in B Major, M.S.38: I. Allegro moderato

Nicolò Paganini: Quartet No. 11 in B Major, M.S.38: II. Minuetto (Allegretto)

Nicolò Paganini: Quartet No. 11 in B Major, M.S.38: III. Larghetto, con passione

Nicolò Paganini: Quartet No. 11 in B Major, M.S.38: IV. Polacca (Andante mosso)