Paganini: Music for Guitar and Viola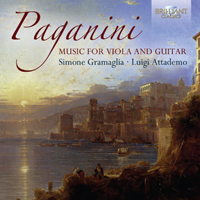 | | |
| --- | --- |
| Composer | Nicolò Paganini |
| Artist | Simone Gramaglia/Luigi Attademo |
| Format | 1 CD |
| Cat. number | 94963 |
| EAN code | 5028421949635 |
| Release | January 2015 |
About this release
Although best remembered for his eccentric personality and extraordinary playing, Niccolò Paganini was also an excellent composer. Indeed, he was a man of two halves: the consummate performer who stunned (and shocked) concert halls with his sheer virtuosity, and the thoughtful musician who composed intimate chamber music for domestic settings. It is this second Paganini that is the focus of this release, which features two specially transcribed works for viola and guitar (originally for violin) alongside one of the composer's original works for this combination of instruments.

The works are significant in that they record Paganini's deep affection for the guitar, whose role alters during the course of the recital: relegated to simple accompaniment that provides timbral and harmonic support in the Six Sonatas MS26, in the Sonata concertata it contrastingly partakes in the melody and virtuosic brilliance (Gramaglia's transcription for viola here bringing to the fore the intrinsic balance of the work, with the overlapping of the timbres creating a sound tapestry of great intimacy). The use of the viola throughout the compilation also highlights the extent to which Paganini helped to expand this instrument's repertoire; this is particularly evident in the Sonata per la Grand Viola MS70, an original work for the instrument whose brilliance reflects its ultimate destination for the concert hall, the composer using the guitar as a means of working out the orchestration for the later concerto.

Performing these works on the viola is Simone Gramaglia, who has an established career as both a soloist and chamber musician with his successful string quartet Quartetto di Cremona. He is joined by long- time collaborator Luigi Attademo, an award-winning guitarist who has an established interest in Paganini's guitar music. Attademo has already released a recording of Paganini's complete music for guitar on Brilliant Classics (BC94348) and a release of Scarlatti Sonatas for Brilliant (BC94613) on which he collaborated was described by MusicWeb as a "unique and spell-binding adventure".

Although Paganini is mainly regarded as a super virtuoso on the violin (achieving a pop star status in his time) and composer for his instrument of concertos of the highest difficulties, he composed a substantial oeuvre of chamber music for a diversity of unusual instruments. This CD presents a selection of works composed for the viola (the chaste sister of the sexy violin) and the guitar, a serious classical instrument in his time. These are wonderful intimate and deliciously melodic works, full of charm and Italian sunshine.
Excellent performances by violist Simone Gramaglia, a seasoned soloist and violist of the famous Quartetto di Cremona, and guitarist Luigi Attademo, who already recorded extensively for Brilliant Classics, to great critical acclaim, notably the complete solo guitar works by Paganini (BC94348), "one of the best performances I've ever heard" (Guitar Foundation).

Other information:
• Recorded in Florence, Italy, in 2014.
• Contains notes on the composer and works.
• Contains notes on the artists.
Track list
Disk 1
Nicolò Paganini: Six Sonatas Op. 2 MS 26, No. 1 in A Major: I. Minuetto. Adagio

Nicolò Paganini: Six Sonatas Op. 2 MS 26, No. 1 in A Major: II. Polonese. Quasi allegro

Nicolò Paganini: Six Sonatas Op. 2 MS 26, No. 2 in C Major: I. Larghetto espressivo

Nicolò Paganini: Six Sonatas Op. 2 MS 26, No. 2 in C Major: II. Allegro spiritoso

Nicolò Paganini: Six Sonatas Op. 2 MS 26, No. 3 in D Minor: I. Adagio maestoso

Nicolò Paganini: Six Sonatas Op. 2 MS 26, No. 3 in D Minor: II. Andantino galantemente

Nicolò Paganini: Six Sonatas Op. 2 MS 26, No. 4 in A Major "La sinagoga": I. Andante calcando

Nicolò Paganini: Six Sonatas Op. 2 MS 26, No. 4 in A Major "La sinagoga": II. Andantino con brio

Nicolò Paganini: Six Sonatas Op. 2 MS 26, No. 5 in D Major: I. Andante moderato

Nicolò Paganini: Six Sonatas Op. 2 MS 26, No. 5 in D Major: II. Allegro spiritoso

Nicolò Paganini: Six Sonatas Op. 2 MS 26, No. 6 in A Minor: I. Largo con precision

Nicolò Paganini: Six Sonatas Op. 2 MS 26, No. 6 in A Minor: II. Tempo di walzer

Nicolò Paganini: Sonata concertata in A Major, Op. 61 MS 2: I. Allegro spiritoso

Nicolò Paganini: Sonata concertata in A Major, Op. 61 MS 2: II. Adagio assai espressivo

Nicolò Paganini: Sonata concertata in A Major, Op. 61 MS 2: III. Rondeau: Allegretto con brio scherzando

Nicolò Paganini: Sonata per la grand viola in C Minor MS 70: I. Introduzione. Larghetto – Recitativo a piacere –

Nicolò Paganini: Sonata per la grand viola in C Minor MS 70: II. Cantabile. Andante sostenuto –

Nicolò Paganini: Sonata per la grand viola in C Minor MS 70: III. Tema con variazioni