Paganini: Violin caprices transcribed for flute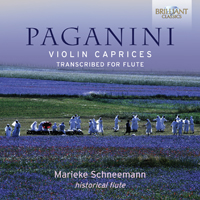 | | |
| --- | --- |
| Composer | Nicolò Paganini |
| Artist | Marieke Schneemann flute |
| Format | 1 CD |
| Cat. number | 94627 |
| EAN code | 5028421946276 |
| Release | June 2015 |
About this release
Marieke Schneemann is by no means the first to play Paganini's finger-breaking Caprices on the flute, with all the necessary transpositions that requires, not to mention a virtuosity at least matching that required to play them on the violin, but she is the first to do so on a 'period' flute: a wooden conical ring-keyed flute by Louis Lot, Paris, 1860,

As Schneeman remarks in her booklet introduction, the first flute-arrangement of the Caprices was made over a century ago by Jules Herman; she has made her own, striving to respect both the beauty and the limitations of the instrument. "Thus, in arranging the Caprices, I have stayed true to the violin version as much as possible, and have only sporadically drawn my inspiration from the arrangement by Jules Herman."

Schneemann has been first and foremost a musician in the period instrument movement working within the flourishing historically informed music culture of the Netherlands, where she has collaborated with the Netherlands Bach Ensemble (in Bach's Musical Offering, available on Brilliant Classics) and a historically-informed disc of Ravel's chamber music (BC94772). She has also built multimedia projects as both visual artist and musician.

Niccolò Paganini, the man and composer, has been a figure of inspiration and speculation for many musicians after him. His superhuman violin technique was believed to be bought from the devil. His 24 Capriccii for violin solo are still today barely playable.
Marieke Schneemann has been fascinated by the Capriccii for a long time. It was however the encounter with a historical 1850 Lot flute that inspired her to transcribe the violin works for solo flute, an even more daunting and challenging task. She used the special colours and timbres of this instrument to create the same thrilling effects as on the violin. The result is revelatory, the presentation of a complete new work of art!
Marieke Schneemann was educated in the pioneering period of the Authentic Music Practice, she was solo flutist in the Rotterdam Philharmonic Orchestra under Gergiev, a member of the famous Dutch Wind Ensemble and an active player of chamber music in various ensembles.
Track list
Disk 1
Caprice No. 17 in E-Flat Major

Caprice No. 10 in G Minor

Caprice No. 11 in C Major

Caprice No. 13 in B-Flat Major, "The Devils Laughter"

Caprice No. 7 in A Minor

Caprice No. 5 in A Minor

Caprice No. 2 in B Minor

Caprice No. 3 in E Minor

Caprice No. 9 in E Minor, "The Hunt"

Caprice No. 15 in E Minor

Caprice No. 14 in E-Flat Major

Caprice No. 20 in D Major

Caprice No. 21 in A Major

Caprice No. 22 in F Major

Caprice No. 23 in E-Flat Major

Caprice No. 18 in C Major

Caprice No. 19 in E-Flat Major

Caprice No. 16 in G Minor

Caprice No. 24 in A Minor