Paisiello: 6 Flute Quartets Op.23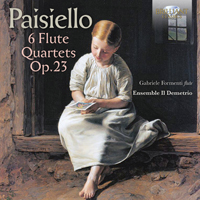 Composer
Giovanni Paisiello
Artist
Il Demetrio ensemble
Gabriele Formenti flute
Format
1 CD
Cat. number
95268
EAN code
5028421952680
Release
March 2017
About this release
As far as we can tell Paisiello's flute quartets were written in Naples in 1800, as were Cimarosa's more or less at the same time. They were likely composed with dilettante amateur players in mind: a commercial audience that was rapidly increasing at the time, as the sudden establishment and flourishing of music-publishing houses across Europe demonstrated.

The sonatas are gentle and undemanding works, cast in two movements apart from the single-movement Sixth. The flute carries most of the melodic interest and engages in lively duet writing with the violin, while a cello and harpsichord offer a solid foundation and deft accompaniment. Even the quicksilver passagework of the flute part lies within the range of a competent amateur, and there is much pleasure to be taken from melodies of a quality that made Paisiello the toast of Europe as an operacomposer, pleasing public taste with more immediate success than Mozart.

Indeed his most famous admirer was none other than Napoleon Bonaparte, who had appointed the composer maestro di cappella nazionale to the republic in May 1799 (although he afterwards claimed he had not wanted this post), which got him in hot water when Naples was recaptured by the forces of its king a month later. While these sonatas were composed, the heads of Europe were wrangling over who would have first call on Paisiello's services. Napoleon won, and the composer spent several profitable years in France before he sought release and a return home, though Napoleon continued to reward his service with a pension and membership of the Legion d'Honneur.

This is Gabriele Formenti's second album for Brilliant Classics, after his participation in the album of trio sonatas by a less familiar Neapolitan figure, Carlo Tessarini (BC93983).

Giovanni Paisiello (1740-1816) is one of the key composers of the Neapolitan School, primarily famous for his vast amount of operas written when in the service of Ferdinand IV of Naples.
Paisiello's instrumental output is also substantial, and it was written for the ever growing bourgeoisie, for domestic use by advanced amateurs. His 6 Flute Quartets are delightful works, full of charming, sunny melodies and sparkling virtuosity, in the true tradition of the Neapolitan School, as comparable with Cimarosa and Guglielmi.
The Italian ensemble Il Demetrio specialises in Baroque and Early Classical music, playing on authentic instruments.
Track list
Disk 1
6 Flute Quartets, Op. 23 No. 1 in C Major, R. E.09: I. Allegro moderato

6 Flute Quartets, Op. 23 No. 1 in C Major, R. E.09: II. Minuetto

6 Flute Quartets, Op. 23 No. 2 in D Major, R. E.06: I. Andante poco adagio

6 Flute Quartets, Op. 23 No. 2 in D Major, R. E.06: II. Rondo. Allegretto

6 Flute Quartets, Op. 23 No. 3 in E Minor, R. E.10: I. Allegro spirituoso

6 Flute Quartets, Op. 23 No. 3 in E Minor, R. E.10: II. Minuetto

6 Flute Quartets, Op. 23 No. 4 in G Major, R. E.08: I. Poco adagio

6 Flute Quartets, Op. 23 No. 4 in G Major, R. E.08: II. Rondo. Allegro moderato

6 Flute Quartets, Op. 23 No. 5 in G Major, R. E.07: I. Andante

6 Flute Quartets, Op. 23 No. 5 in G Major, R. E.07: II. Rondo

6 Flute Quartets, Op. 23 No. 6 in G Major, R. E.11: I. Allegro