Pasquini: L'ombra di solimano, Cantatas for Bass and Continuo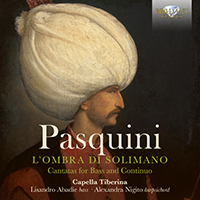 Download booklet
Composer
Bernardo Pasquini
Artist
Capella Tiberina
Alexandra Nigito harpsichord
Lisandro Abadie bass
Format
1 CD
Cat. number
95293
EAN code
5028421952932
Release
May 2022
About this release
Renowned in his day as a virtuoso keyboard player, Bernardo Pasquini (1637-1710) was the most important Italian composer of keyboard music between Frescobaldi and Domenico Scarlatti. In that capacity his output has output has been surveyed by Brilliant Classics with authoritative collections of his sonatas for harpsichord (94286) and for two organs (94347). However, Pasquini also composed more than 70 cantatas – most of them for one and two voices with continuo accompaniment, of the concise and dramatic kind written by the young Handel after he arrived in Rome in 1706.

By that late stage of his life, Pasquini had held one distinguished post after another in Roman musical life and become known as one of its celebrities, as celebrated for his abilities at the harpsichord as his contemporary Corelli was on the violin. Most of his vocal music remains unpublished, which makes the pioneering efforts of Capella Tiberina in this field especially welcome. This new recording forms a sequel to their 2013 album of two Passion Cantatas (94225) and makes a powerful case for Pasquini as Rome's leading dramatic composer of his day.

Among Pasquini's surviving cantatas, the six scored for solo bass stand out, for their keen sense of theatre and expressive rhetoric. They take Biblical history, tales of Roman history and pastoral-erotic tropes for their subjects, and they are imaginatively presented here as a cycle, interleaved with pieces for harpsichord, as though recreating a refined evening of music-making at a Roman palazzo around the turn of the 18th century.

Capella Tiberina is led in these stylish accounts by the harpsichordist Alessandra Nigito, who has made a particular study of Pasquini's vocal music and edited several of his cantatas for modern publication (for the first time since they were composed). There is no more authoritative current exponent of this music, and she is joined here by other experienced performers on Italy's rich early-music scene.

Bernardo Pasquini (1637-1710) was an Italian composer of opera and church music. A renowned virtuoso keyboard player in his day he was one of the most important Italian composers for harpsichord and organ between Frescobaldi and Scarlatti.
Among the more than seventy cantatas that have come down to us by Pasquini a small corpus of six cantatas for solo voice for bass and basso continuo stand out. Pasquini had entered the service of Giovanni Battista Borghese in 1667. He wrote these cantatas for the famous bass Francesco Verdone (ca. 1630-1694), who was also in the Borghese household. The cantata L'ombra di Solimano ('The Shadow of Suleiman') refers to the capitulation of the Turkish army besieged in Buda through the lament of the spectre of Sultan Suleiman I, who had conquered the city in 1541.
In between the cantatas this recording presents shorter works for harpsichord solo, written in Italian style, with the emphasis on melody and cantilena.
The bass Lisandro Abadie was born in Buenos Aires, Argentina, where he began his musical studies. He graduated at the Schola Cantorum Basiliensis and the Musikhochschule Luzern. He has sung under the direction of William Christie, Philippe Herreweghe, Tõnu Kaljuste, Jordi Savall, Paul Agnew, Paul Goodwin, Giovanni Antonini, Fabio Bonizzoni, Skip Sempé, Hervé Niquet, among others.
Capella Tiberina was founded by Alexandra Nigito in order to blend a passion for early music with a rigorous approach to musicological research. Capella Tiberina specializes in the Italian Baroque repertoire, with a special emphasis on music originating in Rome. Among its recordings for Brilliant Classics are Bernardo Pasquini's Passion Cantatas, Francesco Mancini's Recorder Concertos, Alessandro Scarlatti's Sinfonie di concerto grosso, and Domenico Scarlatti's Violin Sonatas. Capella Tiberina performs on historical instruments.

Praise for Capella Tiberina on Brilliant Classics
'There is no lack of drama in these performances, and that makes this disc an attractive proposition.' MusicWeb.
Listening
Track list
Disk 1
Bernardo Pasquini: Toccata in F Major

Bernardo Pasquini: Il fulmine son io cantata

Bernardo Pasquini: Passagagli in D Minor

Bernardo Pasquini: Che volete da me

Bernardo Pasquini: Alemanda-Correcte-Giga in G Minor

Bernardo Pasquini: Era risorta invano "l'ombra di solimano"

Bernardo Pasquini: Partite del saltarello in G Major

Bernardo Pasquini: Agrippina, compagni "Germanico"

Bernardo Pasquini: Fantasia in E Minor

Bernardo Pasquini: Misero cor, nascesti solo a piangere

Bernardo Pasquini: Versetto V in D Minor

Bernardo Pasquini: Quei diroccati sassi "a bella Donna sopra le ruine di Castro"

Bernardo Pasquini: Bizzarria-Variazione in D Minor