Pasquini: Sonatas for Two Organs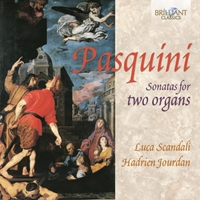 Composer
Bernardo Pasquini
Artist
Luca Scandali organ
Hadrien Jourdan organ & harpsichord
Format
1 CD
Cat. number
94347
EAN code
5028421943473
Release
May 2013
About this release
Bernando Pasquini was a musician of considerable reputation in 17th-century Rome. Having held various organist posts throughout the city, he struck gold in 1666 when he was made organist and director of music to Prince Gianbattista Borghese. In 1706 he, along with his contemporaries and fellow musicians, Arcangelo Corelli and Alessandro Scarlatti, was made a member of the Arcadia, a movement bgun by Queen Christine of Sweden.

Keyboard music in Italy in the 1600s was to undergo a radical change, with an introduction to Rationalism and simplicity; Pasquini himself is known to have been particularly enamoured with the works of Palestrina and Frescobaldi. Aside from his skills as a performer and composer, Pasquini was also an immensely gifted teacher. Each of the sonatas for two basso continuo instruments bears the hallmarks of the partimento teaching technique, which involves a kind of dialogue between teacher and student. The sonatas include the fashionable styles of keyboard music of the time, such as the Allegro da concerto, Adagio, Fugue, Corrente and Gavotte.

The recording boasts two multi-award-winning organists. The first, Luca Scandali, was educated at the Conservatory 'G. Rossini' of Pesaro in his native Italy and has performed in festivals all over Europe. He is currently Professor of Organ and Composition for Organ at the Conservatory 'F. Morlacchi' of Perugia. The second, Swiss organist, Hadrien Jourdan, studied at the Conservatory of Geneva and regularly participates in festivals and recordings throughout Europe.

Other information:
- Recorded in 2012.
- Bernardo Pasquini (1637-1710) was an Italian composer of opera and church music. A renowned virtuoso keyboard player in his day, he was one of the most important Italian composers for harpsichord and organ between Frescobaldi and Scarlatti.
- Pasquini's sonatas for two organs offer delightful dialogues between the two instruments (sometimes acting as teacher and pupil) in fashionable forms such as Allegro da Concerto and various dance forms.
- Two excellent organists enjoy their interplay on two historical organs from the 18th century.
- Organs: Pietro Nacchini, 1757; Gaetano Callido, 1785.
- Harpsichord: copy after Ignazio Mucciardi, 1789, by Giulio Fratini & Pierpaolo Pallotti, 2012.
- Contains liner notes on the works and biographies of the artists.
Track list
Disk 1
Bernardo Pasquini: Sonata No. 1 in D Major

Bernardo Pasquini: Sonata No. 2 in C Major

Bernardo Pasquini: Sonata No. 3 in D Minor

Bernardo Pasquini: Sonata No. 4 in B-Flat Major

Bernardo Pasquini: Sonata No. 5 in B Minor

Bernardo Pasquini: Sonata No. 6 in E Minor

Bernardo Pasquini: Sonata No. 7 in F Major

Bernardo Pasquini: Sonata No. 8 in G Minor

Bernardo Pasquini: Sonata No. 9 in C Minor

Bernardo Pasquini: Sonata No. 10 in E Minor

Bernardo Pasquini: Sonata No. 11 in G Minor

Bernardo Pasquini: Sonata No. 12 in B-Flat Major

Bernardo Pasquini: Sonata No. 13 in A Minor

Bernardo Pasquini: Sonata No. 14 in G Minor