Pellegrini & Padovano: Complete Organ Music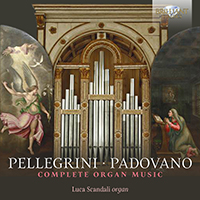 | | |
| --- | --- |
| Composer | Annibale Padovano, Vincenzo Pellegrini |
| Artist | Luca Scandali organ |
| Format | 1 CD |
| Cat. number | 95259 |
| EAN code | 5028421952598 |
| Release | April 2018 |
About this release
Italian organ music from the 16th-century on a 16th-century Italian organ: a unique compilation on record.

The composer we know as Annibale Padovano (1527-1575) was named after his native city of Padua, but in 1552 he became organist at St Mark's Venice while the Dutch composer Adrian Willaert was master of music there. Padovano probably joined Willaert's group of pupils, and he would have encountered the likes of Andrea Gabrieli and Cipriano de Rore. Nonetheless, his reputation rests on the slender book of organ music published in 1604, which reveals him as a master contrapuntalist of his age in the Ricercars, and no less innovative or inventive in his use of the Toccata form, clearly Venetian in spirit yet individual in expression.

Vincenzo Pellegrini was born in Pesaro around 1562. Following his studies at the seminary, he became a canon regular of the cathedral in 1589 and appears to have been a popular teacher as well as a composer of church music. His work for organ likely dates from the end of his life, when he had become a canon in Milan Cathedral where there was a stronger tradition of instrumental composition. The Canzoni that have come down to us betray an evident debt to the French chanson tradition: simpler in form than Pellegrini, their melodic freshness and charm offers more than ample compensation in works such as 'La Serpentina' which has become a popular work of the period in its own right.

This is Luca Scandali's sixth album for Brilliant Classics, after imaginative collections of repertoire such as 'Balli, battaglie e canzoni' (BC95384) and 17th-century Italian organ music by Galuppi (BC95140) and Pasquini (BC94347). For this album he has contributed a valuable booklet essay and selected the historically significant organ in the Basilica of Santa Barbara in Mantova, which is tuned to the mean-tone temperament used in the era of Padovano and Pellegrini.

This collection of Toccatas, Ricercars and Canzones by Annibale Padovano and Vincenzo Pellegrini comprises examples of all the main forms of Italian organ music of the Renaissance, the Golden Age in which keyboard music flourished and huge leaps of development were made.
Padovano was an organist at the famous San Marco in Venice, while Pellegrini was Maestro di Cappella at the Milan Cathedral, both composers made valuable contributions to the development of the keyboard style, in which imitative elements and a healthy dose of ornamentation and virtuosity found their place.
Played on the 1565 historic organ of Graziadio Antegnati organ in the Basilica of Santa Barbara in Mantua, Italy. Luca Scandali is one of the foremost organists of Italy, artist and scholar, who already made several successful recordings for Brilliant Classics, a.o. by Galuppi, of which Fanfare Classical Magazine wrote: "the performance themselves are superb. Organist Luca Scandali understand this repertoire perfectly and renders it with grace, vitality and imaginative use of varying registrations, all captured in clear, warm recorded sound".
Luca Scandali also wrote the extensive, scholarly liner notes in the booklet, which also contains all the specifications and photo of the organ.
Listening
Track list
Disk 1
Annibale Padovano: Toccata del ottavo tono

Annibale Padovano: Ricercar del sesto tono alla terza

Vincenzo Pellegrini: Canzone detta la Berenice

Vincenzo Pellegrini: Canzon detta la Nora

Vincenzo Pellegrini: Canzon detta la Cassiodora

Vincenzo Pellegrini: Canzone detta la Barbarina

Vincenzo Pellegrini: Canzon detta L'Archangiola

Annibale Padovano: Toccata del sesto tono

Vincenzo Pellegrini: Canzon detta la Serpentina

Vincenzo Pellegrini: Canzon detta la Diana

Vincenzo Pellegrini: Canzon detta la Serafina

Vincenzo Pellegrini: Canzone detta la Gratiosa

Annibale Padovano: Toccata del primo tono

Annibale Padovano: Ricercar del duodecimo tono

Vincenzo Pellegrini: Canzon detta la capricciosa

Vincenzo Pellegrini: Canzon detta la Mariana

Vincenzo Pellegrini: Canzone detta la Pellegrina

Vincenzo Pellegrini: La pelegrina

Vincenzo Pellegrini: Canzon detta la gentile

Annibale Padovano: Toccata del sesto tono