Pergolesi: Cantatas and Concertos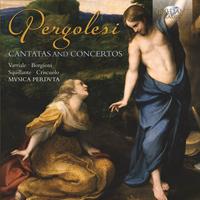 Composer
Giovanni Battista Pergolesi
Artist
MUSICA PERDUTA:
Valentina Varriale soprano
Mauro Borgioni baritone
Mauro Squillante mandolin & colascione lute
Renato Criscuolo cello & artistic direction
Monika Toth, Danuta Zawada violins
Ottavia Rausa viola
Luca Marzetti double bass
Alberto Bagnai harpsichord & organ
Francesco Ragni organ
Format
1 CD
Cat. number
94763
EAN code
5028421947631
Release
April 2014
About this release
During his short life, Giovanni Battista Pergolesi was a prolific composer. A noted writer of early opera, among his most famous works are Il prigioniero superbo and La serva padrona. But it was his Stabat Mater that would assure his place in music history, commissioned by the Confraternità dei Cavalieri di San Luigi di Palazzo for a Good Friday dedication to the Virgin Mary. The work remains one of the most popular sacred pieces of all time, and is still performed and recorded today.

To celebrate the third centenary of Pergolesi's birth (2010), MVSICA PERDVTA combed through many original 18th-century manuscripts and scores kept in the library of the Sacro Convento in Assisi, uncovering hitherto unpublished editions featuring three cantatas by the composer: Nel chiuso centro (L'Orfeo), Luce degli occhi miei and La Maddalena al sepolcro. The music of the latter is reminiscent of the Stabat Mater and could even be considered a worthy sequel to the great work. This theory refutes the idea that the final details on the Stabat Mater were completed the day Pergolesi died.

MVSICA PERDVTA is a cultural organisation, founded in 2007 by Renato Criscuolo and Valerio Losito and created with the intention of casting previously unpublished works by celebrated 17th- and 18th-century composers into the limelight. After thorough research in archives and libraries, the group gives concert performances of the discovered works, often using period instruments. Championed composers include Vivaldi, Handel, Pergolesi and Scarlatti.

Other information:
- Recorded in 2012.
- The untimely death of Giovanni Battista Pergolesi at age 26 robbed the musical world of one of the greatest talents of the 18-th century. During his short life Pergolesi was a prolific composer, he wrote more than his immortal Stabat Mater, deservedly one of the most popular and best known sacred works of the Baroque.
- This new recording presents two first recordings of Cantatas, on secular texts for vocal soloists and instrumental ensemble, works of deep emotion and profundity, worthy companions to the Stabat Mater.
- Musica Perduta is a cultural organisation delving deep into historical archives, unearthing unpublished works by the Italians masters of the 17th and 18th century. Earlier issues on Brilliant Classics include Cello Sonatas by Zuccari (94306) and unpublished Italian Cantatas by Handel (94426).
- Contains liner notes and performer biographies in English and Italian and the complete sung texts.
Track list
Disk 1
Orfeo, Op. Posth.: I. Recitative. Nel chiuso centro

Orfeo, Op. Posth.: II. Aria. Euridice dove sei?

Orfeo, Op. Posth.: III. Recitative. Si che pietà non v'è

Orfeo, Op. Posth.: IV. Aria. O d'Euridice

Concerto in B-Flat Major, Op. Posth.: I. Allegro

Concerto in B-Flat Major, Op. Posth.: II. Largo

Concerto in B-Flat Major, Op. Posth.: III. Allegro

Luce degli occhi miei, Op. Posth.: I. Recitative. Luce degli occhi miei

Luce degli occhi miei, Op. Posth.: II. Aria. Ove tu ben mio non sei

Luce degli occhi miei, Op. Posth.: III. Recitative. Ma seppure il destino

Luce degli occhi miei, Op. Posth.: IV. Aria. Contento forse vivere

Sinfonia in F Major, Op. Posth.: I. Comodo

Sinfonia in F Major, Op. Posth.: II. Allegro

Sinfonia in F Major, Op. Posth.: III. Adagio

Sinfonia in F Major, Op. Posth.: IV. Presto

La Maddalena al sepolcro, Op. Posth.: I. Recitative. Presso lo speco

La Maddalena al sepolcro, Op. Posth.: II. Aria. Gesù mio, e dove sei?

La Maddalena al sepolcro, Op. Posth.: III. Recitative. Si che pietà non v'è

La Maddalena al sepolcro, Op. Posth.: IV. Aria. Or che riveggio