Pergolesi: Stabat Mater - Salve Regina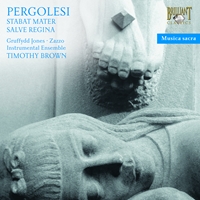 Composer
Giovanni Battista Pergolesi
Artist
Angharad Gruffydd Jones soprano
Lawrence Zazzo countertenor
Instrumental ensemble
Timothy Brown organ and concert master
Format
1 CD
Cat. number
93952
EAN code
5028421939520
Release
July 2009
About this release
During his short life of 26 years, Giovanni Battista Pergolesi produced two works that have ensured his name lives on as one of the great Baroque composers: the comic opera La serva padrona (The Maid as Mistress) and the Stabat Mater recorded on this CD. He wrote much more music – sadly the bulk of this is
lost and after his death the heavy demand for his music lead to publishers passing off works by lesser composers as being by Pergolesi. Recent study has suggested that of the 150 works published in his name, only about one in five is a genuine Pergolesi.

The Stabat Mater was composed in the last two months of his life, in 1736 at the Franciscan monastery near Pozzuoli. Initially the work attracted criticism as it cast conventional religious musical styles aside, and, to many listeners, it sounded more like operatic music set to a religious text. It is possible to detect the world of opera in some of the numbers, but the critics were being unfair. The predominating minor key gives the work a serious character befitting the text. What Pergolesi achieved was to tie music and text together in an emotional bond that is both very effective and touching.

The work was published with many examples of the tampering that afflicted much of Pergolesi's music. For example, oboes were added to the score. This recording is of the original version.

Other information:
- Booklet notes and sung texts included.
Track list
Disk 1
Stabat Mater: Stabat Mater dolorosa

Stabat Mater: Cujus animam gememtem

Stabat Mater: O quam tristis et afflicta

Stabat Mater: Quae moerabat et dolebat

Stabat Mater: Quis est homo qui non fleret

Stabat Mater: Vidit suum dulcem natum

Stabat Mater: Eia Mater, fons amoris

Stabat Mater: Fac, ut ardeat cor meum

Stabat Mater: Sancta Mater, istud agas

Stabat Mater: Fac, ut portem Christi mortem

Stabat Mater: Inflammatus et accensus

Stabat Mater: Quando corpus morietur

Salve Regina in C Minor: Salve Regina

Salve Regina in C Minor: Ad te clamamus

Salve Regina in C Minor: Eia ergo, advocata nostra

Et Jesum

O clemens, o pia