Pergolesi, Tarabella: La serva padrona, il servo padrone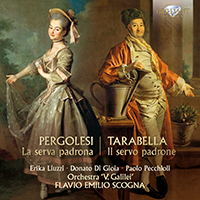 Composer
Aldo Tarabella, Giovanni Battista Pergolesi
Artist
Erika Liuzzi Serpina
Paolo Pecchioli Uberto
Donato Di Gioia Vespone
Marco Santià piano
Orchestra 'V. Galilei'
Flavio Emilio Scogna conductor
Format
2 CD
Cat. number
95360
EAN code
5028421953601
Release
September 2018
About this release
Giovanni Battista Pergolesi owes much of his fame to La Serva Padrona, a comic intermezzo designed to be performed between the acts of an opera seria. In it, a maid and a servant conspire to convince their master to marry the maid. When Aldo Tarabella was asked to direct a performance of Pergolesi's intermezzo, he wanted to do more than simply pair it with one of the operas it traditionally sits alongside – so he composed Il Servo Padrone, a companion piece, and a kind of sequel, to Pergolesi's original.

At the level of the plot, things come full circle, and by the end, master and servants have returned to where things began, highlighting the difficulty of fundamentally changing social conditions. A kind of emancipation seemed within reach, but isultimately not achieved – in some senses, the reverse of what one might expect given the transformation of social roles in Europe among (at least middle-class) women in the 17th century and since.

Musically, however, this homage to an 18th-century musical form is very much brought into the present day. Its arias are developed in an atonal context and its recitatives leave traditional Classical form behind to travel symbolically towards the light-hearted episodes found in 20th-century musical comedy. This unique album is the first ever recording of Tarabella's tributary composition.

A highly original and intriguing juxtaposition: the 18th century comic opera La Serva Padrona by Pergolesi set off against its 21st century reaction, Il Servo Padrone by contemporary composer Aldo Tarabella.
In Tarabella's opera the three Commedia dell'Arte characters of Uberto, Serpina and Vespone are changing roles, mirroring the 18th century situation and morals into a modern 21st century comedy: highly entertaining!
The Pergolesi is performed according to the new critical Edition of Francesco Degrada, scholar and Pergolesi specialist.
Performed with real Italian gusto by Erika Liuzzi, Paolo Pecchioli, and Donato di Gioia, conductor is Flavio Emilio Scogna, who already recorded several CD's for Brilliant Classics in lesser-known Italian repertoire: Carrara, De Frisina, De Sica and others.
The booklet contains extensive liner notes on the origin of both works.
Recorded in November 2017 at the Auditorium Sinopoli, Scuola di Musica di Fiesole (Florence), Italy.
Track list
Disk 1
La serva padrona, Pt. 1: I. Aria. Aspettare e non venire

La serva padrona, Pt. 1: II. Recitativo. Questa è per me disgrazia

La serva padrona, Pt. 1: III. Aria. Sempre in contrasti

La serva padrona, Pt. 1: IV. Recitativo. In somma delle somme

La serva padrona, Pt. 1: V. Aria. Stizzoso, mio stizzoso

La serva padrona, Pt. 1: VI. Recitativo. Benissimo. Hai tu inteso?

La serva padrona, Pt. 1: VII. Duetto. Lo conosco a quegli occhietti

La serva padrona, Pt. 2: I. Recitativo. Or che fatto ti sei dalla mia parte

La serva padrona, Pt. 2: II. Aria. A Serpina penserete

La serva padrona, Pt. 2: III. Recitativo. A quanto mi sa male

La serva padrona, Pt. 2: IV. Aria. Son imbrogliato io già

La serva padrona, Pt. 2: V. Recitativo. Favorisca, signor, passi

La serva padrona, Pt. 2: VI. Duetto. Contento tu sarai
Disk 2
Il servo padrone, Pt. 1: I. Ouverture del ronzio

Il servo padrone, Pt. 1: II. Aria. Mangiar bene e digerire

Il servo padrone, Pt. 1: III. Recitativo. Oh, che grande fortuna

Il servo padrone, Pt. 1: IV. Terzetto. Non m'hai sposata

Il servo padrone, Pt. 1: V. Recitativo. E ora vecchio cialtrone impertinente

Il servo padrone, Pt. 1: VI. Aria. Su, presto, corri Uberto

Il servo padrone, Pt. 1: VII. Recitativo. Eccovi il cioccolate

Il servo padrone, Pt. 1: VIII. Aria. Bisogna al mio commando

Il servo padrone, Pt. 1: IX. Recitativo. Benissimo ho inteso

Il servo padrone, Pt. 1: X. Duetto. O Vespino, mio Vespino

Il servo padrone, Pt. 2: I. Recitativo. Ora che come un merlo

Il servo padrone, Pt. 2: II. Aria. Per amore, per pietà

Il servo padrone, Pt. 2: III. Terzetto. Oilà di casa

Il servo padrone, Pt. 2: IV. Recitativo. Gentil signora sconosciuta

Il servo padrone, Pt. 2: V. Duetto. Ah, Serpina meschinetta

Il servo padrone, Pt. 2: VI. Recitativo. Serpina… Padrona

Il servo padrone, Pt. 2: VII. Terzetto. Io Vespone de' Vesponi

Il servo padrone, Pt. 2: VIII. Recitativo. Or che dell'universo

Il servo padrone, Pt. 2: IX. Terzetto. Il cuor mi salta in gola