Pericoli: Cello Sonatas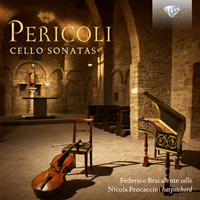 Composer
Pasquale Pericoli
Artist
Federico Bracalente cello
Nicola Procaccini harpsichord
Format
1 CD
Cat. number
95358
EAN code
5028421953588
Release
February 2017
About this release
Pasquale Pericoli is now so obscured by time that neither his place and date of birth or death can be ascertained, though in the preface to these six sonatas he declares himself 'a Neapolitan from Lecce'. Neapolitan should be loosely understood here, as the writ of its kingdom in the 18th century ran all the way east and south to the town of Lecce in the heel of Italy.

These sonatas are indeed Pericoli's only extant works, and they are a most stylish, melodically appealing example of Neapolitan chamber music otherwise represented with greater renown by composers such as Leonardo Leo and Alessandro Scarlatti. His fame as both a performer and composer spread sufficiently far across Europe for him to work for an Italian theatre-opera company in Stockholm between 1752 and 1757. Although the style of these sonatas belongs recognisably to the Neapolitan school, Pericoli was far better than an epigone or slavish imitator, and his writing betrays first-hand knowledge of the cello and its technical possibilities, including much high writing and string-crossing in the quicker movements. The sonatas were published together as a set in 1769, and perhaps conceived as a single entity given that they were written in different keys, in an ascending scale of B flat major, C major, E flat major, F minor, G minor and A major.

Taken together, the sonatas embody a moment of significant development in the history of music in the movement from Baroque to Classical aesthetics. In this sense the Fourth Sonata is emblematic, with a sonata-form Allegro, an Aria in the guise
of a Siciliana, distinctly reminiscent of Pergolesi and Leo, and a severely contrapuntal quick finale.

The sonatas are played here by a pair of Italian musicians thoroughly versed in the historically informed performing traditions of the time.

First recording of Pericoli's 6 Cello Sonatas.
Little is known about the life of Pasquale Pericoli, who lived and worked in the second half of the 18th century. He is known to have produced operas in Stockholm for some years, he himself claimed to be of Neapolitan origin.
His Neapolitan roots certainly are betrayed in his 6 Cello Sonatas, in which the formal structure of the Sonata (albeit in embryonic form, not yet fully developed as in the Classical Period) is imbued with melodic charm and cantabile, the cello seeming to sing instead of play.
Cellist Federico Bracalente specialised in the performance of Baroque music, playing in illustrious ensembles like the Orchestra da Camera di Mantova, and collaborates with artists such as Sara Mingardo, Alfredo Bernardini and Romina Basso.
Excellent liner notes written by a scholar, in both Italian and English.
Listening
Track list
Disk 1
Pasquale Pericoli: Cello Sonata No. 1 in B-Flat Major: I. Allegretto

Pasquale Pericoli: Cello Sonata No. 1 in B-Flat Major: II. Cantabile

Pasquale Pericoli: Cello Sonata No. 1 in B-Flat Major: III. Spiritoso

Pasquale Pericoli: Cello Sonata No. 2 in C Major: I. Allegro

Pasquale Pericoli: Cello Sonata No. 2 in C Major: II. Cantabile

Pasquale Pericoli: Cello Sonata No. 2 in C Major: III. Allegretto a modo di cembalo

Pasquale Pericoli: Cello Sonata No. 3 in E-Flat Major: I. Allegretto cantabile

Pasquale Pericoli: Cello Sonata No. 3 in E-Flat Major: II. Largo

Pasquale Pericoli: Cello Sonata No. 3 in E-Flat Major: III. Allegro

Pasquale Pericoli: Cello Sonata No. 4 in F Minor: I. Allegretto

Pasquale Pericoli: Cello Sonata No. 4 in F Minor: II. Siciliana. Cantabile

Pasquale Pericoli: Cello Sonata No. 4 in F Minor: III. Allegro

Pasquale Pericoli: Cello Sonata No. 5 in G Minor: I. Allegretto

Pasquale Pericoli: Cello Sonata No. 5 in G Minor: II. Cantabile

Pasquale Pericoli: Cello Sonata No. 5 in G Minor: III. Allegro

Pasquale Pericoli: Cello Sonata No. 6 in A Major: I. Allegro

Pasquale Pericoli: Cello Sonata No. 6 in A Major: II. Largo

Pasquale Pericoli: Cello Sonata No. 6 in A Major: III. Allegro