Pescetti: Complete Keyboard Music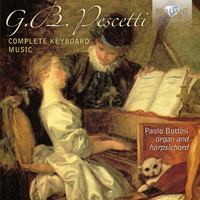 | | |
| --- | --- |
| Composer | Giovanni Battista Pescetti |
| Artist | Paolo Bottini organ & harpsichord |
| Format | 2 CD |
| Cat. number | 95438 |
| EAN code | 5028421954387 |
| Release | January 2017 |
About this release
Giovanni Battista Pescetti was another product of the astonishing Venetian industry in fine musicians during the 17th and 18th centuries. Having studied with Antonio Lotti, organist at St Mark's and author of the famous Crucifixus, he struck up a friendship with a fellow pupil, Baldassare Galuppi, whose harpsichord music has already featured on Brilliant Classics (BC95253). The two men wrote operas together in their 20s, before Pescetti impressed London audiences as a harpsichordist.

In 1736 he became director of Opera of the Nobility, which was the rival company to the one run by Handel in the Haymarket. The company collapsed – who could rival Handel? – but Pescetti remained in London and probably only returned to Venice in 1747, where he finally attained the long-coveted position of organist at St Mark's in 1762, four years before his death.

Thus the bicentenary of Pescetti's death was marked in 2016, though to no great fanfare: his name remains in the shadows of more illustrious Venetian contemporaries. Hopefully this adventurous release will help to redress the balance. There are two extant collections of harpsichord music, and a set of four organ sonatas. The six 1739 sonatas are composed in a transitional idiom between the Baroque and galant styles. The second set of sonatas, written around 15 years later, fully inhabit the galant idiom, with much less counterpoint and more abundant use of melody and arching harmonic expression.

Giovanni Battista Pescetti's remarkably expressive use of melody validates Paolo Bottini's decision to perform the harpsichord sonatas on the organ. Even the passages that would seem to be singularly well suited to the harpsichord gain from the variety and refinement of sound of the two Venetian instruments Bottini has chosen to play, both of them dating back to Pescetti's time. Moreover, there are evident benefits in the natural acoustics of the respective churches, especially those of San Giorgio Maggiore, which are particularly generous. Likewise at San Cassiano, the presence of two manuals allows for some magnificent echo effects in the passages containing short repeated segments. At San Giorgio, a similar outcome is achieved by simply drawing the stops, which is clearly audible on various occasions in this recording, as it is in the pieces played on the organ at San Cassiano.

Giovanni Batista Pescetti (1704-1766) was born in Venice into a musical family, both his father and grandfather were musicians. He studied with Antonio Lotti and Adolph Hasse, the Saxon who was composer in Venice. In 1734 he settled in London (like many of his compatriots), where he was director of both Covent Garden and the King's Theatre.
Although Pescetti wrote many operas he is mainly remembered for his works for the keyboard, notably the harpsichord, for which he wrote several volumes of sonatas. They are charming, with a strong emphasis on the melody, expertly written for the keyboard, and popular with both professionals and amateurs.
This new recording presents the complete keyboard works by Pescetti, for both harpsichord and organ. Played with infective zest and lyrical poise by Paolo Bottini. The historical organ in the Basilica di Giorgio Maggiore in Venice dates from 1750.
Track list
Disk 1
Sonata No. 1 in E Major: I. Adagio

Sonata No. 1 in E Major: II. Allegro

Sonata No. 1 in E Major: III. Menuett

Sonata No. 2 in D Major: I. Andante

Sonata No. 2 in D Major: II. Adagio

Sonata No. 2 in D Major: III. Allegro

Sonata No. 2 in D Major: IV. Giga

Sonata No. 3 in G Minor: I. Presto

Sonata No. 3 in G Minor: II. A tempo giusto

Sonata No. 3 in G Minor: III. Allegro

Sonata No. 4 in A Major: I. Adagio

Sonata No. 4 in A Major: II. Allegro

Sonata No. 4 in A Major: III. Con spirit

Sonata No. 5 in C Minor: I. Primo tempo

Sonata No. 5 in C Minor: II. Allegro

Sonata No. 5 in C Minor: III. Presto

Sonata No. 5 in C Minor: IV. Tempo giusto

Sonata No. 6 in D Minor: I. Andante

Sonata No. 6 in D Minor: II. Spiritoso

Sonata No. 7 in G Major: I. Spiritoso

Sonata No. 7 in G Major: II. Allegro

Sonata No. 7 in G Major: III. Presto

Sonata No. 8 in C Major: I. Con spirit

Sonata No. 8 in C Major: II. Adagio

Sonata No. 8 in C Major: III. Tempo giusto

Sonata No. 8 in C Major: IV. Allegro

Sonata No. 9 in G Minor: I. Allegro

Sonata No. 9 in G Minor: II. Spiritoso
Disk 2
Sonata No. 10 in B-Flat Major: I. Ouverture, allegro

Sonata No. 10 in B-Flat Major: II. Moderato

Sonata No. 10 in B-Flat Major: III. Presto

Sonata I in C Minor: I. Vivace e maestoso

Sonata I in C Minor: II. Allegro

Sonata I in C Minor: III. Minuetto

Sonata II in F Major: I. Maestoso

Sonata II in F Major: II. Andante

Sonata II in F Major: III. Grazioso con variazioni

Sonata III in C Major: I. Andante

Sonata III in C Major: II. Allegro

Sonata IV in E-Flat Major: I. Moderato grazioso

Sonata IV in E-Flat Major: II. Allegretto con variazioni

Sonata V in B-Flat Major: I. Andantino

Sonata V in B-Flat Major: II. Presto

Sonata VI in C Minor: I. Allegro ma non presto

Sonata VI in C Minor: II. Moderato

Sonata VI in C Minor: III. Presto

Sonata I: Allegro

Sonata II: Allegro

Sonata III: Allegro

Sonata IV: Allegro