Petrali: Organ Music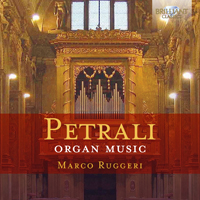 | | |
| --- | --- |
| Composer | Vincenzo Petrali |
| Artist | Marco Ruggeri organ |
| Format | 2 CD |
| Cat. number | 95160 |
| EAN code | 5028421951607 |
| Release | September 2015 |
About this release
There is only one other available survey on record of the music of Vincenzo Antonio Petrali (1830-1889), making this new recording all the more invaluable for travellers down the byways of non-operatic Italian music. Petrali combined the roles of virtuoso organist and improviser, orchestral conductor, composer, pianist, violinist, double-bass player and teacher. Every element of his multi-faceted career was approached with a huge amount of talent and energy.

His organ music is founded on structural rigour, while at the same time being infused with the spirit of improvisation which apparently made him such a thrilling artist in performance. One leading contemporary critic wrote: 'I have heard Saint-Säens, Lemmens, Guilmant, Lèfevre and Widor – and I have earned the right to be difficult and demanding. As an improviser, Petrali need fear no comparison: he has a highly personal, characteristic style which sets him apart as being unique.'

Marco Ruggeri's personal choice of repertoire for this set charts Petrali's development as a composer. His experience as conductor of the Municipal Band in Crema (1860-72) is reflected in the works on CD1, which take as their model the type of Serassi organ which Petrali had in mind when he produced his organ method in 1862. For the recording of CD1, the large two-manual Serassi organ of the parish church of Gottolengo (Brescia), built in the same year, is an ideally idiomatic instrument.

Petrali makes reference to the European tradition by quoting from Beethoven's Fifth Symphony, in the last verset of the Gloria in F, and from Chopin's first Ballade, in the Toccata in D. To record the music of Pertrali's 'second period', Ruggeri has chosen a 19th-century organ of rare pedigree: the 1877 Lingiardi instrument in the church of S. Pietro al Po in Cremona. He has previously made well-received recordings of similar repertoire such as the complete organ music of Ponchielli; he is now based in Cremona as both a performer and teacher as well as a consultant for the project to restore the city's organs.

Vincenzo Antonio Petrali (1830-1889) was an important musical figure of 19-th century Italy. He was a highly gifted organist, pianist, violinist, conductor, composer and teacher. A virtuoso organist and improviser he wrote a large number of organ works, specifically for use on the newly built Italian organs.
Petrali's organ music is always characterised by great structural formality. His style evolved from a taste, in his early works, for orchestral-operatic elements, to music influenced by the reforms of the Cecilian movement, which sought to revive Gregorian chant in Catholic worship. The titles of many of his works link to the liturgy of the mass (Versets on the Kyrie and Gloria, Sonatas for the Offertory, Communion, Elevation or Vespers) but in reality these were concert pieces, in grand romantic style.
Famous Italian organist Marco Ruggeri plays on two magnificent Italian romantic organs: the Serassi organ (1862) of Gottolengo, and the Lingiardi "orchestral" organ (1877) in Cremona, instruments which Petrali himself knew intimately!
The booklet contains excellent liner notes by the artist, as well as the technical information on both organs.
Listening
Track list
Disk 1
Vincenzo Petrali: Sonata in D Major

Vincenzo Petrali: Adagio for Human Voice

Vincenzo Petrali: Sonata in D Major

Vincenzo Petrali: 6 Verses for Gloria in D Major: I. Verse No. 1

Vincenzo Petrali: 6 Verses for Gloria in D Major: II. Verse No. 2

Vincenzo Petrali: 6 Verses for Gloria in D Major: III. Verse No. 3

Vincenzo Petrali: 6 Verses for Gloria in D Major: IV. Verse No. 4

Vincenzo Petrali: 6 Verses for Gloria in D Major: V. Verse No. 5

Vincenzo Petrali: 6 Verses for Gloria in D Major: VI. Verse No. 6

Vincenzo Petrali: Sonata in F Major

Vincenzo Petrali: Sonata for Consumption

Vincenzo Petrali: Sonata for the Offertory in C Major

Vincenzo Petrali: Sonata for the Offertory in F Major

Vincenzo Petrali: Sonata Final
Disk 2
Vincenzo Petrali: Sinfonia

Vincenzo Petrali: 7 Verses for Gloria in F Major: I. Verse No. 1

Vincenzo Petrali: 7 Verses for Gloria in F Major: II. Verse No. 2

Vincenzo Petrali: 7 Verses for Gloria in F Major: III. Verse No. 3

Vincenzo Petrali: 7 Verses for Gloria in F Major: IV. Verse No. 4

Vincenzo Petrali: 7 Verses for Gloria in F Major: V. Verse No. 5

Vincenzo Petrali: 7 Verses for Gloria in F Major: VI. Verse No. 6

Vincenzo Petrali: 7 Verses for Gloria in F Major: VII. Verse No. 7

Vincenzo Petrali: Andante – Pastorale

Vincenzo Petrali: Allegretto for Clarinet

Vincenzo Petrali: Sonata for Communion

Vincenzo Petrali: Toccata in D Major

Vincenzo Petrali: 4 Sonate for Evening: I. Sonata No. 1

Vincenzo Petrali: 4 Sonate for Evening: II. Sonata No. 2

Vincenzo Petrali: 4 Sonate for Evening: III. Sonata No. 3

Vincenzo Petrali: 4 Sonate for Evening: IV. Sonata No. 4

Vincenzo Petrali: Sonata for the Offertory in C Major