Piatti: 12 Capricci for Cello Solo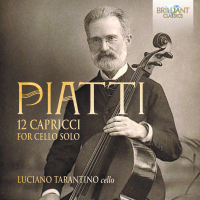 | | |
| --- | --- |
| Composer | Alfredo Piatti |
| Artist | Luciano Tarantino cello |
| Format | 1 CD |
| Cat. number | 96471 |
| EAN code | 5028421964713 |
| Release | January 2022 |
About this release
Alfredo Carlo Piatti began a precocious and distinguished career as a cellist in his native Bergamo, as well as in Turin and Milan. He left Italy at 21 to seek his fortune and on his travels met Franz Liszt, who gave him an Amati cello, and Felix Mendelssohn, who conducted one of his first concerts in London. In early 1847, having performed across Europe and with considerable experience under his belt, he settled permanently in London.

After enjoying an illustrious half-century among the upper echelons of London's musical elite, he returned to Italy in 1898 and spent his final years living with his daughter and editing his body of compositions. On his death in 1901, he bequeathed the Fondo Piatti-Lochis to the city of Bergamo, a precious collection of manuscript and print editions of his entire oeuvre, containing around 60 instrumental pieces, a similar number of short vocal compositions and around 40 transcriptions and reworkings of music by major composers of the past. It includes the first edition (produced by Piatti himself) and two autograph manuscripts of his 12 Caprices Op.25. Both manuscripts bear the same date: 'London, 26 June 1865'.

The Caprices became Piatti's best-known compositions, and they have been recorded and performed by cellists all over the world, who find them difficult to master but also undoubtedly an extremely interesting challenge. Within them, Piatti explores the full technical and expressive potential of his instrument. The left hand is forced into possible and seemingly impossible positions, often giving the impression of flying rapidly and lightly over the strings, while the right hand adroitly manages the bow, testing out all the various ways of generating sounds and traversing all pitches and tonal colours. Mastering the Caprices can therefore be seen as a way of achieving the playing technique described in a first-hand account of one of Piatti's last concerts: 'He diligently interprets the thinking hidden in the music, liberating it with his divine instrument; in his expert, awe-inspiring hands it speaks and sings sometimes sweetly, sometimes loudly, sometimes trembling, but always disciplined and convincing'.

Other information:
- Recorded in June of 2021, Sammichele di Bari, Italy
- Bilingual booklet in English and Italian contains notes on the composer and the music written by the artist, as well as a biography of the artist
- Luciano Tarantino plays a C.A. Testore cello from 1736
- Alfredo Piatti was the "Paganini of the Cello", as his admirer Franz Liszt called him, having given him a valuable Amati cello. Piatti was born in Bergamo. His talent was soon evident, and he became a famous cellist, traveling all over Europe, meeting influential artists like Mendelssohn, Joachim, Grieg, Clara Schumann and Liszt. In 1846 he settled in London where he was appointed First Cello in Her Majesty's Theatre and Covent Garden.
- Piatti's cello works are high quality salon pieces, of a great melodic invention and stunning and ground-breaking virtuosity. This new recording presents the 12 Capricci for Cello Solo. After its publication the Capricci became Piatti's best-known compositions, published, recorded and performed by cellists all over the world who, on studying them, discover that they are indeed difficult, but that they are also a "very interesting" challenge, exploring in a complete and exhaustive way all the technical and expressive possibilities of his instrument.
- Luciano Tarantino (b. 1977) began studying the cello at 10 years, in the conservatory of Bari. He followed master courses with David Geringas, Ivan Monighetti, Truls Mørk and Mstslav Rostropovich.
Listening
Track list
Disk 1
Alfredo Piatti: 12 Capricci for Cello Solo, Op. 25: I. Allegro quasi presto

Alfredo Piatti: 12 Capricci for Cello Solo, Op. 25: II. Andante religioso

Alfredo Piatti: 12 Capricci for Cello Solo, Op. 25: III. Moderato

Alfredo Piatti: 12 Capricci for Cello Solo, Op. 25: IV. Allegretto

Alfredo Piatti: 12 Capricci for Cello Solo, Op. 25: V. Allegro comodo

Alfredo Piatti: 12 Capricci for Cello Solo, Op. 25: VI. Adagio largamente

Alfredo Piatti: 12 Capricci for Cello Solo, Op. 25: VII. Maestoso

Alfredo Piatti: 12 Capricci for Cello Solo, Op. 25: VIII. Moderato ma energico

Alfredo Piatti: 12 Capricci for Cello Solo, Op. 25: IX. Allegro bene spiccato

Alfredo Piatti: 12 Capricci for Cello Solo, Op. 25: X. Allegro deciso

Alfredo Piatti: 12 Capricci for Cello Solo, Op. 25: XI. Adagio-Allegro

Alfredo Piatti: 12 Capricci for Cello Solo, Op. 25: VII. Allegretto capriccioso