Piatti: Music for Cello and Piano, 2 Songs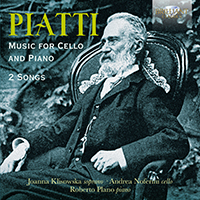 Download booklet
Composer
Alfredo Piatti
Artist
Andrea Noferini cello
Roberto Plano piano
Joanna Klisowska soprano
Format
1 CD
Cat. number
94975
EAN code
5028421949758
Release
August 2018
About this release
Music for delight, demonstration and display by an early-Romantic pioneer of the cello.

Born in Bergamo in 1822, Carlo Alfredo Piatti was to the cello what Nicolò Paganini was to the violin: a musician who extended the possibilities of his instrument in performance and who inspired countless composers to do the same in writing for it. His remarkable talent was immediately evident, to the extent that by 1843 he was already travelling throughout Europe on concert tours, accompanied by his father. It was Franz Liszt who described him as 'a Paganini of the Cello', presenting him with an Amati instrument as a token of his admiration.

Piatti's concert-tours culminated in a visit to London, where he settled in 1846. In the mid-1800s, musical life in the British capital was full of energy and opportunity. When Verdi learnt that it would be Piatti leading the cellos in the first performances of his new opera, I Masnadieri, he wrote a Prelude consisting of a cello solo with an orchestral accompaniment, which he dedicated to the great cellist.

In his own compositions Piatti reconciled virtuoso figurations with a highly lyrical approach to melody which is on show here in two of the songs he wrote for English audiences: O Swallow, Swallow (to a text by Alfred, Lord Tennyson) and La Sera ('I love the hour of the dying day'), an evening-time, sentimental ballad incorporating a cello solo clearly modelled on the opening of Rossini's William Tell Overture and astutely calculated to tug at the heartstrings of his well-to-do patrons, who would also want to perform such songs themselves.

However, the bulk of Piatti's music was designed to show his own skill as a cellist to best advantage. This he triumphantly did with the stupendously virtuosic Capriccio Op.22 on a theme from Pacini's Niobe. The better-known Capricci Op.25 are not included here; instead, the opportunity has been taken by Andrea Noferini to record some of Piatti's lesser-known, standalone pieces such as the attractive Op.1 L'abbandono, and Notturno Op.20. Andrea Noferini's previous recordings include a well-received set of cello duets by Offenbach, released on Brilliant Classics (BC94475).

Alfredo Piatti was the "Paganini of the Cello", as his admirer Franz Liszt called him, having given him a valuable Amati cello. Piatti was born in 1822 in Bergamo. His talent was soon evident, and he became a famous cellist, traveling all over Europe, meeting influential artists like Mendelssohn, Joachim, Grieg, Clara Schumann and Liszt. In 1846 he settled in London where he was appointed First Cello in Her Majesty's Theatre and Covent Garden.
Piatti's cello works are high quality salon pieces, of a great melodic invention and stunning and ground-breaking virtuosity.
Italian cellist Andrea Noferini and pianist Roberto Plano deliver exciting performances of these highly attractive works. Noferini already recorded several successful Brilliant Classics albums with works by Sgambati, Martucci and Offenbach (Duos with Giovanni Sollima).
Listening
Track list
Disk 1
Alfredo Piatti: Fantasia sopra alcuni motivi della Gemma di Vergy in D Major

Alfredo Piatti: Air Baskyrs in G Major, Op. 8

Alfredo Piatti: L'Abbandono, Op. 1

Alfredo Piatti: Capriccio over a Theme from "Niobe" in D Major, Op. 22

Alfredo Piatti: Pioggia d'aprile studio capriccio

Alfredo Piatti: Notturno, Op. 20

Alfredo Piatti: La bergamasca in A Major, Op. 14

Alfredo Piatti: O Swallow, Swallow in F Major

Alfredo Piatti: La sera nocturne