Piazzolla: Café 1930, Music for Violin and Guitar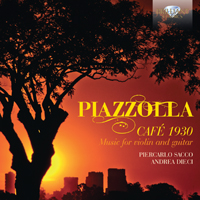 Composer
Astor Piazzolla
Artist
Piercarlo Sacco violin
Andrea Dieci guitar
Format
1 CD
Cat. number
94896
EAN code
5028421948966
Release
June 2014
About this release
It had previously been said that in Argentina 'everything can change except the Tango'. And then there was Astor Piazzolla, who revolutionised this genre in the mid-20th century. Creating a new genre that would become known as the Nuevo Tango, Piazzolla added influences of jazz and classical music to create his spell-binding music.

The Histoire du Tango, the first work to be feature on this compilation, is a tribute to the development of the Tango, including movements such as 'Bordel 1900' and 'Nightclub 1960'. Originally written for flute and guitar, it is performed here in the version for violin by Piercarlo, one of the artists on the recording. The Études tanguistiques show particular virtuosic elements such as the use of percussive articulation, double harmonics and complex double and triple stops. The collection also includes Celos, as well as Piazzolla's only work for guitar, the Cinco piezas – an insight into folk melodies and rhythms of Argentinian culture, combined with an unmistakeable streak of classicism.

Violinist Piercarlo Sacco, winner of the 1992 Prix Spécial du Jury at the Yehudi Menuhin competition in Paris, has been hailed as 'a musician of international standing. An outstanding talent among the violinists of his generation' (Il Corriere del Mezzogiorno). Also performing on the recording is acclaimed guitarist Andrea Dieci, described as 'an impressive guitarist' by The New York's Times Herald. A sought-after teacher, he is currently based at the Tartini Conservatoire in Trieste.

Other information:
- Recorded in 2013.
- Argentina and the Tango are inextricably linked together, and Astor Piazzolla is the personification of both.
- Piazzolla created a "Nuevo Tango", infusing the traditional dance with jazz and classical music influences. His "Histoire du Tango" was originally written for flute and guitar, and is here played by violin and guitar, in a transcription by Piercarlo Sacco. It contains descriptive and evocative titles like Bordel 1900, Nightclub 1960 and Café 1930. Also included are the 4 Études tanguistiques and cinco piezas.
- Played with zest, drive and an innate feeling for the characteristic Tango spirit by Piercarlo Sacco and guitarist Andrea Dieci.
- Contains liner notes on the composer and works and performer biographies.
Track list
Disk 1
Astor Piazzolla: Histoire du Tango: I. Bordel 1900

Astor Piazzolla: Histoire du Tango: II. Café 1930

Astor Piazzolla: Histoire du Tango: III. Nightclub 1960

Astor Piazzolla: Histoire du Tango: IV. Concert d'aujourd'hui

Astor Piazzolla: Cinco piezas: I. Campero

Astor Piazzolla: Cinco piezas: II. Romántico

Astor Piazzolla: Cinco piezas: III. Acentuado

Astor Piazzolla: Cinco piezas: IV. Tristón

Astor Piazzolla: Cinco piezas: V. Compadre

Astor Piazzolla: Quatre Études tanguistiques: I. Décidé (Arr. P. Sacco)

Astor Piazzolla: Quatre Études tanguistiques: IV. Lento. Meditativo (Arr. P. Sacco)

Astor Piazzolla: Quatre Études tanguistiques: V. − (Crotchet = 120, Arr. P. Sacco)

Astor Piazzolla: Quatre Études tanguistiques: VI. Avec anxiété (Arr. P. Sacco)

Astor Piazzolla: Milonga campera. Celos (Arr. A. Dieci, P. Sacco)