Piazzolla: La Calle 92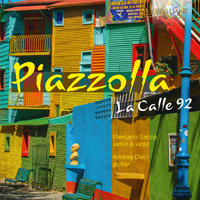 Composer
Astor Piazzolla
Artist
Piercarlo Sacco violin & viola
Andrea Dieci guitar
Format
1 CD
Cat. number
95538
EAN code
5028421955384
Release
January 2018
About this release
This album is a sequel to 'Café 1930' (BC94896), which also featured Piercarlo Sacco and Andrea Dieci in violin/guitar arrangements of Piazzolla. Released in 2014, 'Café 1930' was praised for the virtuosity of Sacco and sensitive partnership of Dieci: 'The record is a great gift for any party and every occasion, even for oneself when looking for something out of the ordinary, but full of charm and interest.' (www.saltinaria.it)

'In a new exciting mix of the traditional dance with jazz and classical music influences… All the pieces are played with energy, drive and an innate feeling for the characteristic Tango spirit by Piercarlo Sacco and guitarist Andrea Dieci.' (www.neuguitars.com)

Their sequel opens with the title track, one of Piazzolla's best-known tangos, named after the street where he lived during his years in New York. Imágines 676 is an explicit reference to a club in Buenos Aires located in Calle Tucuman 676, where he used to play with his quintet, alternating with musicians such as João Gilberto and Stan Getz. For Fièvre and Détresse, Sacco has matched the melody with the smokier, rough-breathing sound of the viola.

Several out-of-the-way Piazzolla tangos are included here, such as Psicosis, Suavidad, Dernier lamento, Tango choc and Made in USA, again in the free and passionate arrangements that made their first album a critical success.

Astor Piazzolla, Argentina's most famous composer, was the grandson of Italian immigrants, and the melancholy for an abandoned and lost country lends a sweetly poignant note to his music. He was unique in the way he was able to weave the "sweet noises of life" into pure melody and harmony in his works. There is a sort of visual lyricism in his melodies that invest his compositional skill with the strength and vitality of his origins as a folk musician, as an artist who was deeply familiar with every secret of the Tango.
This new recording presents arrangements for violin and guitar of popular works by Piazzolla: Calle 92, Milonga, Calambre, Tango choc, and many others.
Played with irresistible feeling for the style by Piercarlo Sacco (violin) and Andrea Dieci (guitar), who already recorded a much praised Piazzolla album for Brilliant Classics: Café 1930 (BC94896).
Listening
Track list
Disk 1
Astor Piazzolla: La calle 92

Astor Piazzolla: Psicosis

Astor Piazzolla: Calambre

Astor Piazzolla: Milonga en re

Astor Piazzolla: Imágines 676

Astor Piazzolla: Suavidad

Astor Piazzolla: Jeanne y Paul

Astor Piazzolla: Détresse

Astor Piazzolla: Made in USA

Astor Piazzolla: Dernier lament

Astor Piazzolla: Fièvre

Astor Piazzolla: Tango choc

Astor Piazzolla: Fracanapa

Astor Piazzolla: Se termino