Piazzolla: Para El Ángel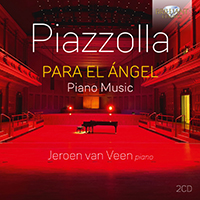 Download booklet
| | |
| --- | --- |
| Composer | Astor Piazzolla |
| Artist | Jeroen van Veen piano |
| Format | 2 CD |
| Cat. number | 96431 |
| EAN code | 5028421964317 |
| Release | June 2021 |
About this release
'I play with violence,' Astor Piazzolla (1921-1992) told one interviewer. 'My bandoneon must sing and scream – I can't conceive of pastel tones in tango.' With an unrivalled discography of minimalist classics to his credit, from Satie to Glass to Yann Tiersen, Jeroen van Veen is ideally placed to return the raw passion and punchy rhythms that belong to the music of Piazzolla in any context.
Jeroen Van Veen's selection runs the gamut of Piazzolla's expressive vocabulary, from the tenderly intimate title track and the Impressionist brushstrokes of Oblivion to the tough and defiant Libertango which concludes the album in truly anthemic fashion. CD2 begins with another masterpiece of street music, Adios Nonino. A string of other masterpieces follow, making their effect as surely on the piano as they do on the guitar or Piazzolla's own instrument, the bandoneon. There is the simple, sweet sentiment of Ausencias, the flamboyant Street Tango and a collection of six contrasting tangos from 1974, from the dark and swirling Meditango to the grave resignation of Tristango.
Marking the centenary of Piazzolla's birth in 1921, this new album pays devoted homage to a composer who came to craft one of the defining sounds of the late 20th-century, when tango left the barrios and clubs of Buenos Aires and then the dance clubs of America and Europe to find a home in recital and concert halls worldwide.
As 'the leading exponent of minimalism today' (Fanfare), Jeroen Van Veen's playing will speak to an audience which has never danced a tango in its life but thrills to the undertow of melancholy and dazzling flair that characterises great tango interpreters past and present. 'From the first time I heard his music, I felt attracted to it,' says the pianist in his booklet essay. 'The rhythm, the melodic value, the atmosphere, it is hard to describe but it felt like a natural attraction. The kind of feeling that the music is part of your music memory; it was already there.'

Critical praise for Jeroen van Veen's Brilliant Classics albums:
Glass, 95563: 'Van Veen is quite brilliant in the quirky Fourth Etude, and his reading of the exquisite valedictory 20th is excellent.' Gramophone

Satie, 9129: 'the nod now goes to the van Veens for outstanding musicianship and for Brilliant Classics' attractively resonant ambience and wide dynamic range. This is a disc worth far more than its modest price, and a must for Satie fans.' Classics Today

Part, 95053: 'Jeroen van Veen… has a lovely, rounded, ringing, almost bell-like sound (highly appropriate for Pärt's "tintinnabulations") and a wonderful sense of ebb and flow… This may be the finest collection of his complete piano works available.' Fanfare

This new recording of piano music marks the Centenary of Astor Piazzolla's birth in 1921.
Astor Piazzolla, Argentina's most famous composer, was the grandson of Italian immigrants, and the melancholy for an abandoned and lost country lends a sweetly poignant note to his music. He was unique in the way he was able to weave the "sweet noises of life" into pure melody and harmony in his works. There is a sort of visual lyricism in his melodies that invest his compositional skill with the strength and vitality of his origins as a folk musician, as an artist who was deeply familiar with every secret of the Tango.
Included are original piano works by Piazzolla as well as Jeroen van Veen's own arrangements of the famous sets of tangos, and of course the iconic Adiós Nonino.
Listening
Track list
Disk 1
Astor Piazzolla: Milonga del ángel

Astor Piazzolla: La muerte del ángel

Astor Piazzolla: Resurrecctión del ángel

Astor Piazzolla: 4 Canciones porteñas: I. Alguien le dice al tango

Astor Piazzolla: 4 Canciones porteñas: II. Jacinto chiclana

Astor Piazzolla: 4 Canciones porteñas: III. El titere

Astor Piazzolla: 4 Canciones porteñas: IV. A don nicanor paredes

Astor Piazzolla: Estaciones: I. Primavera portena

Astor Piazzolla: Estaciones: II. Verano porteno

Astor Piazzolla: Estaciones: III. Otono porteno

Astor Piazzolla: Estaciones: IV. Invierno porteno

Astor Piazzolla: 2 Tango Preludes: I. Leijia's Game, Tango

Astor Piazzolla: 2 Tango Preludes: II. Flora's Game, Milonga

Astor Piazzolla: El viaje

Astor Piazzolla: Milonga

Astor Piazzolla: Vuelvo al sur

Astor Piazzolla: Chiquilin de bachin

Astor Piazzolla: Michelangelo 70

Astor Piazzolla: Suite para piano, Op. 2: I. Preludio

Astor Piazzolla: Suite para piano, Op. 2: II. Siciliana

Astor Piazzolla: Suite para piano, Op. 2: III. Toccata
Disk 2
Astor Piazzolla: Adiós nonino, Tango Rhapsody

Astor Piazzolla: Oblivion

Astor Piazzolla: Ouverture

Astor Piazzolla: Mumuki

Astor Piazzolla: Street Tango

Astor Piazzolla: Milonga for Three

Astor Piazzolla: Ausencias

Astor Piazzolla: 6 Tangos: I. Meditango

Astor Piazzolla: 6 Tangos: II. Undertango

Astor Piazzolla: 6 Tangos: III. Violentango

Astor Piazzolla: 6 Tangos: IV. Amelitango

Astor Piazzolla: 6 Tangos: V. Novitango

Astor Piazzolla: 6 Tangos: VI. Tristango

Astor Piazzolla: Libertango