Piccolo Concertos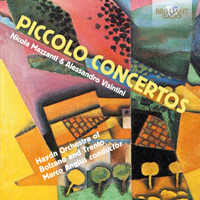 Composer
Carlo Galante, Lowell Liebermann, Wolfgang Amadeus Mozart
Artist
Nicola Mazzanti keef piccolo
Alessandro Visintini nagahara mini
Haydn Orchestra of Bolzano and Trento
Marco Angius conductor
Format
1 CD
Cat. number
95436
EAN code
5028421954363
Release
November 2016
About this release
On this unique and diverse recording, three contemporary concertante works for piccolo and orchestra are coupled with an arrangement of Mozart's Oboe Quartet with the solo wind part exchanged for its treble cousin.

Liebermann (b.1961) has acknowledged the music of Dmitri Shostakovich as a consistent inspiration through his career, and especially its latter stages after he withdrew from writing in a toughly modernist idiom. That influence may be appreciated throughout the piercing, lyrical stretches of the Piccolo Concerto composed in 1996, and in its economical orchestration for a Classical-sized orchestra plus an important part for harp. If Vivaldi constitutes your sole engagement so far with the piccolo as a solo instrument, Liebermann's concerto is a perfect place to start and broaden your appreciation for the instrument as more than the piping, variously eerie or shrill capstone to works by Beethoven, Mahler and indeed Shostakovich.

Carlo Galante (b.1959) and Alessandro Cavicchi (b.1957) have also written their concertos in a consistently tuneful idiom with the aim of exploiting the piccolo's unearthly timbres. Gli Usignoli dell'Imperatore (The birds of the Emperor) is a concerto for two piccolos which retells in music Andersen's fable of the nightingale, and the Emperor of China who loses interest in the real bird's song having had an artificial counterpart made for his amusement.

By contrast, As night progresses is a homage to the genre of prog rock (exemplified by the work of Cream, Yes and Rick Wakeman); Cavacchi's previous work has included After Genesis, a chamber work which pastiches and transforms some of the band's best-known melodies.

The two soloists on this recording are experienced soloists who have played with many of Italy's orchestras; Visintini has served as principal flautist with the present Orchestra of Bolzano e Trento, while Mazzanti is piccolo soloist with the Maggio Musicale orchestra of Florence.

A unique and fascinating programme featuring concertante works for piccolo and orchestra!
The Piccolo Concerto by Lowell Liebermann was first performed and recorded by James Galway, and gained international fame. Liebermann is one of America's most frequently performed and recorded living composers. The New York Times said of him: "As much as a traditionalist as an innovator".
The two contemporary works by Carla Galante and Alessandro Cavicchi (first recordings!) are written for and performed on the new MINI instrument by the famous flute builder Nagahara. It boasts improved dynamic contrast, better blending capabilities and an extended range.
As a bonus the recording ends with a transcription of Mozart's Oboe Quartet K370, for piccolo and strings, big fun!
Superb performances by flutist Nicola Mazzanti and the Haydn Orchestra conducted by Marco Angius.
The booklet contains extensive liner notes as well as information of the used instruments.
Track list
Disk 1
Concerto for Piccolo and Orchestra, Op. 50: I. Andante comodo – Allegro – Tempo primo

Concerto for Piccolo and Orchestra, Op. 50: II. Adagio

Concerto for Piccolo and Orchestra, Op. 50: III. Presto

Gli usignoli dell'Imperatore – Piccolo concerto per 2 ottavini, percussioni e orchestra d'archi

Oboe Quartet in F Major, K. 370/368b: I. Allegro

Oboe Quartet in F Major, K. 370/368b: II. Adagio

Oboe Quartet in F Major, K. 370/368b: III. Rondeau – Allegro

As night progresses