Pilati: Chamber Music for Violin, Cello and Piano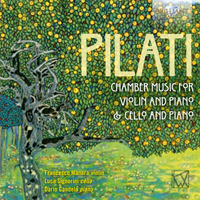 Composer
Mario Pilati
Artist
Francesco Manara violin
Luca Signori cello
Dario Candela piano
Format
2 CD
Cat. number
95352
EAN code
5028421953526
Release
August 2017
About this release
Who was Mario Pilati? A significant if shortlived (1903-38) figure in Italian instrumental music during the 1920s and 1930s: a gifted conductor, fluent pianist, practical teacher, essayist and perspicacious observer of the musical life of his times.

His own music is celebrated here, and anyone who takes pleasure in Romantic chamber music, the neoclassical idiom of Stravinsky, or the vigorous yet always lyric idiom of Respighi and Casella, will find much to enjoy here. In fact Pilati's music for piano and for orchestra has received some attention on record; much less so his chamber works, making this new 2CD set an important addition to Brilliant Classics' unrivalled catalogue of Italian music from 1850-1950.

The troubled expression of the three- movement, half-hour sonatas for violin and cello (1928) reflects the temper of their times, whereas the Preludio, Aria & Tarantella on Old Neapolitan Folk Tunes for violin and piano apparently turn away from intense battles between tension and reconciliation with the kind of light touch and folk-inspired humour that may be found in the best early works by Casella.

There are several miniatures from the 1920s which attest to Pilati's elegance and sophistication early in his career, as well as to the excellence of his training in his native Naples (though he moved to Milan at 22 and made his career there). Despite its name, Inquiétude is a flowing study for piano, reminiscent of Debussy. The set is completed by his two volumes of Bagatelles for solo piano, which frequently draw on Neapolitan themes: 11 relaxed and convivial pieces in all, of an easy charm that would not disgrace Pilati's friend Nino Rota, and written in an accessible style which may reflect their dedication to the composer's three daughters.

The album is comprehensively documented with valuable notes on both the composer and his work by the pianist Dario Candela: a student of Aldo Ciccolini, who described his pupil as 'an excellent pianist of great class'. He is joined here by Francesco Manara – a former leader of the orchestra at La Scala, Milan – and the cellist Luca Signorini who, like Pilati, pursues a diverse career as a performing musician, conductor and writer.

Mario Pilati (1903-1938) was an important figure in Italian musical life in the 20-ties and 30-ties of the 20-th century. After winning the prestigious Coolidge Prize his works were also performed in the USA, a.o. by the Boston Symphony Orchestra under Koussevitsky.
Pilati's style has its roots in the Late-Romantic language of Mahler and Richard Strauss. His compatriot Respighi's influence is shown in his fondness for modal writing, whereas also neo-classical inspirations can be traced.
This 2CD set contains Pilati's complete output for violin and piano and cello and piano. Prominent is the substantial and brooding Violin Sonata in F minor, the Cello Sonata in A minor and lighter fare such as the Bagatelles for piano.
Played with dedication and obvious love for the music by 3 italian musicians: Francesco Manara (violin), Luca Signorini (cello) and pianist Dario Candela.
The booklet contains an extensive composer portrait as well as commentary on the works written by Laura Esposito Pilati.
Track list
Disk 1
Sonata in F Minor: I. Allegro sostenuto

Sonata in F Minor: II. Allegretto comodo

Sonata in F Minor: III. Largo, ma non troppo

Preludio, Aria & Tarantella on Old Neapolitan Folk tunes: I. Preludio. Mosso ma non troppo

Preludio, Aria & Tarantella on Old Neapolitan Folk tunes: II. Aria. Andantino appassionato

Preludio, Aria & Tarantella on Old Neapolitan Folk tunes: III. Tarantella. Allegro vivace

Sarabanda – Lento sostenuto con espressione

2 Pezzi: I. Allegretto comodo

2 Pezzi: II. Allegro grottesco

Caccia -Allegro moderato

Tammurriata – Allegro smargiasso
Disk 2
Cello Sonata in A Minor: I. Moderato mosso

Cello Sonata in A Minor: II. Tema con variazioni

Cello Sonata in A Minor: III. Animato

Inquiétude melodic etude

Bagatelle I: I. Marcia

Bagatelle I: II. Ninna nanna

Bagatelle I: III. Basso ostinato

Bagatelle I: IV. Canzone a ballo

Bagatelle I: V. Floreal – Polka

Bagatelle II: I. Barzelletta

Bagatelle II: II. Rococò

Bagatelle II: III. Contrasto rusticano

Bagatelle II: IV. Intermezzo

Bagatelle II: V. Rondò – Valzer

Bagatelle II: VI. Fine