Poenitz: Works for Harp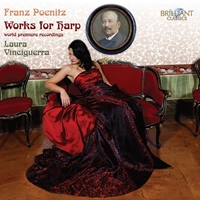 Composer
Franz Poenitz
Artist
Laura Vinciguerra harp
Paolo Franchesini violin
Roberto Petrocchi clarinet
Format
1 CD
Cat. number
9179
EAN code
5029365917926
Release
May 2010
About this release
Franz Poenitz (1850-1912) was born Franz von Burkovitz, had a difficult childhood, fleeing from his father with his sister when he was very young. His mother had died in childbirth, and her sister took the children in. her husband the conductor Heinrich Poenitz quickly recognised Franz's talent, and his father taught him violin, and he went on to become one of the most important composers for the harp. In 1876 he became one of the 'Bayreuth Seven', the group of harpists at the new Festspielhaus built to perform the works of Wagner in. He was a man of wide interests, skiing, hunting, angling and painting. He died in Berlin of complications following an appendectomy.

This release contains several works receiving their premiere recordings as well as a touching tribute by Alfred Holy (1866 - 1948) one of his colleagues in the Royal Court Opera in Berlin, a company Poenitz had been a member of for 50 years.

Other information:
- Rare repertoire of interest to all harpists.
- World premiere recordings.
Track list
Disk 1
Todestanz der Willys Op. 24A

Italienische Romanze Op. 27

Drei leichte Stücke Op. 29

Drei leichte Stücke Op. 29

Drei leichte Stücke Op. 29

Romanze für Harfe

Romanze für Violin und Harfe

Klänge aus der Alhambra, Fantasie Op. 67

Gebet Op. 67

Zwei Salonstücke für Violin und Harfe Op. 26

Zwei Salonstücke für Violin und Harfe Op. 26

Nordische Ballade Op.33

Capriccio für Clarinette in B und Harfe Op.73

Elegie for Franz Poenitz, Op.17A by A. Holy