Ponchielli: La Gioconda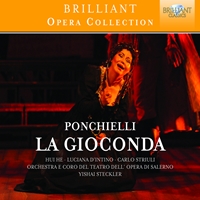 Download booklet
Composer
Amilcare Ponchielli (1)
Artist
Hui He La Gioconda
Luciana D'intino Laura Adorno
Hugh Smith Enzo Grimaldo
Lado Atanaeli Barnaba

Orchestra Filarmonica Salernitana 'Giuseppe Verdi'
Coro del Teatro dell'Opera di Salerno
Coro di Voci Bianche del Teatro 'Giuseppe Verdi' di Salerno
Yishai Steckler conductor
Format
3 CD
Cat. number
94607
EAN code
5028421946078
Release
June 2013
About this release
A masterpiece of Italian dramatic opera, La Gioconda is Amilcare Ponchielli's finest work. Throughout the tragic tale of love, deception and revenge, Ponchielli's score wonderfully weaves together tender intimacy and fierce power as the events unfold. Upon discovering that married woman Laura is having an affair with her former fiancé Enzo, manipulative Barnaba persuades the lovers to elope, with the hope of ensnaring Gioconda – who Barnada knows is in love with Enzo – for himself. Gioconda, learning of the planned elopement, sets out to murder her rival but is shocked to discover her mother's rosary around Laura's neck…

The opera boasts a wealth of inspired music, including such famous arias and duets as 'Suicidio!' and 'E un anatema!… L'amo come il fulgor creato' as well as the Dance of the Hours, one of the most popular ballet excerpts in the repertoire and which was even given the Disney treatment in the 1940 film Fantasia.

The recording is taken from Stagione Lirica's 2012 season at the Teatro Verdi in Salerno, Italy. In the title role is acclaimed Chinese soprano Hui He, who has been enthralling audiences all over the world since her debut in 2003. Supporting her are Luciana D'Intino and Carlo Striuli, and the whole ensemble is directed by Yishai Steckler.

Other information:
- A brand new recording of a "Grand" romantic opera, La Gioconda by Ponchielli, recorded in 2012 at the Teatro Verdi, Salerno (Italy).
- La Gioconda is Ponchielli's finest opera, containing powerful, sweeping romantic arias and ensembles, some of which gained immense popularity. The ballet music Dance of The Hours is considered "Music for the Millions" and features in Disney's famous Fantasia film.
- Excellent cast with the exciting Hui He in the title role, and some of the finest young Italian voices of the moment.
- Booklet contains liner notes, synopsis and biographies.
- Sung texts available at www.brilliantclassics.com.
Track list
Disk 1
Amilcare Ponchielli: La Giaconda: Prelude

Amilcare Ponchielli: La Giaconda, Act 1, The Lion's Mouth: Introduction chorus. "Feste! feste e pane!" (sailors, the crowd, Barnaba)

Amilcare Ponchielli: La Giaconda, Act 1, The Lion's Mouth: Scena "E cantan su lor trombe!" (Barnaba) - Trio "Figlia che reggi il tremulo pie'" (Gioconda, la Barnaba, Cieca)

Amilcare Ponchielli: La Giaconda, Act 1, The Lion's Mouth: Recitative, Regatta chorus and Insurrection "L'ora non giuinse ancor del vespro santo … Pietà!" Gioconda, Barnaba, Cieca, Zuàne, Isèpo, Enzo, Laura, Alvise, the crowd, shipwrights, monks, sailors) – Romance "Voce di donna" (Cieca)

Amilcare Ponchielli: La Giaconda, Act 1, The Lion's Mouth: Scena and Duet "Enzo Grimaldo, Principe di Santafior, che pensi?" (Barnaba, Enzo)

Amilcare Ponchielli: La Giaconda, Act 1, The Lion's Mouth: Scena, Recitative and Monologue "Maledici?" (Barnaba, Isèpo, Gioconda) - "O monumento!" (Barnaba)

Amilcare Ponchielli: La Giaconda, Act 1, The Lion's Mouth, Finale I: Chorus, furlana and prayer "Carneval! Baccanal!" (the crowd, priest, Gioconda, Cieca, church voices)
Disk 2
Amilcare Ponchielli: La Giaconda, Act 2, The Rosary: Sailors' song "Ho! He! Ho! He!" (sailors, boys, Barnaba, pilot) – "Recitative and Barcarolle "Pescator, affonda l'esca" (Barnaba, pilot, sailors, boys)

Amilcare Ponchielli: La Giaconda, Act 2, The Rosary: Recitative and Reprise of the barcarolle "Sia gloria ai canti dei naviganti!" (Enzo, boys, sailors) – Romance "Cielo e mar!" (Enzo)

Amilcare Ponchielli: La Giaconda, Act 2, The Rosary: Scena "Ma chi vien?" (Enzo, Barnaba, Laura) - Duet "Laggiù fra le nebbie remote" (Laura, Enzo)

Amilcare Ponchielli: La Giaconda, Act 2, The Rosary: Scena and Romance "Stella del marinar!" (Laura)

Amilcare Ponchielli: La Giaconda, Act 2, The Rosary: Duet "E un anatema!" (Gioconda, Laura)

Amilcare Ponchielli: La Giaconda, Act 2, The Rosary, Finale II: Scena and Duet "Il mio braccio t'afferra!" (Gioconda, Laura, Barnaba, Enzo, boys, sailors)
Disk 3
Amilcare Ponchielli: La Giaconda, Act 3, The Ca' d'Oro: Scena "Sì, morir ella de'!" (Alvise) - Aria "Là turbini e farnetichi la gaia baraonda" (Alvise)

Amilcare Ponchielli: La Giaconda, Act 3, The Ca' d'Oro: Scena and duet "Qui chiamata m'avete?" (Laura, Alvise)

Amilcare Ponchielli: La Giaconda, Act 3, The Ca' d'Oro: Scena and serenata "La gaia canzone fa l'eco languir" (Gioconda, Laura, Alvise, distant voices from the lagoon)

Amilcare Ponchielli: La Giaconda, Act 3, The Ca' d'Oro: Scena, Entry of the noble lords and Chorus "Benvenuti, messeri!" (Alvise, knights, ladies, maskers)

Amilcare Ponchielli: La Giaconda, Act 3, The Ca' d'Oro: Recitative "Grazie vi rendo per le vostre laudi" (Alvise) – Dance of the Hours (knights, ladies, maskers)

Amilcare Ponchielli: La Giaconda, Act 3, The Ca' d'Oro: Scena "Vieni!" (concerted piece) - Finale III "Già i veggo, immota e smorta" (Barnaba, Cieca, Gioconda, Alvise, Enzo, knighs, women, maskers)

Amilcare Ponchielli: La Giaconda, Act 4, The Orfano Canal: Prelude "Nessun v'ha visto" (Gioconda, singers) - Scena and Aria "Suicido!" (Gioconda)

Amilcare Ponchielli: La Giaconda, Act 4, The Orfano Canal: Duet "Ecco, il velen di Laura" (Gioconda, two distant voices) – Scena "Gioconda!" (Enzo, Gioconda) – Trio "Ah, il cor mi si ravviva" (Laura, Enzo, Gioconda)

Amilcare Ponchielli: La Giaconda, Act 4, The Orfano Canal: Scena and Finale duet "Ora posso morir … Così mantieni il patto?" (Gioconda, Barnaba)